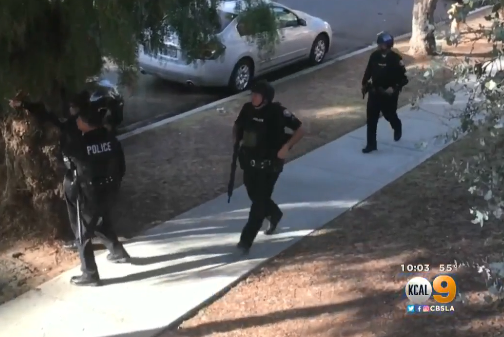 Fired partner ID'd as gunman in Long Beach law office shooting
LONG BEACH, California -- Coroner's officials on Saturday released the name of the gunman who fatally shot a man at a Long Beach law office before turning the gun on himself. Lt. Dave Smith of the Los Angeles County Coroner's Office identified the gunman as 58-year-old John Mendoza, of Redondo Beach, CBS Los Angeles reports.
The shooter was a partner at the firm of Perona, Langer, Beck, Serbin, Mendoza and Harrison — which reportedly acquired the Larry H. Parker law firm years ago and shared the building. The shooter was recently fired, CBS Los Angeles reports.
Major Langer, 75, of Rolling Hills, was identified as the victim. Another shooting victim was taken to a hospital, where he was in serious condition but is expected to survive.
Officers responded to a law office on a call of an active shooter threat.
The apparent disgruntled and estranged partner went to the offices as staffers were wrapping up a holiday party. Wait's source says when the gunman showed up he told lower-level employees to leave the building but kept his two victims inside — then opened fire.
"The third victim was shot in his upper chest," Long Beach police Sgt. Brad Johnson told City News Service. "He's in serious condition but is expected to survive. The gunman we believe died from a self-inflicted gunshot wound."
A friend told the Long Beach Press-Telegram that the wounded man was another partner in the firm, Ronald Beck, who was driven to the hospital by his son. The 68-year-old injured man was shot in the torso and lower body, police said. He remained hospitalized in stable condition and was expected to survive.
"Several employees were in the office at the time of the shooting, however, no other injuries were reported," according to the police statement. "A motive for the shooting remains under investigation."
A gun was recovered from the scene.
Basileus Zeno, who videotaped employees running from the building, told CBS Los Angeles that he heard screams but thought they were from employees enjoying a holiday party at the office.
But it became clear that the half-dozen workers streaming from the law office, which is located in the well-to-do neighborhood of Bixby Knolls, were fleeing.
"The woman was saying 'They're shooting inside. They're shooting inside," Zeno said.
Beck ran day-to-day operations at the law firm of Perona, Langer, Beck, Serbin, Mendoza and Harrison. He also was managing partner of the Larry H. Parker law firm that worked with Perona and Langer. Beck and Parker have appeared in well-known Southern California television commercials for Parker's firm that conclude with Parker promising: "We'll fight for you!"
Langer was senior managing partner of both firms.
"This guy was the most caring, sincere man I probably ever met," longtime friend Jim Hall told the Press-Telegram. "He just had a heart of gold and really cared for everybody who works at the firm and considers them members of his family. He certainly didn't deserve this."
According to the Perona, Langer firm's website, Mendoza was a workers' compensation attorney who had worked thousands of industrial injury cases over the past 20 years and had been a frequent guest on local television and radio stations.
Thanks for reading CBS NEWS.
Create your free account or log in
for more features.