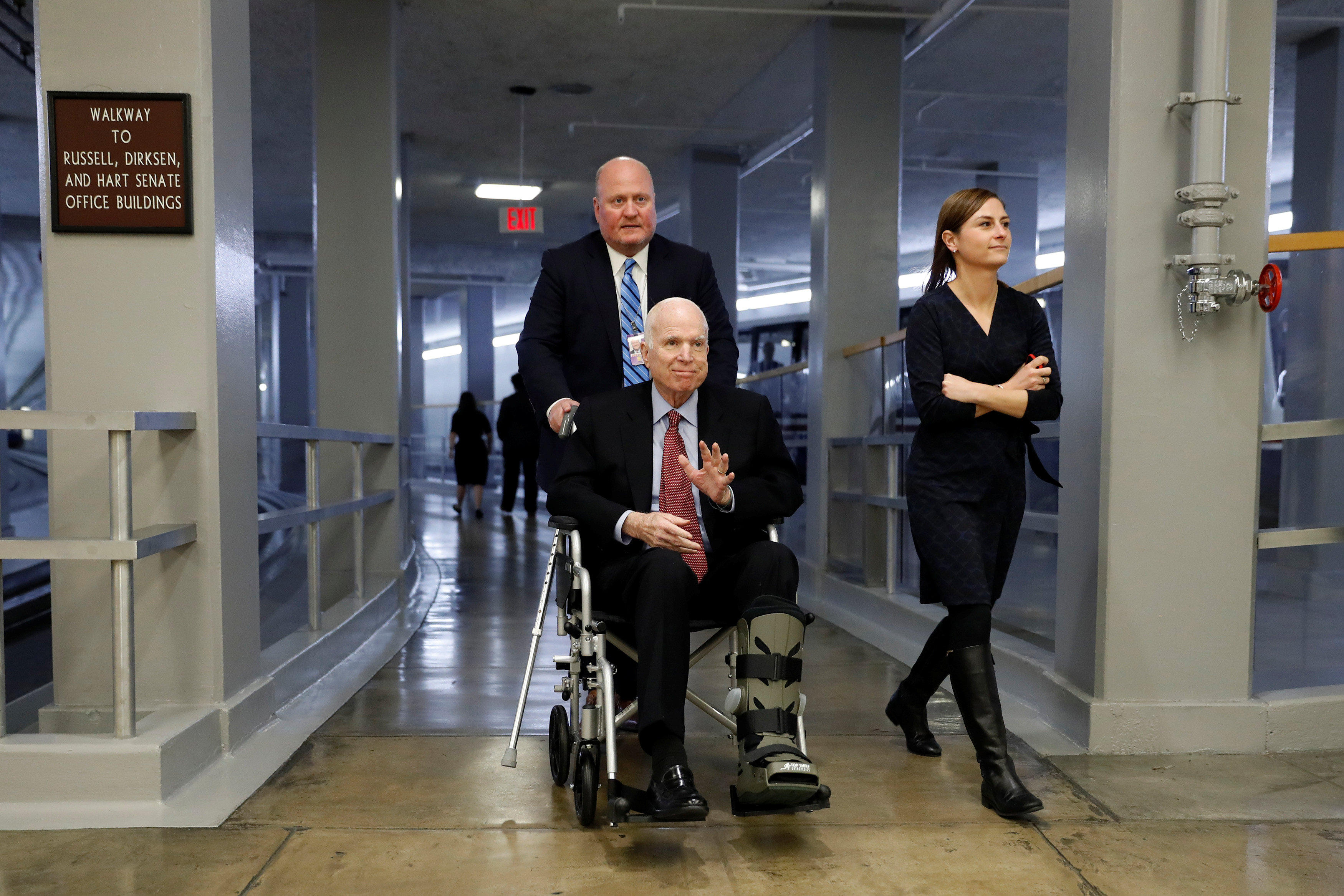 Ailing GOP senators, who missed votes this week, are crucial to GOP tax plan
WASHINGTON — Ailing Republican senators John McCain and Thad Cochran missed votes this week, but their presence will be crucial early next week as the GOP tries to pass a sweeping $1.5 trillion tax package in the Senate with a razor-thin majority and all Democrats opposed to the legislation.
McCain, 81, of Arizona, is at a Washington-area military hospital being treated for the side effects of brain cancer treatment. Cochran, 80, of Mississippi, had a non-melanoma lesion removed from his nose earlier this week.
Adding to the uncertainty on Thursday was Sen. Marco Rubio, R-Fla., who said he would vote against the bill if negotiators failed to expand the child tax credit.
A Senate Armed Services Committee hearing opened Thursday without McCain in the chairman's seat and members of the panel unsure when he'd return to Congress.
Cochran was away from Washington for several weeks this fall recovering from a urinary tract infection. When he returned in October, he appeared frail.
His absence this week is unrelated to his prior illness, according to his office. The outpatient procedure on his nose "ended up being more extensive than what the physician or the senator expected," a spokesman said.
McCain's closest friend on Capitol Hill, Sen. Lindsey Graham, R-S.C., told reporters that he spoke with McCain's wife, Cindy, earlier in the week and was optimistic McCain would be back to work soon. Graham dismissed the idea McCain should rush his recovery to vote on the GOP tax bill even though the margin for Senate passage is expected to be slim with a 52-48 Republican majority.
"John, take a little time, rest up. It's OK to take a day or two off," Graham said.
McCain did not attend a White House ceremony held Tuesday for President Donald Trump to sign the annual defense bill — a longtime McCain priority — into law.
McCain's office said late Wednesday that he is at Walter Reed National Military Medical Center in Maryland receiving treatment for the "normal side effects of his ongoing cancer therapy." He looks forward to returning to work as soon as possible, the statement said.
Now in his sixth Senate term, McCain underwent surgery in mid-July to remove a 2-inch (51-millimeter) blood clot in his brain after being diagnosed with an aggressive tumor called a glioblastoma. It's the same type of tumor that killed Sen. Edward M. Kennedy of Massachusetts in 2009.
McCain rebounded quickly, however, returning to Washington and entering the Senate on July 25 to a standing ovation from his colleagues. In a dramatic turn, he later cast a deciding vote against the Republican health care bill, earning the wrath of Trump and other Republicans.
But McCain's condition has appeared to worsen lately. He suffered a minor tear in his right Achilles tendon, forcing him to wear a walking brace. He eventually began using a wheelchair with members of his staff assisting him.
Brain tumors and their treatments can cause an array of side effects, including fatigue, cognitive changes and mood changes, according to the American Brain Tumor Association.
Other members of the Armed Services panel said they hadn't talked to McCain recently and didn't know when he'd be back. But they described him as a fighter who'd be able to beat the odds.
"With Sen. McCain, he could show up at any time and just say, 'If we've got work to do, I'm going to be there,'" said Sen. Mike Rounds, R-S.D. "That's his style."
Sen. Roy Blunt, R-Mo., called McCain "a brave guy," adding that the former Navy pilot "will do his duty to the best of his ability. And on this tax bill, that means to get here if you can, and I think he will."
Thanks for reading CBS NEWS.
Create your free account or log in
for more features.