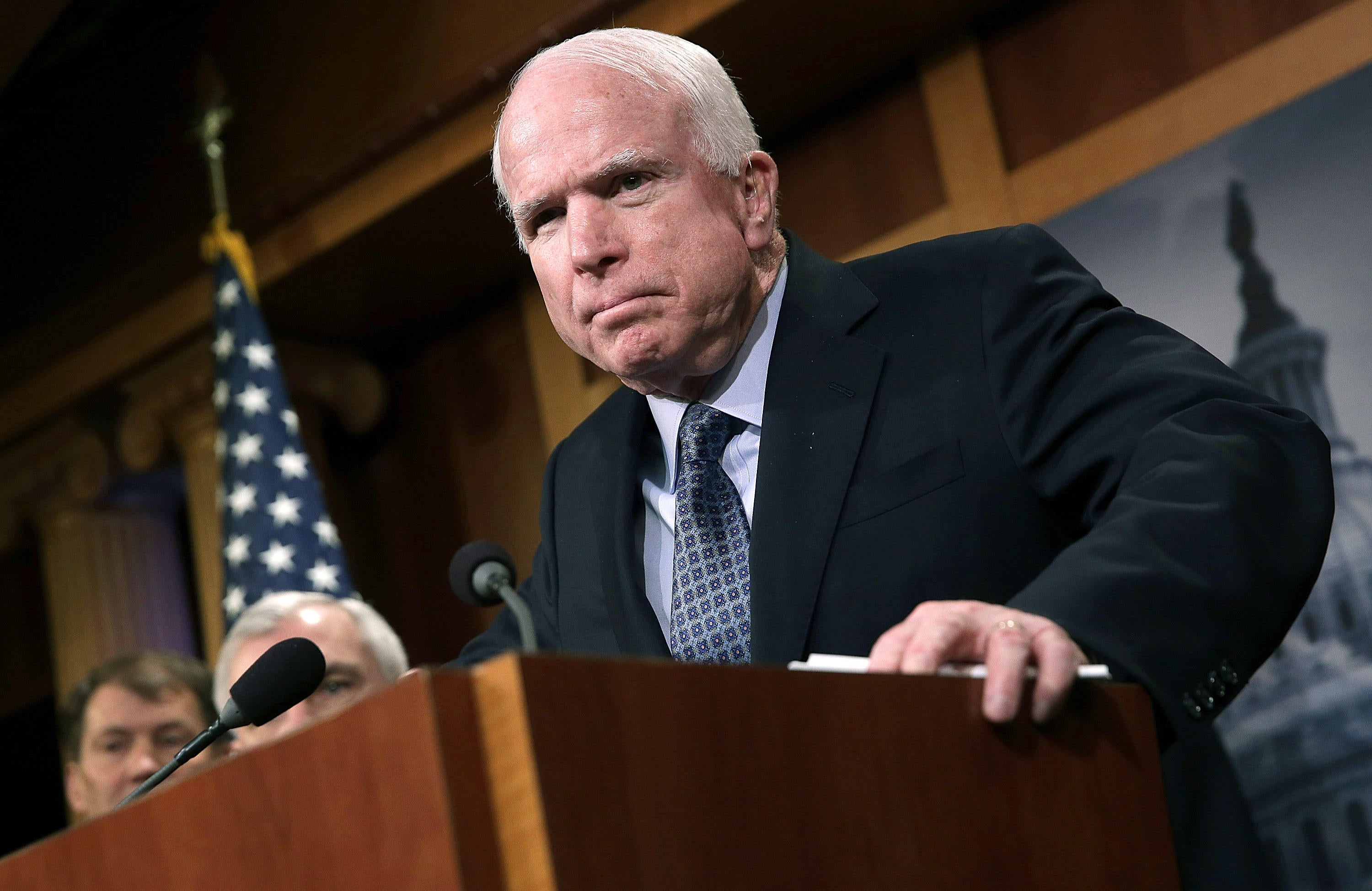 John McCain says Rand Paul is "working for Vladimir Putin"
Updated with statement from Sen. Rand Paul, R-Ky.
Sen. John McCain accused fellow Republican Sen. Rand Paul of "working for Vladimir Putin" on Wednesday.
The fireworks came as McCain spoke in support of a Senate unanimous consent request in support of Montenegro's bid to join NATO. The libertarian-leaning Paul, who has often advocated for a less interventionist foreign policy, opposes the resolution.
"You are achieving the objectives of Vladimir Putin...trying to dismember this small country which has already been the subject of an attempted coup," McCain said, in an apparent reference to Paul.
McCain then asked that the resolution be passed unanimously, prompting an objection from Paul who then exited the room. McCain then reiterated his accusation.
"I note the senator from Kentucky leaving the floor without justification or any rationale for the action he has just taken. That is really remarkable -- that a senator blocking a treaty that is supported by the overwhelming number, perhaps 98 at least of his colleagues, would come to the floor and object and walk away…The only conclusion you can draw when he walks away is he has no argument to be made.
He has no justification for his objection to having a small nation be part of NATO that is under assault from the Russians. So, I repeat again, the senator from Kentucky is now working for Vladimir Putin."
Later Wednesday evening, in a statement to CBS News' Alan He, Paul argued that U.S. resources are being stretched by multiple commitments.
"Currently, the United States has troops in dozens of countries and is actively fighting in Iraq, Syria, Libya, and Yemen (with the occasional drone strike in Pakistan)," Paul wrote. "In addition, the United States is pledged to defend 28 countries in NATO. It is unwise to expand the monetary and military obligations of the United States given the burden of our $20 trillion debt."
McCain and Paul have battled over foreign policy issues in the past. In a February interview with ABC News, for example, Paul said that McCain has "advocated for war everywhere" and that the U.S. would "be in perpetual war" if McCain were "in charge."
CBS News' Alan He contributed reporting to this story.
Thanks for reading CBS NEWS.
Create your free account or log in
for more features.