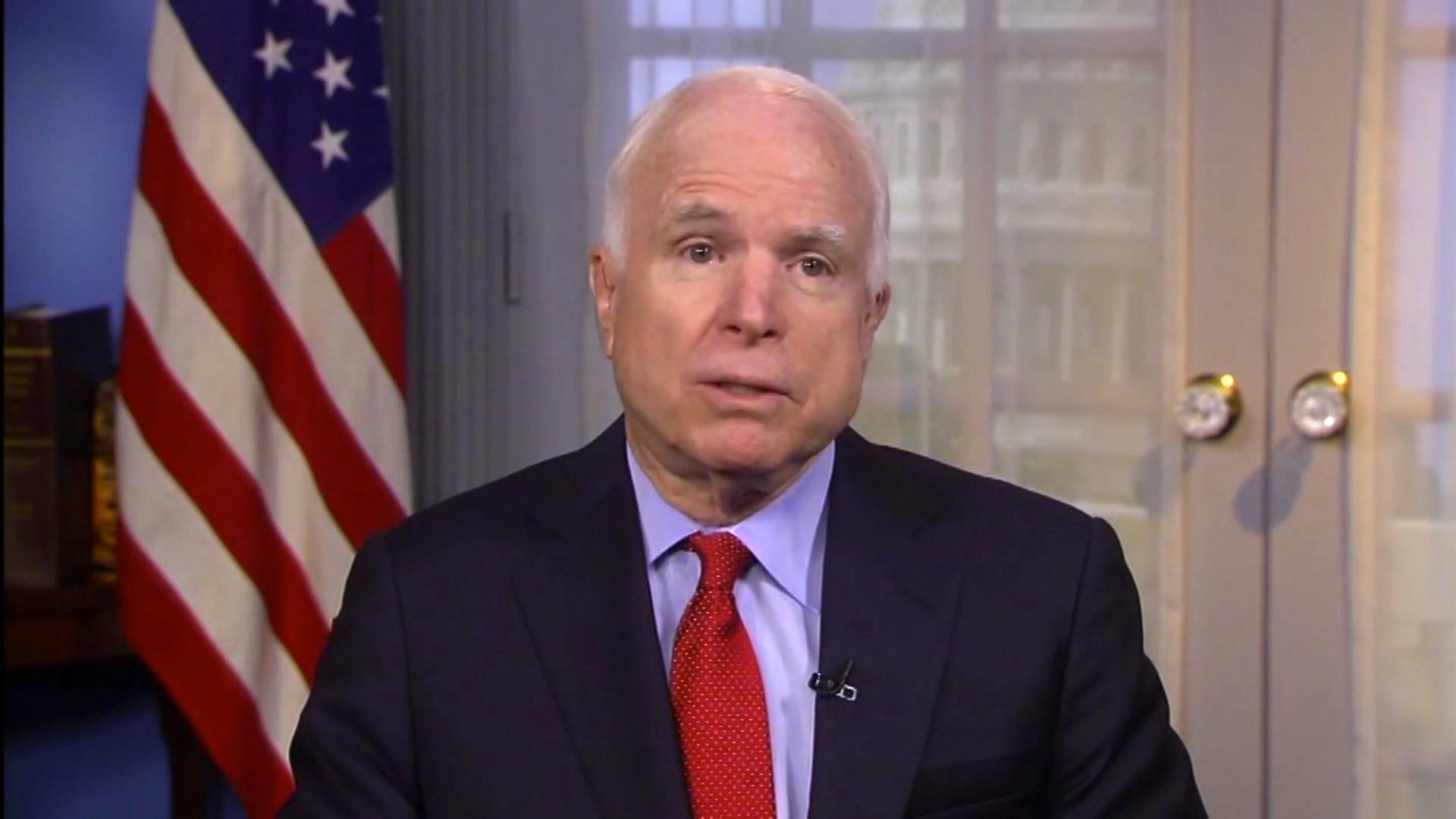 John McCain: Obama has "no strategy" in the Middle East
Just days after President Obama announced the deployment of additional troops to Syria, Arizona Sen. John McCain is trashing the White House's strategy in the Middle East, accusing the administration of being more focused "on withdrawing than succeeding.
"What's unfortunately clear is this president has no strategy to successfully reverse the tide of slaughter and mayhem," McCain, a former GOP presidential nominee, said in a video released Saturday. "For the past seven years, President Obama has sought to scale back America's involvement in, and commitment to, the Middle East. He has tried to convince us that the unfolding crisis in the Middle East is simply a local problem."
McCain pointed to the deaths in Syria, the collapse of Libya's government and sectarian strife in Iraq as proof that the president has done nothing to mitigate violence in the Middle East region.
"The crisis in the Middle East has not been contained," he said. "It's reached the streets of Paris, Brussels and San Bernardino. It's produced a refugee crisis that has destabilized Europe and divided the West."
The Republican charges come just as the president is ramping up U.S. military presence in Syria and Iraq, the base of operations for extremist terror group ISIS.
Mr. Obama said earlier this week that the U.S. will send up to 250 additional military personnel to Syria to work with opposition forces against ISIS. The decision to increase the number of commandos inside the war-ravaged country from 50 to 300 was announced while the president was on an overseas visit to Hannover, Germany. Earlier this month, Defense Secretary Ash Carter also announced that 200 more military advisers will be sent to Iraq.
But McCain took issue with the president's "reactive, slow and insufficient" responses to the war on terrorism.
"At a strategic level, we always seem to be a step behind, a day late and a dollar short," he said, adding that ISIS has already "taken the strategic offensive" with attacks in the Western world.
"Our military service members serving in Iraq and Syria deserve better," McCain said.
In his own video address Saturday, Mr. Obama urged Senate Republicans to give Judge Merrick Garland, his Supreme Court nominee, a confirmation hearing and vote.
"So far, most Senate Republicans have refused to even meet with Judge Garland," the president said. "Which means they've also refused to do their job and hold a hearing on his nomination or an up-or-down vote."
And yet, he added, "they've still found time to head home for recess over the next week."
"The Supreme Court must remain above partisan politics," Mr. Obama said, noting that several GOP legislators hold Garland in high esteem and have called his reputation "beyond reproach." "I've done my job - I nominated someone as qualified as Merrick Garland. Now it's time for the Senate to do their job. Give Judge Garland a hearing."
The president's admonishments come after 45 days without the Senate moving to confirm a hearing date for Garland, the current chief justice of the U.S. Court of Appeals for the District of Columbia.
According to Mr. Obama, every Supreme Court nominee for the last four decades has averaged a wait time of 67 days between a nomination and a hearing.
The president nominated Garland shortly after Supreme Court Justice Anthony Scalia passed away in February.
Thanks for reading CBS NEWS.
Create your free account or log in
for more features.