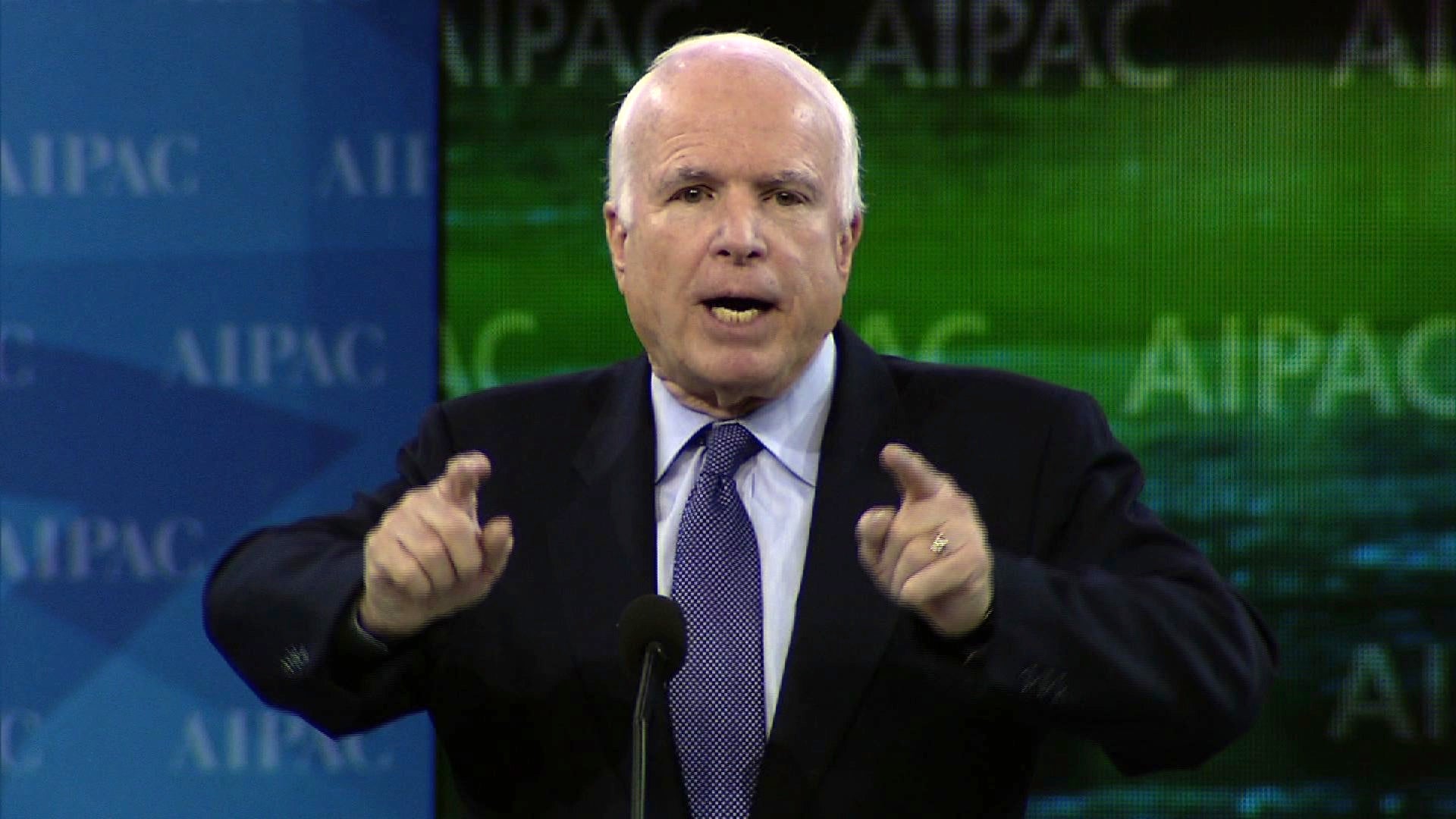 John McCain blames Obama's "feckless" foreign policy for Ukraine crisis
Sen. John McCain, R-Ariz., blamed President Obama's "feckless" foreign policy for inviting the crisis in Ukraine on Monday, telling a pro-Israel group that the president has repeatedly failed to demonstrate American strength in the face of adversaries.
McCain, a frequent critic of Mr. Obama's foreign policy, was only the latest Republican to criticize the administration's handling of the crisis, as other GOP critics piled on over the weekend. On Sunday, Sen. Lindsey Graham, R-S.C., told CNN, "We have a weak and indecisive president that invites aggression."
And Rep. Mike Rogers, R-Mich., said on "Fox News Sunday" that Russia "is playing chess and I think we are playing marbles."
On Friday and through the weekend, Russian troops began moving into Ukraine's Crimean peninsula and preparing for a possible deeper invasion of the former Soviet Republic. Mr. Obama and other western leaders denounced the move as an aggressive violation of Ukraine's sovereignty, a characterization McCain echoed on Monday.

"This is a blatant act on the part of [Russian President] Vladimir Putin, and one that must be unacceptable to the world community," he told AIPAC, a pro-Israel lobby. "It cannot stand."

"Why do we care?" McCain asked. "Because this is the ultimate result of a feckless foreign policy where nobody believes in America's strength any more."

The Arizona Republican pointed to Mr. Obama's reluctance to publicly side with anti-government protesters in Iran in 2009, along with his decision to avoid deeper entanglement in Syria's civil war despite evidence that the Syrian regime used chemical weapons against its own people.

"In 2009, many of you may remember, as we saw on YouTube, we saw a young woman named Neda bleed to death in the street in Tehran when the people of Iran rose up and said, 'Obama, Obama are you with us...or are you with them?'" McCain recalled. "And you know what? The president of the United States didn't say a word."

Mr. Obama "believes that the Cold War is over," McCain said. "That's fine, it is over, but Putin doesn't believe it's over."

"Look at what [the Russians are] doing in assisting [Syrian President] Bashar Assad slaughter tens of thousands of innocent people in cities and towns and countryside all over Syria. It is an outrage," McCain said. "And Vladimir Putin, while he is cooperating with us in the removal of chemical weapons, planeload after planeload of regular weapons -- of artillery, of rockets, of tanks -- are landing at the airport in Damascus, slaughtering innocent people."

"And we have sat by and watched it happen," he said.

On Monday, House Speaker John Boehner, R-Ohio, told the Cincinnati Enquirer that it's time for the U.S. to levy economic sanctions to punish Russia for its aggression, calling Putin a "thug."
Thanks for reading CBS NEWS.
Create your free account or log in
for more features.