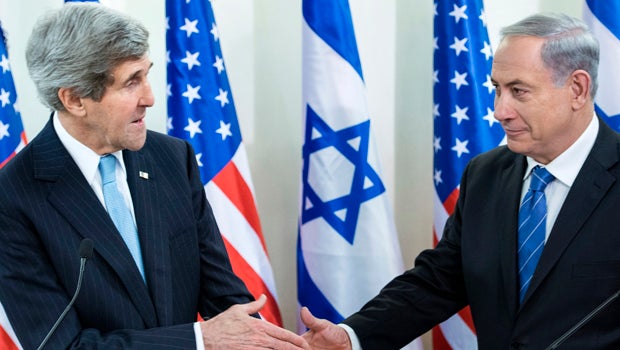 John Kerry: Peace between Israel, Palestinians not "mission impossible"
JERUSALEM -- Secretary of State John Kerry said Thursday that finding peace between Israel and the Palestinians is not "mission impossible," but Israeli Prime Minister Benjamin Netanyahu slammed the Palestinian leader as someone who embraces terrorists "as heroes."

Kerry arrived in Israel to broker Mideast peace talks entering a difficult phase aimed at creating a Palestinian state alongside Israel. He had talks scheduled Thursday in Jerusalem with Netanyahu and planned to be in the West Bank on Friday to talk with Palestinian President Mahmoud Abbas. Kerry is asking both leaders to make tough, highly charged political decisions.

Netanyahu on Thursday criticized the actions of Palestinian President Mahmoud Abbas, saying Abbas embraced terrorists as heroes when he

welcomed Palestinian prisoners' release from Israeli detention

.

"To glorify the murderers of innocent women and men as heroes is an outrage," Netanyahu said. "How can he say he stands against terrorism when he embraces the perpetrators of terrorism and glorifies them as heroes?"

Netanyahu continued, "I'm wondering what a young Palestinian would think when he sees the leader of the Palestinian people embrace people who axed innocent men and women, axed their heads or blew them up or riddled them with bullets. What's a young Palestinian supposed to think about the future?"

He said Abbas did not condemn recent attacks against Israel and accused the Palestinian Authority of continuing its "unabated incitement against the state of Israel." Netanyahu said Abbas must lead the Palestinians toward reconciliation and peace, which he said he is prepared to make.

Netanyahu is likely to be asked to accept - with some modifications - the borderlines that existed in 1967 before Israel captured Gaza, the West Bank and East Jerusalem. Abbas fears being asked to recognize Israel as the homeland of the Jewish people and give up the so-called "right of return" for hundreds of thousands of Palestinians who fled or were expelled in the war over Israel's creation in 1948.

Kerry insisted the peace process is still on track and said he plans to work intensely with both sides over the next couple of days to narrow differences on a framework that will outline a final peace accord. Kerry has kept his ideas for a framework under wraps, but has said the contours of a deal are known after two decades of intermittent negotiations.

Underlying the ongoing impasse is the lack of agreement on ground rules. Kerry hopes progress will be possible once the two sides agree on the outlines of a deal.

He said Thursday that parties in the ongoing talks have always known it will be a difficult road to peace, but "this is not mission impossible." Kerry said he knows there is a lot of skepticism about whether the two parties can achieve peace, but he said "the time is soon arriving when leaders are going to have to make difficult decisions."

"We're close to that point, or at it," Kerry said. "In the weeks and months ahead, both sides are going to need to make tough choices to ensure that peace is not just a possibility but is a reality."

"It is hard work, but with a determined effort, I'm convinced that we can get there," Kerry said.

Negotiators from both sides have had some 20 rounds of talks since summer, and this is Kerry's 10th trip to the region to help craft a final peace accord. Just four months remain until a U.S.-set target date for a final agreement.
Thanks for reading CBS NEWS.
Create your free account or log in
for more features.