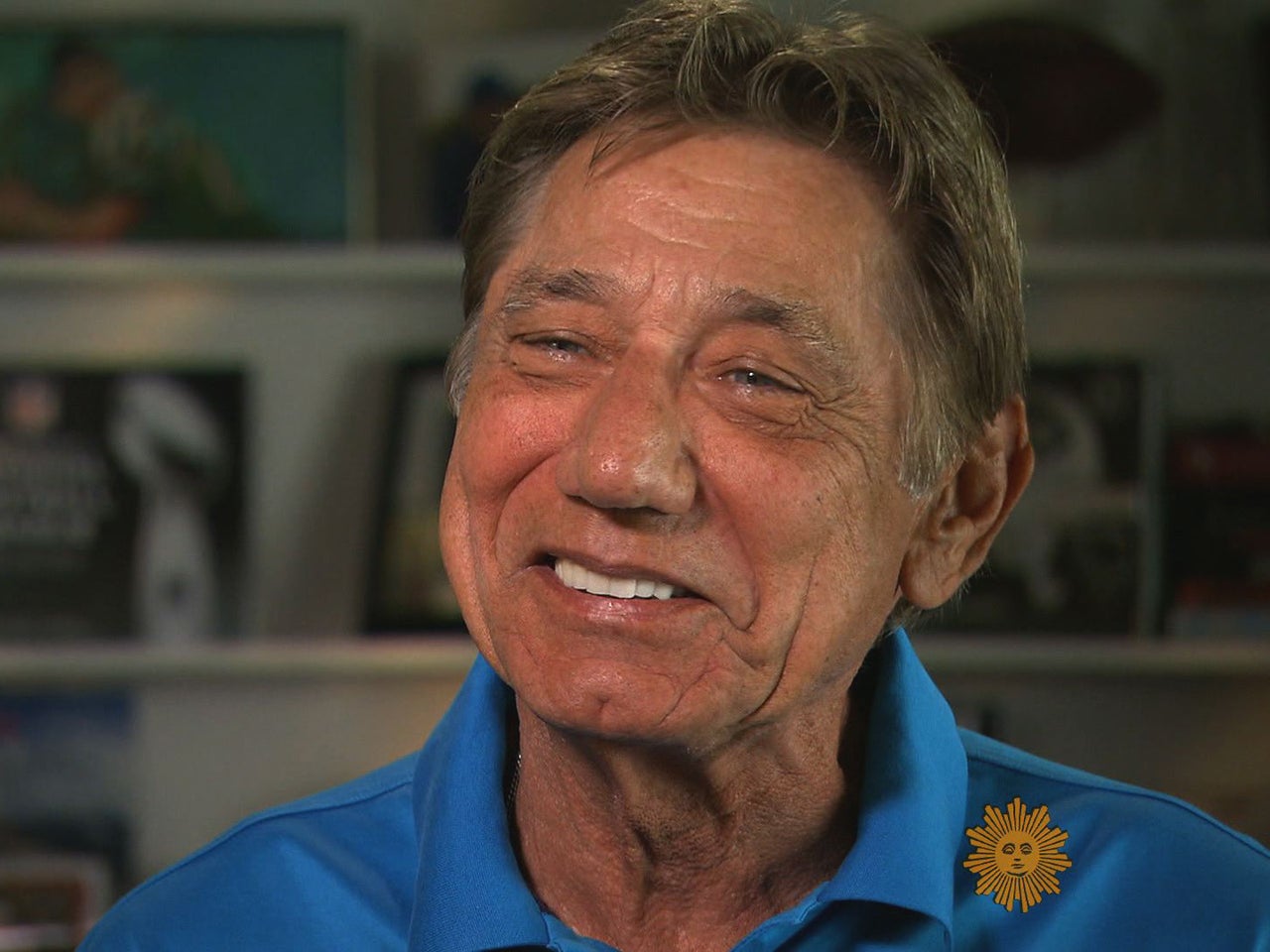 Joe Namath: The NFL's first superstar
Football great Joe Namath played himself in an episode of "The Brady Bunch" back in 1973. Later today, he'll be performing another role: helping to preside over the Super Bowl coin toss. It's just one of the many roles, humble and grand, he has played in his career, as Rita Braver will now show us:
It's an unexpected sight: "Broadway Joe" Namath as doting Grandpa! But there he is, with granddaughter Gemma, and daughter, Jessica, at his home near Jupiter, Fla. -- 45 years after he played quarterback for the New York Jets in Super Bowl III.
Braver asked, "Do you feel nervous on a day like that? Do you feel psyched?"
"Oh, you try to be cool," Namath replied. "You try to convince yourself, 'All right, this is another game, man, and, you know, I'm ready.'"
Joe Namath was ready, but the Jets were distinct underdogs. The odds-makers had the Baltimore Colts winning by 17 points.
Namath wasn't buying it.
He called out a heckler, saying, "'Whoa, whoa, wait a minute, We've been listening to this for 10 days now. I got news for you: We're going to win the game. I guarantee you.' And that was it."
The Jets won 16-7 in a major upset. After the game a reporter said to Namath, "You're king of the hill." Namath replied, "No, No, we're king of the hill. We got the team, brother!"
Namath still cherishes his Super Bowl ring. "It still fits, it's still in good shape because I only wear it on special occasions.
A treasure for anyone, but especially for a kid from Beaver Falls, Pa., the youngest of four brothers in a Hungarian immigrant family.
He was a star on the high school football team, but also so good at baseball he had offers to go pro.
He recalled a family meeting: "We sat around the table, and brother Bob turned to my mother and he said, 'Mom, what do you want Joe to do?' She said, 'Oh, I'd like Joey to go to college.' He hit the table with his fist and he said, 'That's it, you're going to school.'"
That meant taking a scholarship at the University of Alabama, playing for legendary Coach Bear Bryant. Namath led the team to a national championship in 1964, and soon, pro football came calling, the New York Jets reportedly offering an unprecedented $427,000.
"I was so embarrassed," Namath said. "I didn't want to discuss this with these guys. I didn't know how, you know? So I got an agent."
And he even got a Lincoln Continental as part of the deal. "Yes, yes, that a high school teammate of mine told me to ask for it," Namath said.
"I hadn't even seen it, I didn't know what it looked like!" he laughed. "He said, 'This is the kind of car you need here, this is what you gotta ask for!'"
He became football's first superstar. When asked by a reporter if he already felt pressure, Namath replied, "Well, pressure just makes you go a little more. I kind of like pressure."
He was dazzling on the field, where he wore white shoes -- and sometimes a fur coat on the sidelines. And he was dazzling off the field as well, hitting the nightspots with a beautiful woman (or two) on his arm.
Braver said, "One of the things that was written said, 'Men wanted to be like you, and women wanted to be with you.' And I grew up in that era, I think that was pretty true."
"Well, I wish I'd known that at the time!" Namath laughed.
He also said he loved his nickname: "Broadway Joe." "A teammate gave me that nickname," he said, right after Namath posed on Broadway for a Sports Illustrated cover.
He got even more attention for a commercial for Beauty Mist Pantyhose.
But his fame came at a price. He got two new knees in 1992.
Besides his scarred knees, there many other injuries, broken bones, and other lasting damage.
"Today, a lot of the talk about football is focused on the players' head injuries," said Braver. "You had some concussions yourself. Do you think you had any long-term effects from what happened to you?"
"I've been through some things, medically," said Namath. "I've seen some things on my brain. But I've had treatment, and I've improved. None of the body was designed to play football, excuse me! You know, football, we're just not designed for."
Another unwelcome souvenir: an alcohol problem. Namath went on the wagon when he became a dad, but started drinking again after he and his wife broke up in 1999.
And 10 years ago, at a New York Jets game where he was being honored, he had an embarrassing encounter with ESPN reporter Suzy Kolber:
Kolber: "What does it mean to you now when the team is struggling?"
Namath: "I want to kiss you. I couldn't care less about the team struggling."
After that, Namath told Braver, "I knew that -- I evaluated myself of what I did and what I was doing -- and I knew I needed to get help."

"How are you now?"

"Been clean and sober since," he laughed.

After Namath retired from football in 1977, he tried acting, in "The Caine Mutiny Court-Martial," and even musicals like "Damn Yankees."

But in recent years, he's been involved in various business ventures, including his latest: the Namath Rapid Cooker ("Be the MVP of your next barbeque!").

And that's the thing about Joe Namath: He's seems never to have taken himself too seriously, even after he was named Most Valuable Player in Super Bowl III.

"I know how we won that day, and it wasn't just old Joe," he said. "I did my part. But just like this this big championship coming up, man, these two teams . . . it's not one individual."

But there'll never be another Joe Namath.




For more info:
Thanks for reading CBS NEWS.
Create your free account or log in
for more features.