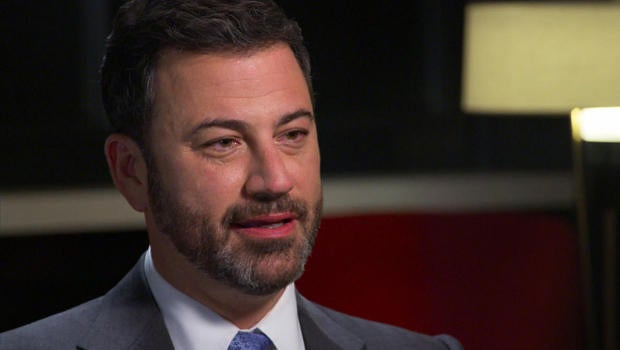 Jimmy Kimmel speaks his mind
The talking points are becoming more pointed for late-night talk show host Jimmy Kimmel, and that's earning him a lot of scrutiny. Tracy Smith has our Sunday Profile:
For Jimmy Kimmel, Hollywood is home: "You know, it's dirty and kinda gross, but I do love it here."
"The weather is beautiful. There's great restaurants here. There's a lot to do. I mean, what's not to like? ... I say, as somebody goes through the garbage can."
He's been taping his nightly show here for the past 13 years, but lately, he's become more than just another face in the late-night crowd.
Kimmel, who turns 50 next month, was always a lovable frat boy at 11:30. But like other late-night hosts, he put comedy on hold after the Las Vegas massacre.
"Maybe I'm nuts, but I would like to think we could put politics aside and agree that no American citizen needs an M-16, or 10 of them," he said on October 2. "And maybe that way, we don't do this again."
Kimmel's call for gun control after the shooting was both praised and criticized. One conservative commentator said, "Who made Jimmy Kimmel the moral arbiter for all of us?"
"I'm not," Kimmel said. "I mean, yeah, I agree with them. I'm nobody's moral arbiter. I mean, you don't have to watch the show. You don't have to listen to what I say."
His monologues -- written just before every show -- have drawn fire from critics who bash him for everything from being "wrong" on gun control to being "soft" on Harvey Weinstein.
"It's a bit of a risk that you're taking, talking about that stuff?" Smith said. "You might lose the audience."
"Yeah, I mean, I saw, I don't know if it was a study or a poll, some combination of those two things, that, like, three years ago I was equally liked by Republicans and Democrats. And then Republican numbers went way down, like 30% or whatever. And, you know, as a talk show host, that's not ideal. But I would do it again in a heartbeat."
"So you don't mind if Republicans turn off your show, they're not watching anymore?"
"I don't say, 'I don't mind.' I'd love for everyone -- I want everyone with a television to watch the show. But if they're so turned off by my opinion on healthcare and gun violence, then I don't know. I probably won't wanna have a conversation with them anyway."
Good riddance? "Well, not 'good riddance,' but riddance!"
Truth is, Kimmel still marvels at the thought of anyone watching him on TV. Nothing in Jimmy Kimmel's boyhood was ever as fascinating as late-night TV.
Born in Brooklyn and raised in Las Vegas, Kimmel grew up in awe of David Letterman. His 18th birthday cake even spelled out the words "L8 NITE." So did his Nevada license plates.
Smith asked, "When you discovered David Letterman, did that become kind of a dream of yours? The idea of maybe someday being a late-night host?"
"Never, never," he said. "I never even imagined that there would be other late-night hosts. It never occurred to me that Johnny Carson and David Letterman would ever go off the air. It just never occurred to me. I'm a little show!"
He spent 12 years in radio, and got a foothold in TV with the Comedy Central game show "Win Ben Stein's Money." He also helped create a satire of crude male behavior called "The Man Show." ["Coming up: We have movies men don't want to see, and girls on trampolines!"]
"It was a fun show to do," he said. "And a silly show that some people took very seriously! Some people didn't understand that we were joking. So there were kind of two audiences for that show: the audience that was in on it, and the audience that wasn't."
"And very angry, not being in on it?" Smith asked.
"Yeah. I don't know. I think we tried to make it like there were a lot of angry people watching the show. But I think something like 40% of our audience was female!"
And in 2003 ABC offered him a talk show of his own. "It seemed like a good idea at the time," Kimmel said. "I quickly realized that it wasn't."
"What do you mean?"
"Well, about six months in, I was praying that they would cancel the show. It was just overwhelming. Nobody wanted to be on the show. The show was live from 9:00 to 10:00 p.m. every night. I was depressed. It was a slog. Nobody seemed to be watching the show. It was very unpleasant all the way around."
He stuck it out, and survived, in part on the strength of viral videos, like the one where then-girlfriend Sarah Silverman taunts him about "sleeping" with Matt Damon:
By the way, Kimmel's "feud" with Damon is one of the longest-running gags in the show.
"So, complete this sentence," Smith asked. "Matt Damon and I are really ..."
"Enemies?" he laughed. "Matt Damon and I have a complicated relationship."
Then there's a recurring bit where celebrities read mean tweets about themselves:
Kimmel also has a sentimental side. He takes his show home to Brooklyn every year. His idol David Letterman stopped in back in 2012:
Kimmel: "Are you on Facebook?"
Letterman: "No."
Kimmel: "Do you have email?"
Letterman (laughs): "Yes. We got a color TV, also!"
Kimmel's back in Brooklyn next week.
It's all still a bit surreal. When asked if he feels like he deserves to be here now, Kimmel replied, "I mean, I guess so. I don't know. Who deserves anything, really? I was lucky enough to get a shot and somehow, miraculously -- I do think back on it, you know, how long the odds are."
"But you did it?"
"Yeah. I guess we did. Yeah."
And he hasn't done it all by himself: his two grown children from a previous marriage -- Kevin, 24 and Katie, 26 -- have both appeared on their dad's shows. Head writer Molly McNearney became his bride in 2013, and their three-year-old daughter Jane is almost a regular.
The show was all fun-and-games, until this past April, when his son Billy was born with a heart defect.
"It was a scary story, and before I go into it, I want you to know it has a happy ending, okay?" Kimmel told his audience.
His on-air story about his son's fight for life became a call to action on health care:
"If your baby is going to die and it doesn't have to, it shouldn't matter how much money you make. I think that's something that whether you're a Republican or a Democrat or something else, we all agree on that, right?"
Smith asked, "What stays with you from the feedback that you got?"
"I think it's the other families," he said. "You know, a lot of people will tell you their stories. I mean, a heart operation is no joke, but, you know, families with cancer and ongoing illnesses. That's what stays with me."
"I know you learned a lot about healthcare though this. What'd you learn about your own family, about Molly?"
"She was very weak through the whole thing; I was the strong one. I'm joking! I'm joking to make myself not cry! It's when you really appreciate your family and Molly.
"You know, it's funny, because we weren't sure we wanted to have a second child. I have two older kids, and we really love our daughter, obviously. But we definitely learned that we wanted to have a baby. That became very, very clear at that moment."
The pre-show chant by his show's staff is a running joke ("Not only are you our boss, you're also our best friend! Best show ever! Best show ever!"), but the ratings are ticking up. He might be walking in the footsteps of giants, but Jimmy Kimmel has found a way to stand out.
Smith said, "You have this show. You're doing great. You're getting recognized. What next?"
"There really is no 'next' when you host a show like mine," Kimmel replied.
"This is it?"
"Yeah, I think this is probably it. But I never feel like it. I do still feel like I snuck in. And I do sometimes I'll, like, drive by a neighbor's house and they have a big window, like, if you see yourself on the television, it's just like, 'Wow, there's people in their houses watching me. That's crazy,' you know? Television is kind of a magical thing."

For more info:
Thanks for reading CBS NEWS.
Create your free account or log in
for more features.