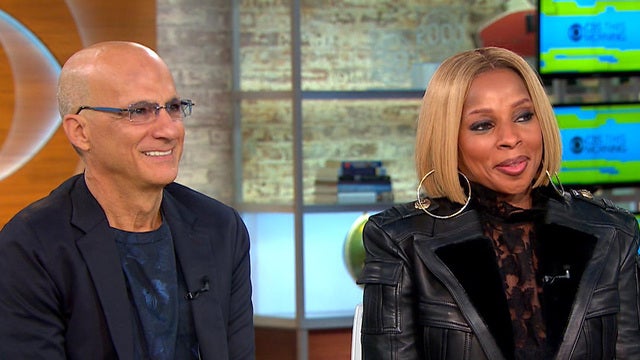 Jimmy Iovine, Mary J. Blige introduce Apple Music in new ads
Music legends Jimmy Iovine and Mary J. Blige are collaborating to change the way we listen to music.
Iovine, producer and co-founder of Interscope Records, is leading the charge at Apple Music. It is launching a three-part ad series featuring the Grammy-winning singer and actresses Kerry Washington and Taraji P. Henson hanging out at Blige's home as they use the streaming service.
The first installment premiered on Emmy night in September. New York Magazine called it "the best moment" from the telecast," and "the best friendship erotica this world has seen."
Blige called it a "genius idea."
"That's what (girls) do when we get together. We just listen to music, we talk about life, love, marriage ... so it was beautiful to have Jimmy choose me to be a part of their world and them be a part of mine," said Blige.
Iovine says he was inspired to work with Apple when he met the late Apple co-founder Steve Jobs when the record industry was having a hard time.
"When I met them I said, 'Oh, the party's over here,'" Iovine said. "What they were onto was so brilliant."
Iovine said Apple's streaming service offered an easy way to listen to music for those who have a hard time finding songs. The service offers 30 million songs and playlists that are handpicked by a team of DJs. It also offers a new list of songs every week -- of a mix of genres -- that are gathered by editors, who accommodate users' musical tastes based on their feedback.
"Not everybody has the right list or knows a DJ," Iovine said. "You need great lists for dinner, you need great lists for exercise."
The music service offers a three-month free trial, and an individual plan at a cost of $9.99 per month. It currently has over 6.5 million paid subscribers.
"CDs are still around and people are still buying vinyls. Everybody will have a different place but we believe music streaming -- especially when curated by real people -- it's up-service," Iovine said.
Thanks for reading CBS NEWS.
Create your free account or log in
for more features.