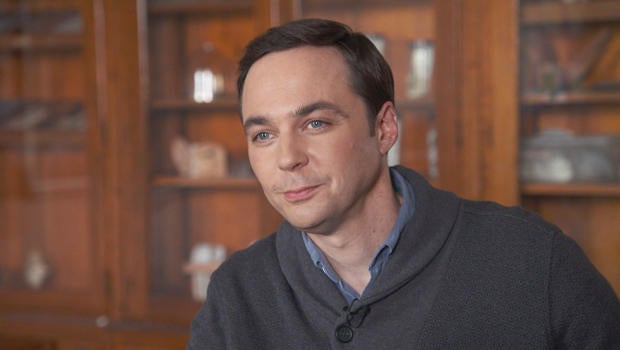 Jim Parsons on being a first-time film producer with "A Kid Like Jake"
Jim Parsons is best known for his confident work in front of the camera on the CBS sitcom "The Big Bang Theory," and on the Broadway stage in the revival of "The Boys in the Band." But the four-time Emmy-winner says it has taken him time to settle in behind the camera, as a producer on his new film "A Kid Like Jake."
Parsons talked with Richard Schlesinger about producing, acting and more in an interview for CBS' "Sunday Morning," to be broadcast June 10.
The film, in which Parsons and Claire Danes star as parents searching for the right school for their four-year-old son who likes to dress as a princess, marks Parsons' first time as a producer.
Asked where he acquired the producer bug, Parsons says he's not sure if he really has it; the only thing he knows, he says, is what he doesn't know.
"I don't know all the things that one must consider when putting together a project," he told Schlesinger. "I'm learning them, things that are hard for me to get my head around, like the value an actor brings to a project, and the money such-and-such can bring."
Schlesinger visited the set of the movie last summer in Brooklyn, and talked with Parsons, Danes, director Silas Howard, and Parsons' producing partner and husband Todd Spiewak. (Parsons and Spiewak are also executive producers on CBS' hit sitcom "Young Sheldon," which goes into its second season this fall.)
Schlesinger caught up with Parsons recently to talk about his first experience as a film producer.
Parsons said the time is right for "A Kid Like Jake," because of the current discussion in the news about gender roles: "I think it might be more important than ever, even if mostly what you want to do is act, to get your face and hands in their early as you can, make sure that the stories you're interested in telling have a chance to be told," he said. "If I want to hear a certain story, there's probably many other people out there – maybe not a lot, but maybe just a few – but there's some other people who want to hear that, too."
The Emmy Award-winning program, hosted by Jane Pauley, is broadcast on CBS Sundays beginning at 9:00 a.m. ET. Executive producer is Rand Morrison.
"Sunday Morning" also streams on CBSN beginning at 9:30 a.m. ET and repeated at 1 p.m. ET, and is available on cbs.com, CBS All Access, and On Demand. You can also download the free "Sunday Morning" audio podcast at iTunes and at Play.it.
Be sure to follow us at cbssundaymorning.com, and on Twitter (@CBSSunday), Facebook, and Instagram (#CBSSundayMorning).

For more info:
Thanks for reading CBS NEWS.
Create your free account or log in
for more features.