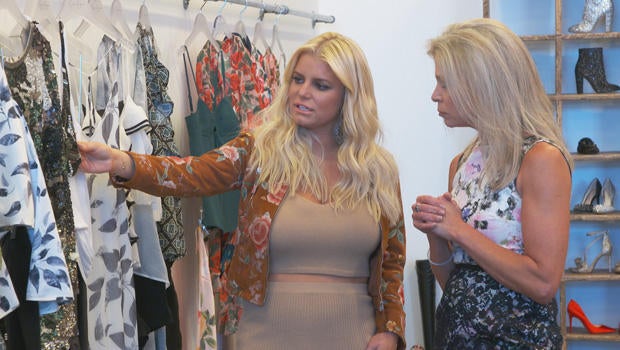 Jessica Simpson: "People are shocked that they like my brand"
Jessica Simpson has been part of the cultural landscape as a singer and a reality TV show star since the late 1990s, so she's pretty much a household name. However, people find themselves "shocked" to learn they like her clothing line, she says in an interview with Tracy Smith for CBS' "Sunday Morning," to be broadcast May 21.
The Jessica Simpson Collection, which includes products ranging from clothing to accessories, is estimated to be a billion-dollar-a-year business.
"People are shocked that they like my brand," Simpson tells Smith. "Maybe 'cause it's not that expensive? Or maybe because I was a cheesy pop star back in the day? I have no idea."
Simpson says she and her mother, Tina, are very involved with every stage of the design process, and she wouldn't put her name on anything that she doesn't approve of. Some of the designs, Simpson says, are examples of clothes she wore for public appearances during her pop star days.
Those public appearances often became tabloid fodder when critics harshly criticized her fluctuating weight. It's because of that attention, Simpson tells Smith, that her clothing line must be for women of all sizes.
"It's very important for me to let every woman feel included," she says. "Like, every person needs to feel included. If I make a shirt, I'm gonna make sure every size is available. Because I have been every size, trust me."
Simpson also gives Smith a sneak preview of new music she's recording; talks about her reality show days; and fat shaming.
The interview is part of "Sunday Morning"'s annual "By Design" broadcast, anchored by Jane Pauley in Amsterdam.
The Emmy Award-winning "CBS Sunday Morning" is broadcast on CBS Sundays beginning at 9:00 a.m. ET. Executive producer is Rand Morrison.
Follow the program on Twitter (@CBSSunday), Facebook, Instagram (#CBSSundayMorning) and at cbssundaymorning.com. "Sunday Morning" also streams on CBSN beginning at 9:30 a.m. ET, and is available on cbs.com, CBS All Access, and On Demand. You can also listen to "Sunday Morning" audio podcasts at Play.it.
For more info:
Thanks for reading CBS NEWS.
Create your free account or log in
for more features.