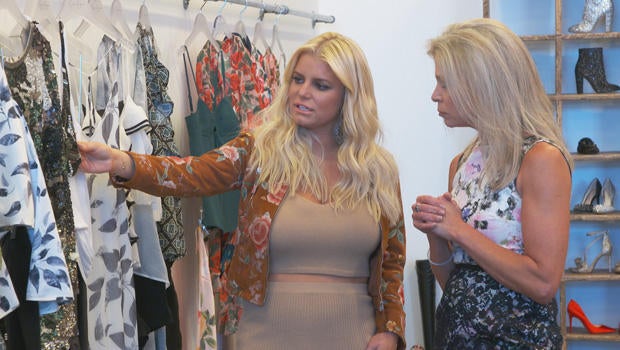 Jessica Simpson and her empire
Jessica Simpson is a pop star and fashion designer who knows a thing or two about popular taste. Tracy Smith reports:
If all you know about Jessica Simpson is that she's a singer, you might be surprised we're talking with her about design. That's OK; she's used to it.
And she's used to people being pleasantly surprised by her fashions: "People are shocked that they like my brand. Maybe 'cause it's not that expensive? Or maybe because I was a cheesy pop star back in the day? I have no idea. But you're gonna like my shoes, damn it!"
And people may be even more shocked to hear this: the Jessica Simpson Collection, which includes products ranging from clothes to accessories to home, is a billion-dollar-a-year business.
How's that for a cheesy pop star?
When asked how much of her goes into her collection, Simpson said, "My name's on it; I would never let my name be on anything that I wouldn't approve of somebody wearing."
Thirty-six-year-old Simpson and her mom, Tina, are involved in every step of the design process. "I would never trust anybody but my mother to help with this collection," said Jessica.
Tina said that she and her daughter would be in a meeting and would say the exact same thing. "We'll look at a piece and we'll feel the same way about it. Then there'll be times sometimes when she feels one way, obviously, and I feel another. But I always defer to her because she's the boss."
"Oh, yeah. Right!" Jessica laughed.
"Most of the time," Tina added.
Some designs come straight from Jessica's own closet. A romper is based on an outfit she wore to the 2005 MTV Video Music Awards. "It's timeless to me. Everybody needs a romper," she said. "And to make it black-and-white and sexy is the best way to go."
"And you can look like Jessica Simpson at the VMAs," said Smith.
"I mean, I wish I could look like Jessica Simpson in 2005!"
This was Jessica Simpson in 2005 -- strutting around in Daisy Duke shorts and cowboy boots, and not much else:
She was more famous than she'd ever dreamed -- and a long way from where she started.
A preacher's daughter from Texas who began singing in church, Simpson's progress up the pop charts was slow but steady, until 2003, when her dad had an idea for a reality show.
"Newlyweds: Nick and Jessica" chronicled the daily lives of Simpson and her then-husband, fellow singer Nick Lachey … warts and all. "I think letting me be myself is probably the wisest decision, even though I cringe at it sometimes," she laughed.
One classic moment: mistaking Chicken of the Sea tuna for actual chicken.
"That was true!" she laughed. "I just was really confused 'cause I didn't like fish, but I liked this, you know? I liked the Chicken of the Sea. By the Sea? I should know it by now!"
Jessica realized early on that fans tuned in to see what she would say -- and what she was wearing. So she started a fashion line, just shoes first. And while the TV show -- and her marriage to Nick -- didn't last, the Jessica Simpson Collection has endured for more than a decade.
The reason, Simpson says, is relatability. "I'm just like everybody else. I have gone through almost just as much, if not more, very publicly."
The tabloids have been merciless, like when her parents split up, or when she was pregnant with her first child and put on a few pounds. "It's like, 'I'm pregnant! How could I be fat-shamed?'" she laughed. "OK, that makes sense. It's not fair. I deserve a f****** donut!"
Of her own fashions, she says it's very important to her that they fit all sizes. "It's very important for me to let every woman feel included," she said. "If I make a shirt, I'm going to make sure that every size is available. Because I have been every size, trust me!"
Simpson's been busy with her brand, and raising two kids with husband Eric Johnson, so it's been a decade since she had a new song. But she says the success of the collection has allowed her to start making music again.
"I have no record deals; I am my own record deal, which is so empowering to say," she said. "Nobody has to tell me what to look like, nobody has to tell me what music sounds good."
Later this year, she'll release both the album, and a new, slightly pricier clothing line. If they earn her more money, or more respect, that's fine. But Jessica Simpson's goal is much simpler.
Smith asked, "When people hear the name Jessica Simpson today, what do you want them to think?"
"Just that I'm your friend," she replied.
"So not 'Jessica Simpson, pop star'? Not 'Jessica Simpson, business mogul'?"
"I don't even like 'Jessica Simpson, pop star,'" she laughed. "So weird. 'Jessica Simpson, friend' works for me! I like that."

For more info:
Thanks for reading CBS NEWS.
Create your free account or log in
for more features.