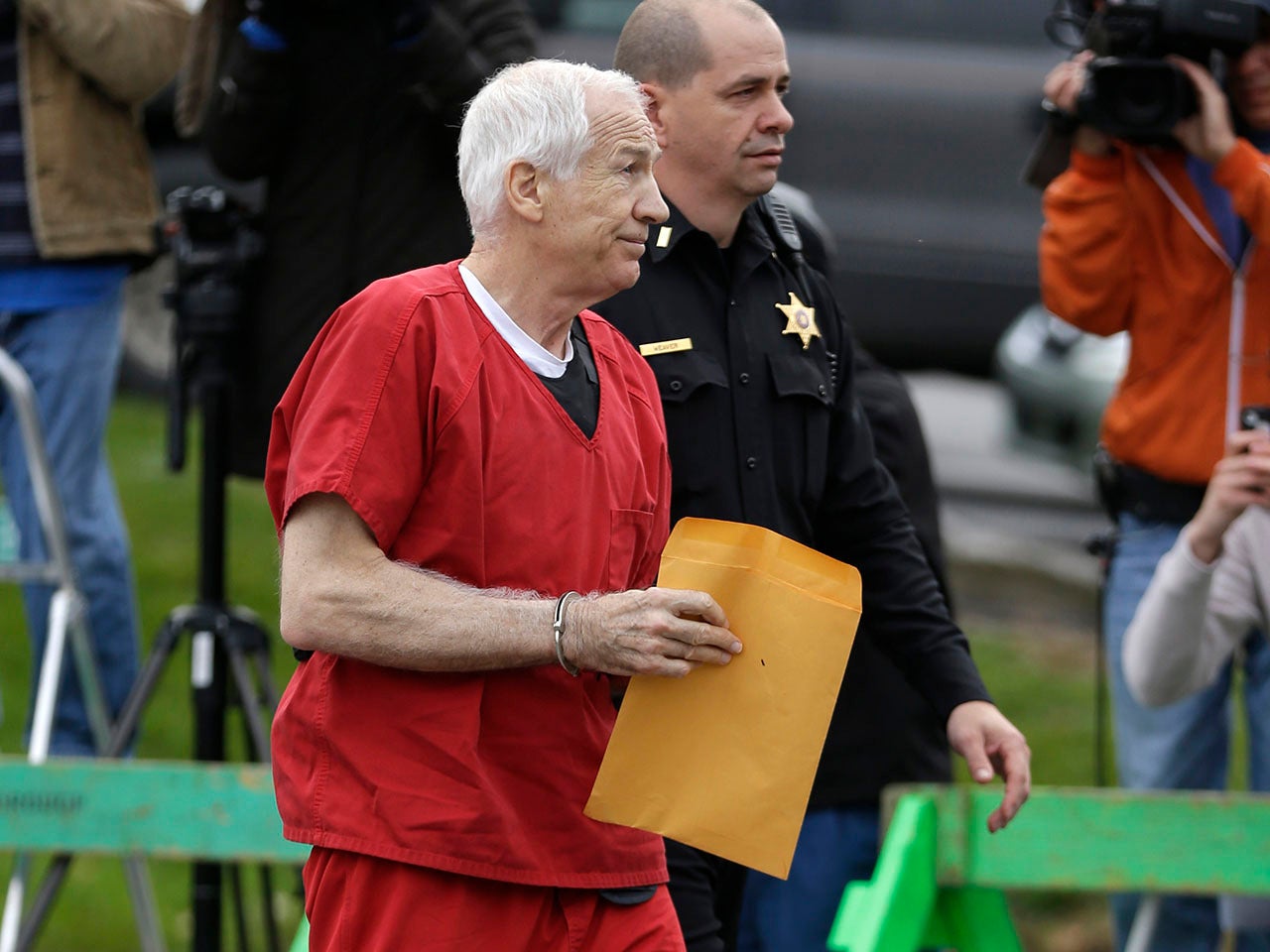 Jerry Sandusky receives 30- to 60-year sentence
Last Updated 1:15 p.m. ET
BELLEFONTE, Pa. Jerry Sandusky was sentenced Tuesday to at least 30 years in prison -- effectively a life sentence -- in the child sexual abuse scandal that brought shame to Penn State and led to coach Joe Paterno's downfall.
Judge John Cleland sentenced the 68-year-old former assistant football coach to 30 years minimum to 60 years maximum in prison. Under Pennsylvania law, Sandusky cannot be released on parole before the minimum term is up.
A defiant Sandusky gave a long, rambling statement in which he denied the allegations and talked about his life in prison and the pain of being away from his family.
Outside the courthouse after the sentencing, prosecutor Joseph McGettigan praised the victims for their bravery in coming forward and called Sandusky's punishment a "wise and proper one." He called the former football coach's statement "a masterpiece of banal self-delusion" that was "entirely self-focused as if he again were the victim."
Sandusky was found guilty in June of 45 counts of child sexual abuse, convicted of molesting 10 boys over a 15-year period. Witnesses said Sandusky used the charitable organization he founded for troubled children as his personal hunting ground to find and groom boys to become his victims.
His arrest 11 months ago, and the details that came out during his trial over the summer, transformed Sandusky's public image from a college coach who had been widely admired for his work with The Second Mile charity into that of a reviled pervert who preyed on the very youngsters who sought his help.
Eight of the boys he was found guilty of molesting testified at his trial, describing a range of abuse that included fondling, oral sex and anal intercourse. One of the prosecution's star witnesses, former graduate assistant Mike McQueary, testified that he saw Sandusky raping a boy in a locker room shower.
Victim statements recalling the trauma from Sandusky's crimes were read at today's sentencing. One person, known as Victim 1 in the case, wrote: "I have tried to think of the words that would describe how Jerry Sandusky has impacted my life. It all began with Jerry Sandusky building my trust over a long period of time. Then came the ultimate betrayal. My psychologist describes it as PTSD -- I describe it as emotional agony. ...
"To the end Jerry Sandusky wanted to manipulate and abuse each of the victims. No remorse, only evil."
In a victim impact statement, the mother of Victim 9 wrote, "Words cannot describe the pain you have caused my son and my family. Not only did you heap lifelong problems upon my son, you did it for your own gratification. You were molesting him and forever changing his life for the worse. He lost weight, got sick a lot, was getting in trouble at school, I thought it was my fault. I blame myself, and still do, for his sick indulgences."
She told of how her son tried twice to take his own life. "You have forever injured not only my son, but your other victims as well. Shame on you, Mr. Sandusky, for your narcissistic acts. My poor son. You took something from him that can never be replaced. His childhood, his youth. You are a horrible person."
Victim 6 spoke in court, crying as he told of how he felt "manipulated" by Sandusky.
"That night you told me you were the 'tickle monster' so you could touch my 11-year-old body and get me to think that what you were doing was OK. I have been left with deep painful wounds ... words can simply not defend. There are so many times of confusion, sadness ...
"I have now begun my journey to healing. I have not by any means arrived."
He told Sandusky that the former coach and founder of the charity The Second Mile was in denial about everything he had done. "I believe you are only fooling yourself. It is time to stop coming up with excuses for your behavior. Jesus will forgive you. If you remain in denial, even though deep down you know what really happened, you will not be able to receive forgiveness. There is no other way ... There is a bigger judgment to come."
Sandusky smirked throughout the statement.
Victim 5 also spoke in court, telling how Sandusky had lured him into a sauna.
"I am troubled with flashbacks of his naked body. I continued to be haunted with the indecent ... I isolated my struggles from the ones I love most, my mother, my father, my siblings and my girlfriend. Jerry Sandusky, a man that I trusted, respected and admired, had molested boys over years. ...
"The sentencing of Jerry Sandusky will never erase what he did to me. I will never erase the images of his naked body. He must pay for his crimes for which he has now been properly convicted of. I hope you will consider the real harm that he has done to his victims. It is painful and will be inside me forever as an open wound. Thank you, your honor, for your understanding."
Victim 4 said, "You did terrible things, and I cannot begin to explain how this has screwed up my life. . . . You should be ashamed of yourself, and others need to be held accountable for your actions. I don't forgive you. I grew up in a bad situation and you made it worse.
"My only regret is that I did not come forward and tell others what happened. I hope others that were abused after me will forgive me for not coming forward sooner."
Finally, Sandusky spoke. In his statement -- which repeated some of the words and sentiments he expressed in his Monday night radio statement -- he said he was filled with emotion and determination.
"I did not do these alleged, disgusting acts," he said. "It was a terrible feeling, my heart filled with tears. Many moments have been spent looking for a purpose. Maybe it will help others, some vulnerable children who may have been abused may not be because of all of the publicity.
"I would cherish the opportunity to be a little candle to others. Hopefully we can get better as a result of our hardship and our suffering that somehow someway something good will come out of this."
He talked of his ordeal of arrest and incarceration, and of outbursts from other inmates. "There is a lot of darkness in that room," he said, adding, "Often when it is darkest, God sends light."
He thanked family and friends for their support. "Others can make me out as a monster, treat me as a monster. In my heart I know I did not do these alleged acts."
Sandusky has consistently maintained his innocence, and plans to appeal. One element of the appeal is expected to be a claim that the defense did not have time to adequately prepare for trial. Sandusky was charged in November, following a lengthy investigation.
In his sentencing statement Judge Cleland said Sandusky's crime was not just what he had done to the victims' bodies but to their souls.
"There is a lesson for our community from all this -- in the protection of our children we must be vigilant," he said.
In a three-minute monologue aired Monday night by Penn State Com Radio that used some of the same language as his courtroom statement, Sandusky said he knows in his heart that he did not do what he called "these alleged disgusting acts" and described himself as the victim of Penn State, investigators, civil attorneys, the media and others.
"They can take away my life, they can make me out as a monster, they can treat me as a monster, but they can't take away my heart," he told the radio station. "In my heart, I know I did not do these alleged disgusting acts. My wife has been my only sex partner and that was after marriage."
The scandal brought devastation in State College that will take years to fully assess, as Sandusky's victims are pressing civil claims and a January trial is pending for Gary Schultz and Tim Curley, two university administrators charged with failing to properly report suspicions about Sandusky and lying to the grand jury that investigated him.
Soon after the three were arrested in November, the board of trustees fired Paterno, the school's most famous figure and a man who won two national college football championships in the 1980s. Paterno died of lung cancer in January.
Over the summer, an investigation commissioned by the university and led by former FBI Director Louis Freeh concluded that Paterno and other top officials covered up allegations against Sandusky for years to avoid bad publicity.
The scandal also toppled university President Graham Spanier and led to crippling NCAA sanctions against the football team that included a $60 million fine, a ban on postseason play and a reduction in the number of football scholarships the school can award. The NCAA also erased 14 years of victories for Paterno, stripping him of his standing as major college football's winningest coach.
At least four young men have sued Penn State over the way the university responded to disturbing complaints about Sandusky.
Eight legal teams representing at least 20 young men have surfaced, and the school recently announced an effort to settle as many claims as possible by the end of the year.
Penn State President Rodney Erickson released a statement shortly after the sentence was handed down.
"Our thoughts today, as they have been for the last year, go out to the victims of Jerry Sandusky's abuse," Erickson said. "While today's sentence cannot erase what has happened, hopefully it will provide comfort to those affected by these horrible events."
Thanks for reading CBS NEWS.
Create your free account or log in
for more features.