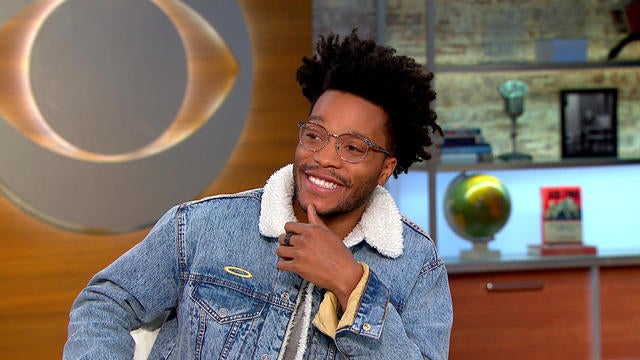 Comedian Jermaine Fowler on his start in comedy and the heart of a good joke
Jermaine Fowler cut his teeth in comedy on the stages of New York City. The actor and comedian went on to create and star in the sketch comedy series "Friends of the People" and headlined his own standup special on Showtime. Now, he's an executive producer and star of the CBS series "Superior Donuts."
Fowler told "CBS This Morning" that the heart of a good joke is "truth."
He was inspired to pursue comedy during his late teens after watching Eddie Murphy's iconic special "Raw."
"Yeah, this VHS tape — I loved it so much and I just used it as a way to talk about my life, what I was going through, my area. I'm from Hyattsville, Maryland, and what it was like growing up there. It was just ripe for comedy and I'm glad I did because it was very therapeutic at the same time," Fowler said.
Another one of his idols is the late comic Patrice O'Neal.
"He's probably one of the most polarizing people you would ever meet but the man was honest about himself," he said.
Fowler believes that there are some things about comedy that can be taught, but others come down to nature.
"You can't teach standup comedy. You can teach someone how to formulate a joke but making it funny is different," he said.
Ironically, given his chosen profession, Fowler resented being seen as the class clown.
"I never liked being called class clown because my mom, rest in peace, my mom told me 'Jermaine, You don't want people to laugh at you. You want them to laugh with you,'" he recalled. "When I got nominated class clown in school, I remember my mom said, 'Don't be no clown.' So I went to my vice principal in my school and said, 'Can we change this to just the funniest?"
Season 2 of "Superior Donuts" premieres Oct. 30 at 9 p.m. / 8 p.m. CT on CBS
Thanks for reading CBS NEWS.
Create your free account or log in
for more features.