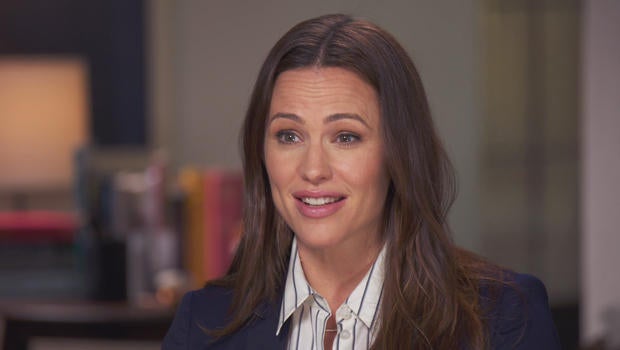 Jennifer Garner on the farm, and away from paparazzi
Turns out acting is just ONE of Jennifer Garner's callings. Conor Knighton has our Sunday Profile:

You may not recall the 1995 Danielle Steel miniseries "Zoya," Jennifer Garner's first on-camera appearance ("Freddy and I were married this afternoon – and I'm pregnant!"). But Knighton grew up in her hometown of Charleston, West Virginia, went to the same church, graduated from the same high school. So, he can name every project she has ever done.
"Zoya," Knighton noted, was front-page news in Charleston. "That was the hugest big deal! That was the hugest deal that ever happened," Garner laughed.
Her career spans more than two decades from a superhero ("Elektra") to super awkward ("13 Going on 30"), from critically-acclaimed indie films ("Dallas Buyers Club"), to huge ad campaigns ("What's in your wallet?").
But way before she became the center of attention, Garner was your typical middle child in a family of three girls. The daughter of a chemical engineer and a teacher, Garner's love of performing began on the dance floor. "My mom just put us in dance," she said. "And I wasn't as talented naturally as either of my sisters. But I was expressive. They would say, 'Oh, she's very expressive!'"
She entered Ohio's Dennison University as a Chemistry major, but graduated with a BFA in Theater. After four years, she had left her West Virginia accent behind.
"When I went to college, I had a bit of a twang – I sounded kind of mountain-y," Garner said. "But I loved, loved, loved any play that was just dripping with words, the more words, the better. And it takes a long time to speak with a twang. So, I had it kind of kicked out of me!"
After traveling the country in summer stock theater productions, building sets along the way, Garner started building a small resume of television appearances. A guest spot on the TV series "Felicity" caught the attention of writer-director J.J. Abrams, inspiring him to create a role with her specifically in mind: super spy Sidney Bristow on TV's "Alias."
It was a role the studio made her fight for … literally.
Garner said, "I went through the Yellow Pages. I looked up the local guy who had the most degrees of black belt. I called him, I went to see him every day, and by the time I had my fifth audition for 'Alias,' they said, 'What can you show us?' And I said, 'Well, I've learned a couple of forms. I'm already this belt. I can do this.' And I just stood in the room and did it!"
Knighton said, "I remember there was a summer in college I'd gone to New York, and I'd seen a billboard for 'Alias,' with you in an orange wig. And I realized that, 'Things are about to get really different for her.' How did that change your life?"
"It changes it in such an instant and enormous way, because it's startling to become recognizable. It's startling and shocking," she replied.
"Alias" made her a star, but nothing could have prepared Garner for the non-stop tabloid coverage that followed her romance with actor Ben Affleck.
"Well, there was a solid decade where there were five or six cars minimum, and easily up to 15 or 20 on the weekends, outside of my house at all times," Garner said. "And looking back on that, I really feel the stress of it. I really – I could cry, talking about it."
After ten years of marriage, the A-List power couple who have three children together announced their separation, in 2015. They filed for divorce last year, but …
"The public was, and still is, obsessed with your private life," Knighton said. "What has that been like for you, going through a divorce and having every moment of that played out on the cover of these magazines?"
"What I think that I've learned is that scrutiny in your private life puts a pressure to make something happen," she said. "You feel a pressure to hurry up and get married, 'cause you think that'll end the Are they engaged? Are they not? [talk]. And that's true in the reverse, as well. You know, if there is any inkling of trouble, or if the tabloids decide there's trouble, it can create trouble.
"But to be honest, public scrutiny, everyone says, 'Oh, you've had to go through this in public.' The public isn't what's hard; what's hard is going through it."
"Do you find that you're able to tune out from all of that? Do you pay attention?" asked Knighton.
"I don't look at it. I had to really get serious with myself, and say, 'This is not healthy.' In the morning you can either be making breakfast for your kids, making their lunchboxes, or you can be getting paparazzi-ready!" she laughed. "And so, you know, I know which way I'm gonna go!"
You won't find any paparazzi out in Locust Grove, Okla., just east of Tulsa, where Garner recently purchased the farm her mother, Pat, grew up on, and where her Uncle Robert still lives.
"Mama could sure fry a good chicken," said Pat Garner.
"Yeah, she could. Mom could make a squirrel taste real good!" laughed Uncle Rob.
"Well, that's saying something!" said Jennifer.
"Wait, is that in theory? Or that's in practice?" asked Knighton.
"No, no. That's in practice. We ate squirrels. I will again, if I have to!" said Uncle Rob.
With her uncle's help, Garner is turning the old family farm into a site to grow produce for Once Upon a Farm, the organic fresh baby food company she recently co-founded. Here they'll be raising blueberries, kale and persimmons. "Persimmons are native to here. They do real well here," Uncle Robert said.
When asked why it was important for her to have it on this farm, Garner replied, "First of all, if I had had any idea how happy it would make my mom to be part of bringing this little farm back to life, I would have done it ten times over. But your family just has a connection to the land that has raised them. I wanted the business to be connected to my family."
Fresh food was a key part of Garner's childhood: "Mom did not believe in processed food. So, everything we had was homemade. If it was a cookie, it was a homemade cookie."
Of course, that doesn't always mean it was eaten. Pat Garner noted that Jennifer was a picky eater, who lived on peanut butter and honey: "And she'll say, 'How did you stand me, Mother?'"
Now in her role as Chief Brand Officer, Garner's goal, she says, is to get the quality of homemade food into the homes of busy parents. "We're just making an option for moms who might be too busy to make their own fresh food for their kids, that day or ever, and we're making it fresh from the earth, just at the grocery store," she said.
Knighton asked, "And is this something that you'd have three meals a day? Or is this, you know, the midday kind of snack and then breakfast, dinner? Or different?"
"It just depends. Babies eat different things at different times. You'll see some day, Conor!"
"Nachos and milkshakes, right?"
"Yeah, sometimes a baby might have nachos!"
"Okay. I'll be fine. I'll be fine."
"Don't worry. You'll learn. I'll help you when you get there!"
It's been a busy year for the 46-year-old Garner. In addition to a celebrated turn in the movie "Love, Simon," Garner is returning to TV. She just wrapped shooting the new HBO show "Camping," and she's also back in action in the revenge film "Peppermint" that premieres this fall,
But back in her backyard garden at her Los Angeles home, blueberries are in season. Here, she grows kale and lemons, raises chickens, and keeps bees for honey. It's food for her own family – her way of connecting to how, once upon a time, she was raised.
Garner said, "It just makes you happy to pick something and eat it."

For more info:

Story produced by David Rothman.
To watch a trailer for "Peppermint" click on the video player below.
Thanks for reading CBS NEWS.
Create your free account or log in
for more features.