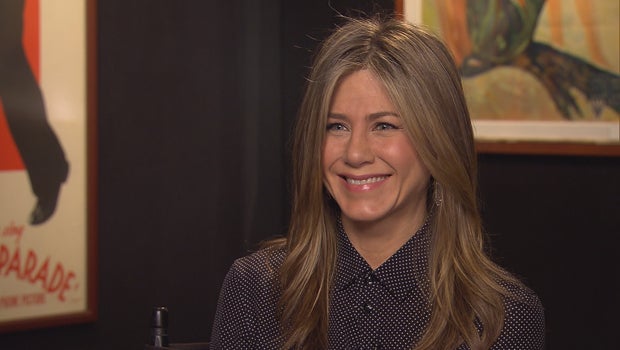 ​Jennifer Aniston cuts through all the paparazzi noise
Jennifer Aniston could always get a laugh in the long-running TV show, "Friends." Now she's trying her hand at a more serious role -- that is, when she's not under siege by the paparazzi. Lee Cowan has our Sunday Profile:
There is a fascination with Jennifer Aniston that seems to know no bounds. She is arguably one of the most photographed celebrities in Hollywood -- the subject of unrelenting gossip.

No wonder she doesn't do a lot of extended interviews.
But when she sat down with Cowan, Aniston seemed anxious to talk -- especially to answer a question she's actually been asking herself: "Can I do it? Am I capable? Is there a reason I'm not always the go-to girl for these kinds of parts?"
It's her part in the upcoming independent film, "Cake," that she hopes will erase any doubts.
Aniston plays a woman suffering from chronic pain. She's out of friends, addicted to painkillers, and suicidal.
"I really was ready to, you know, just disappear and really go into the depths of a character," Anniston said.
"So where did all that come from?" Cowan asked.
"In me? Well, I'm pretty on the edge. I mean, I can cry at a Pampers commercial!" she laughed. "You just act it, use your own emotions."
"Cake" has already earned her nominations for a Screen Actors Guild Award and a Golden Globe, and there are some whispers she could even be up for an Oscar.
"Is there a little part of you that's sort of "I told you so, I could do a role like this?"
"Eaaaahh . . . Maybe!" she laughed. "Maybe a teenzy one."
Ever since Aniston became a household name on the wildly popular sitcom "Friends," she's been thought of mainly for her comedic timing.
She's appeared in a series of romantic comedies. But Aniston says she always had her heart set on becoming a serious actress. In fact, when one of her acting teachers pointed out her sense of humor might be an asset, she actually got mad.
"I was like, 'I'm not funny! I am a serious actor!'" she recalled. "And he said, 'No you're actually funny and I think you should pay attention to that.'"
"Did you have a sense that you were funny?" Cowan asked.
"Yeah, I did, but my family was funny. We always were. I mean, I liked making people laugh. It was such a source of survival for me as a kid, you know, to be a clown and make people laugh."
Survival because, she says, it helped her deal with her parents splitting up when she was just nine years old.
"How much do you think that shaped you, having your parents get divorced?" Cowan asked
"Everything," she replied. "I mean, honestly the best thing that came out of it was my sense of humor, because there were some pretty sad moments, as any kid from a divorce will tell you."
Born in Sherman Oaks, Calif., Aniston was actually raised in New York City, in an apartment filled with entertainment, starting with her father, John.
He's appeared almost continuously on TV since the 1960s, including a nearly three-decade-long run as Victor in "Days of Our Lives."
Anniston says her dad didn't want her to become an actress. "Uh-uh. No. No, no, no. He didn't want my heart to be broken. Maybe that was my rebellion - was, 'Oh, yeah? I'm going to do that then. I'm going to try to be an actress.'"
She was accepted into Manhattan's LaGuardia High School, a prestigious school of performing arts.
The library, she says, was not her favorite place. "I just wanted to be downstairs in the drama department," she said.
Back then, Aniston was a bit more "round," as she puts it. She had a love affair with mayonnaise and white bread sandwiches, she said, pouring over her yearbook photos. "That's mayonnaise sandwiches all over there!" she laughed. "That's hysterical."
She still enjoys a good order of French fries, however, at one of her favorite hang-outs -- a Jackson Hole restaurant on the Upper West Side where she worked as a waitress between auditions.
"If I would get a play, or off-Broadway this or that, they would always let me go, do my play, and then they'd always have a spot for me when I finished," she said.
When she turned 20, Aniston traded burgers for the beach, moving to L.A. where her life in TV began.
Her first sitcom was called "Molloy." It only lasted one season, as did her next role on "Ferris Beuller" -- another flash-in-the-TV-pan.
"You were getting all these pilots, though, that just never seemed to go past a couple of episodes," said Cowan.
"Didn't matter to me," Aniston said. "I mean, I was just working. I was excited to be working."
And then, of course, came "Friends" -- the role that made Aniston (and her hair) famous.
"Friends" was a cultural phenomenon. It made Aniston America's sweetheart, and a darling of the tabloids.
The paparazzi were even waiting outside our interview to grab shots of Aniston leaving.
"It just seems like you have to deal with it so much more than anybody I can think of, pretty much," said Cowan.
"Yeah. Just don't pay attention, best you can," she said. "There was a period where I was hell-bent on saying, 'That's not true, that's not right, that's not fair.' And now I just think you have to let it roll off your back and you realize, I think everyone knows it's all BS and, like, soap opera on paper."
"Do you understand the appetite?"
"I don't understand it," she replied. "I just think it's like watching a soap opera!"
A soap opera that reached circus-like proportions after her divorce from Brad Pitt a decade ago.
"The fact that it still follows you around -- I mean, I'm divorced. It's gotta be painful. I mean, I don't like it when people bring it up. But people still do, right?"
"I don't find it painful, though," Aniston said. "I think it's a narrative that follows you because it's an interesting headline. It's more of a media-driven topic."
"You've moved on, clearly."
"Well, everybody has!" she laughed.
"You guys still talk? You friends?"
"We've exchanged good wishes and all that sort of stuff to each other, but not a constant thing. I mean, do you talk to your ex-wife?"
"No. ... When I have do, I do."
"There ya' go!"
She's currently engaged to actor Justin Theroux -- happy and blissful, she says, despite the spotlight.
"But can you and Justin turn off all that noise and static?" Cowan asked.
"Oh, we do. We absolutely do. We know what our truth is. And that's all just static."
Her latest role isn't glamorous, like all the magazine covers she graces. Instead, it's gritty and sad and, in parts, funny. She'll always be that.
But she hopes now fans and critics alike will see that Jennifer Aniston is more than just the Girl Next Door.
"It feels like there's some page is about to turn, and it could just be closing of a book, or it could be a new chapter -- who knows? She laughed. "I just know that for me personally, I did something for myself that was important."
"Makes it all worth it?"
"Oh, it's always worth it, yeah."
To watch the trailer for "Cake," click on the video player below.

For more info:
Thanks for reading CBS NEWS.
Create your free account or log in
for more features.