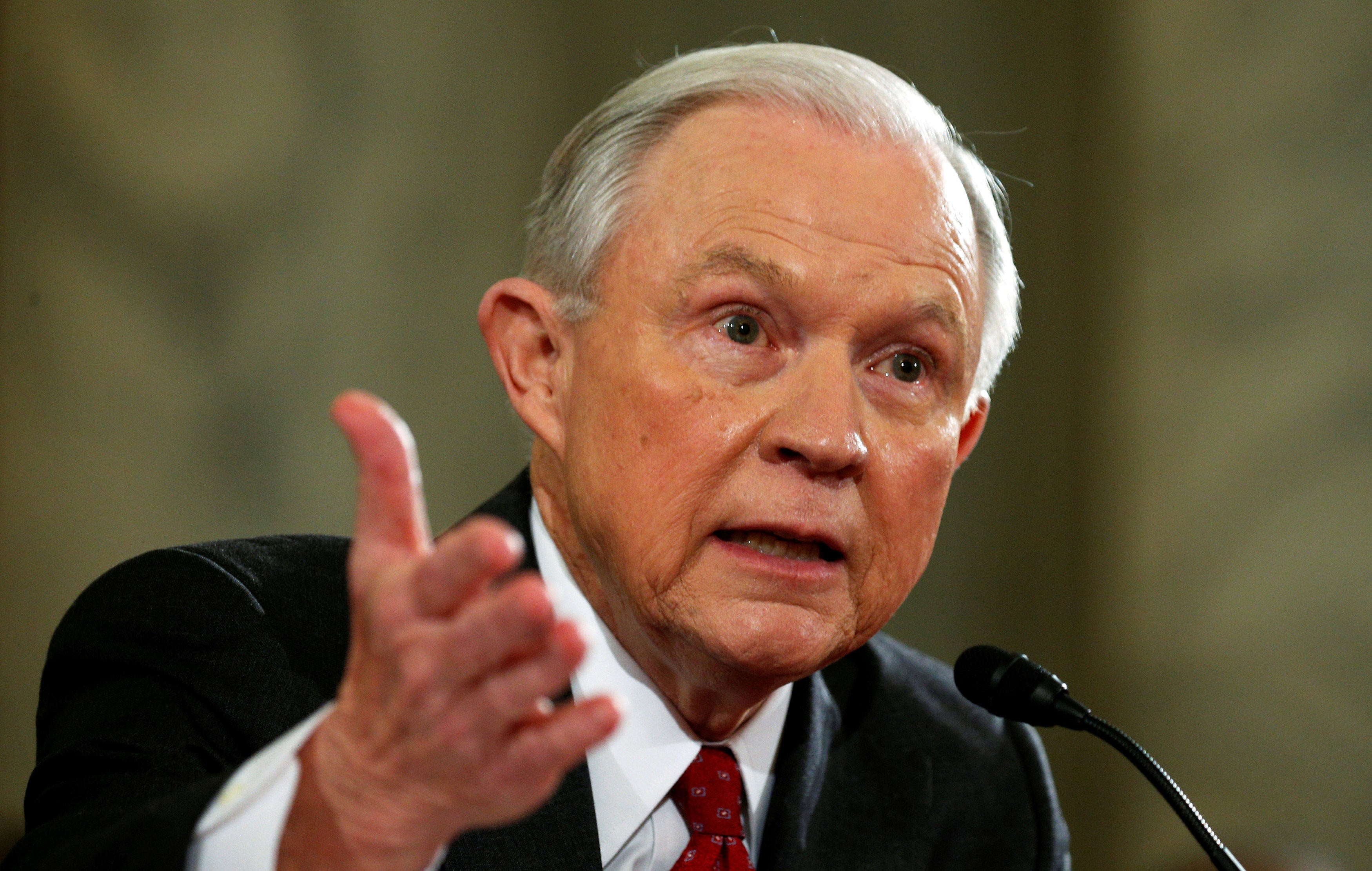 Jeff Sessions spoke twice with Russian envoy during presidential campaign: Department of Justice
Attorney General Jeff Sessions had two contacts with Russian envoy Sergey Kislyak during the presidential campaign, Justice Department officials confirmed. The Washington Post first reported the meetings Wednesday.
When he was asked in his confirmation hearing what he would do if there was evidence anyone associated with Donald Trump's presidential campaign had communicated with the Russians, Sessions replied that he wasn't aware of any such "activities," and added, "I did not have communications with the Russians." A questionnaire he filled out for the committee also asked whether he had had contact with the Russians, to which Sessions, according to the Post, wrote, "No."
Attorney General Sessions has provided the following statement: "I never met with any Russian officials to discuss issues of the campaign. I have no idea what this allegation is about. It is false."
Sessions spokeswoman Sarah Isgur Flores told CBS News' Andres Triay in a statement that "[t]here was absolutely nothing misleading about his answer." It was, she explained, in his capacity as a senator, and not as a campaign surrogate, that he had spoken with Kislyak, and dozens of other foreign ambassadors, as well.
"Last year, the Senator had over 25 conversations with foreign ambassadors as a senior member of the Armed Services Committee, including the British, Korean, Japanese, Polish, Indian, Chinese, Canadian, Australian, German and Russian ambassadors," Flores wrote. "He was asked during the hearing about communications between Russia and the Trump campaign--not about meetings he took as a senator and a member of the Armed Services Committee."
While he served on Armed Services, Sessions "discussed relations between the two countries and any positive or negative issues they were facing," a Justice Department official said. Many of the ambassadors, given the fact that it was a heated election year, would make "superficial comments about election-related news," but it wasn't the substance of the discussions, the official said.
The other incident took place when Sessions addressed a group of over 50 ambassadors at a Heritage Foundation event. After his speech, a small group of ambassadors approached him, and Kislyak was among them. Sessions, according to an official, spoke to them as a group, and they thanked him for speaking and invited him to events they were sponsoring. But Sessions, the official said, made no commitments.
Sessions may have thought he was talking with Kislyak in his capacity as a Senate Armed Services Committee member and not as a prominent Trump supporter, but the Post contacted all 26 members of the 2016 Senate Armed Services Committee to check on whether anyone else met with Kislyak in 2016. Twenty responded, including Chairman John McCain, and none met with him last year.
At a CNN town hall, GOP Sen. Lindsey Graham said he didn't know yet whether "there's anything between the Trump campaign and the Russians."
"[I]f there's something there...the FBI believes is criminal in nature, then, for sure, you need a special prosecutor," Graham said. "If that day ever comes, I'll be the first one to say it needs to be somebody other than Jeff."
This story has prompted House Minority Leader Nancy Pelosi to call on Sessions to resign, CBS News' Nancy Cordes reports.
Mass. Sen. Elizabeth Warren tweeted, " ... we need Attorney General Jeff Sessions – who should have never been confirmed in the first place – to resign. We need it now."
And several other top Democrats – including Adam Schiff, the top Democrat on House Intelligence and Elliott Engel, the top Democrat on House Foreign Affairs are calling on Sessions to recuse himself from any investigation into contacts between Trump associates and the Russians.
-- Andres Triay contributed to this report
Thanks for reading CBS NEWS.
Create your free account or log in
for more features.