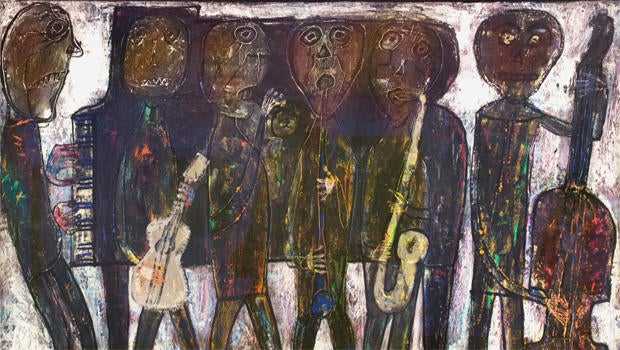 Jean Dubuffet: Art of the outsider
Now ON DISPLAY here in New York: works by the French artist Jean Dubuffet. Years after his death, the art world is still taking full measure of the man, as Serena Altschul shows us:
"I think he's one of the two or three greatest artists of the 20th century; I think he's right there with Picasso," said New York art dealer Arne Glimcher.
But while Picasso's impact on the art world is well-known, Jean Dubuffet's legacy, like his art, is harder to define.
"He was considered the enfant terrible of the Paris art world," said Glimcher, who was Dubuffet's friend and U.S. art dealer from 1966 until the artist's death in 1985. "I think you can categorize a lot of artists, wonderful artists, but not him. I mean, Dubuffet is constantly fresh, is constantly vulgar in the best sense of the word."
Dubuffet embraced the unconventional with influences ranging from graffiti artists and philosophers to schizophrenics.
"I think he needed to feel like an outsider to make his art vital," Glimcher said. "Dubuffet didn't really want the art to be accepted. As soon as it was accepted, he left that period and went on to another period."
As recorded in the 1973 documentary "The Artist's Studio," Dubuffet said, "What is wanted from an artist is he invents new things – not to be confirm what has already been done by others in the past."
Born in France in 1901 to a wealthy family of wine merchants, Jean Dubuffet tried the conventional route by entering art school in Paris at age 17. He didn't last there very long.
"Dubuffet's philosophy was very much that art had become quite corrupt by the bourgeoisie, and people were investing in art, buying art, because it was for prestige," said Glimcher.
So, he quit his studies and joined the family wine business. But it wasn't enough – the lure of art never went away.
"As he says, 'I left my wife. I left my child. I left my family. And I never looked back.' He gave up everything that was upper-middle class and lived a very simple life," said Glimcher.
At age 41, Dubuffet fully immersed himself in art, finding new ways to express himself since the culture in France had been radically changed by World War II.
Glimcher said, "Imagine 1942 to '45. He is using putty on the surface of the canvas, putting sand, earth, rocks. I think, at that moment, what he's really saying is, 'This is the face of post-war Europe, crushed into the earth.'"
Altschul asked, "And what are his trained contemporaries saying about his work?"
"The art world is saying that this is the work of a madman!" laughed Glimcher. "Because it doesn't look like art. And that was the key. It shouldn't look like art. You know, it should challenge you."
Some of Dubuffet's most recognizable works are his outdoor sculptures found in European cities, as well as in New York, Chicago, Houston and San Francisco.
At his New York City showcase, the Pace Gallery, Glimcher is exhibiting large collages called Théâtres de mémoire, or Theaters of Memory. They reflect a time of deep philosophical exploration for the artist towards the end of his life. "He breaks every rule," he said.
"He suddenly became fascinated with the idea of how memory is sparked. How do we remember? How do you associate image to image? What's the size of images in your dreams?"
"So, are these some kind of collective unconscious memories?" asked Altschul. "Are these his memories? Are they our memories?"
"They are all of those things. They are the structure of memory itself. They are as much about philosophy and perception as they are about art."
At the Pace exhibit, Glimcher posted Dubuffet's writings on the wall. One quote reads: "There is only one healthy diet for artistic creation: permanent revolution." He cemented that idea when he coined the term Art Brut, or "Raw Art," earning him an unintentional title for years to come.
Altschul asked, "Would he be comfortable with that label of the founder of the Art Brut movement? Would he say, '"Okay, I'll take that'?"
"I think he wouldn't be comfortable with any label," Glimcher replied. "For me, I think he is simply the greatest post-war artist that Europe produced."
"And would he want to be remembered that way?"
"No," Glimcher laughed.
"What have you done to him?"
"No. What have I done? What has he done to himself? Greatness is greatness!"

For more info:

Story produced by Amy Wall.
Thanks for reading CBS NEWS.
Create your free account or log in
for more features.