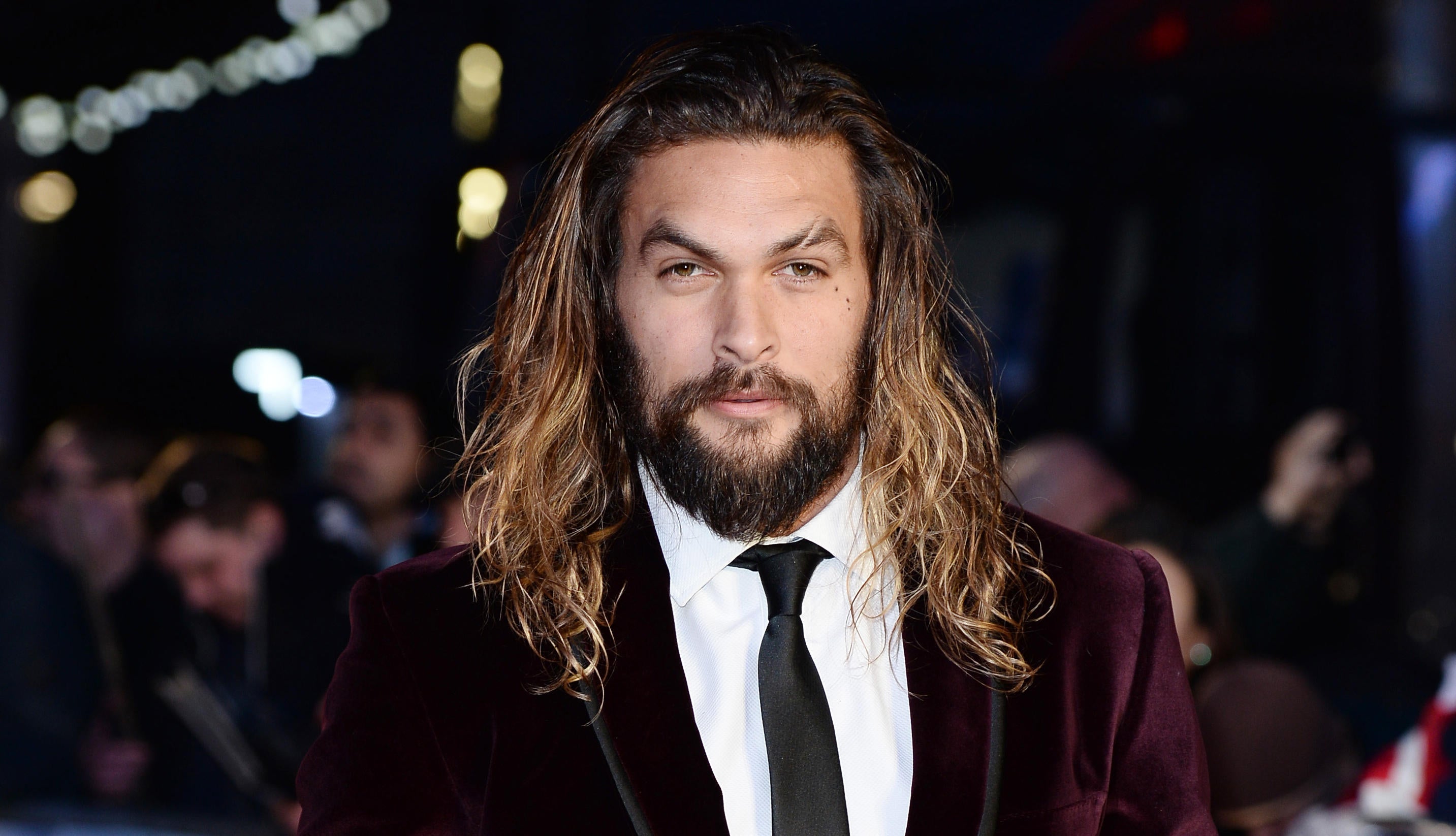 Jason Momoa on why "Game of Thrones" fans will love "Frontier"
Jason Momoa is a very friendly interviewee, but you wouldn't guess it from his bloodthirsty characters, like Khal Drogo on "Game of Thrones" and now, Declan Harp on the new Netflix show, "Frontier." Momoa plays Declan, an outlaw seeking to enact revenge on Captain Benton, the man who killed his wife and son but also raised him, in 18th century Canada.
Momoa talked to CBS News about his new show, why he thinks "Game of Thrones" fans will tune in and the secret to his relationship with wife Lisa Bonet.
You were well-loved as Khal Drogo. Did you feel like "Game of Thrones" changed your career?
It's tough because I don't really know if it helped changed my career. I have a lot of people come up to me now that love it but Drogo doesn't speak a lot of English, so there are not a lot of Drogo characters that fit in other roles.
So I don't know if people know what to do with me and it didn't bring up a lot of work so I went and directed my own movie, tried to get something not so action-based and then I got "Red Road," which got me into Sundance and people spoke English and wore clothes. It's tough because you get respected, but I wouldn't say it brought me major work.
What appealed to you about "Frontier"?
I love the time period. I definitely have a large collection of sharp objects and furs from that time period. And I'm half and half, and Declan being half-Irish and half-native, it's nice to have something like that in the time period. It's very cool that they have this half-breed in there, hellbent on seeking revenge on the man who raised him and took his family from him. It's a perfect little role written for me.
It must be unusual to find a role that fits you so well.
I either perfectly fit or I'm not going to make it in there. For a role like Drogo -- kinda made for it. A role like Declan is rarely written. Generally, I'm not going to be standing next to a bunch of leading men. I'm not hired to stand next to Tom Cruise. It's been a challenging path and it's found its way.
How was the process of working on "Frontier" after you were cast? Did you feel like the producers and writers accommodated you and molded the role for you?
I think the producers really did. I really do. We'd write something, I'd put in notes and they've really been accommodating. It's never about any ego. It's really whatever fits the best and what works and I've been doing it for a while. I've played a lot of different things. Sometimes it's right, sometimes it's wrong. You voice your opinion and try to bring the best product to it and they've been very accommodating.
What excited you when you read the script?
Like I said earlier: time period. It's something I've always loved. And just being a dad and husband -- if I ever lost those things I'd really be a pretty horrible man, especially if someone took them from me, so I've never played anything like that. If anyone did something to my family -- the first six episodes, you find out some pretty horrible things and maybe that's why you side with him. It has that "Game of Thrones" Drogo vibe. You're not going to like me much in the beginning but you'll find out what he's made of and root for him.
I'll definitely put it this way: I'm not suggesting my grandmother or mother watch this show. If they do, just miss the opening and continue on. You know for my grandma, she's 88 and she's going to be like, "What is my grandson doing?" She won't be watching it; I hope not. My mom definitely is, though. She came up and supports it and understands. She watched the episode and when she went up there she hit my other costar because he hurt me. She started whacking him and he's the most adorable, nicest guy and she's like, "What's he doing to my son?" and I was like, "Mom, he's just acting."
You just said it has a "Game of Thrones" vibe. Do you think your fans from "Game of Thrones" will carry over?
Definitely. "Game of Thrones" viewers will definitely tap into it. I mean it's definitely got that vibe to it. One hundred percent. It's kind of a thing where [fans will say], "'Game of Thrones' is not on for next year. That's okay, 'Frontier' is here. Khal Drogo's dead but he's not -- he's on 'Frontier.'" I do some pretty bloody stuff. He speaks English so you can understand a bit more but it's pretty savage. The time period is savage.
You said earlier that you've collected a lot of things from that time period. Are you a big collector?
Oh, my mom, she's a single mother and she was a huge antique buff. She loves going to antique fairs all the time and I have the weirdest collection of s***. Everything from old typewriters to butcher knives, old no. 2 pencils, fur coats, coolers -- I'm a collector of old s***. If it's cool and it's got some character, I'm pretty much going to buy it. I travel so much, I find all these little things around the world and have a very interesting man cave.
How does your wife feel about that?
She's the same way. That's why it's perfect. She has a huge collection of weird things, too. It's a match made in heaven. Go out and find a woman kind of like you, who'll accept you for who you are.
You also have "Aquaman" coming up.
I'm stoked. I know everything now and you know, it's the end of five-plus years of knowing I'll play this character, waiting for my solo movie. Now I know it all and I'm super pumped. I'm not sure what I'm supposed to give away but it definitely has very much that adventure on the road, "Indiana Jones"-ish vibe to it. I don't want to give away too much, but I'm just stoked and we leave in the spring so I start training. This is my last week of not doing anything, and then I'm into hardcore training.
I'm sure you're not "not doing anything." Everyone knows you're super fit.
I'm not doing anything, literally. Not doing anything and it's been awesome. I think you need that time to recover. It's been a long road and it's nice just chilling and being with my kids and not do much.
Thanks for reading CBS NEWS.
Create your free account or log in
for more features.