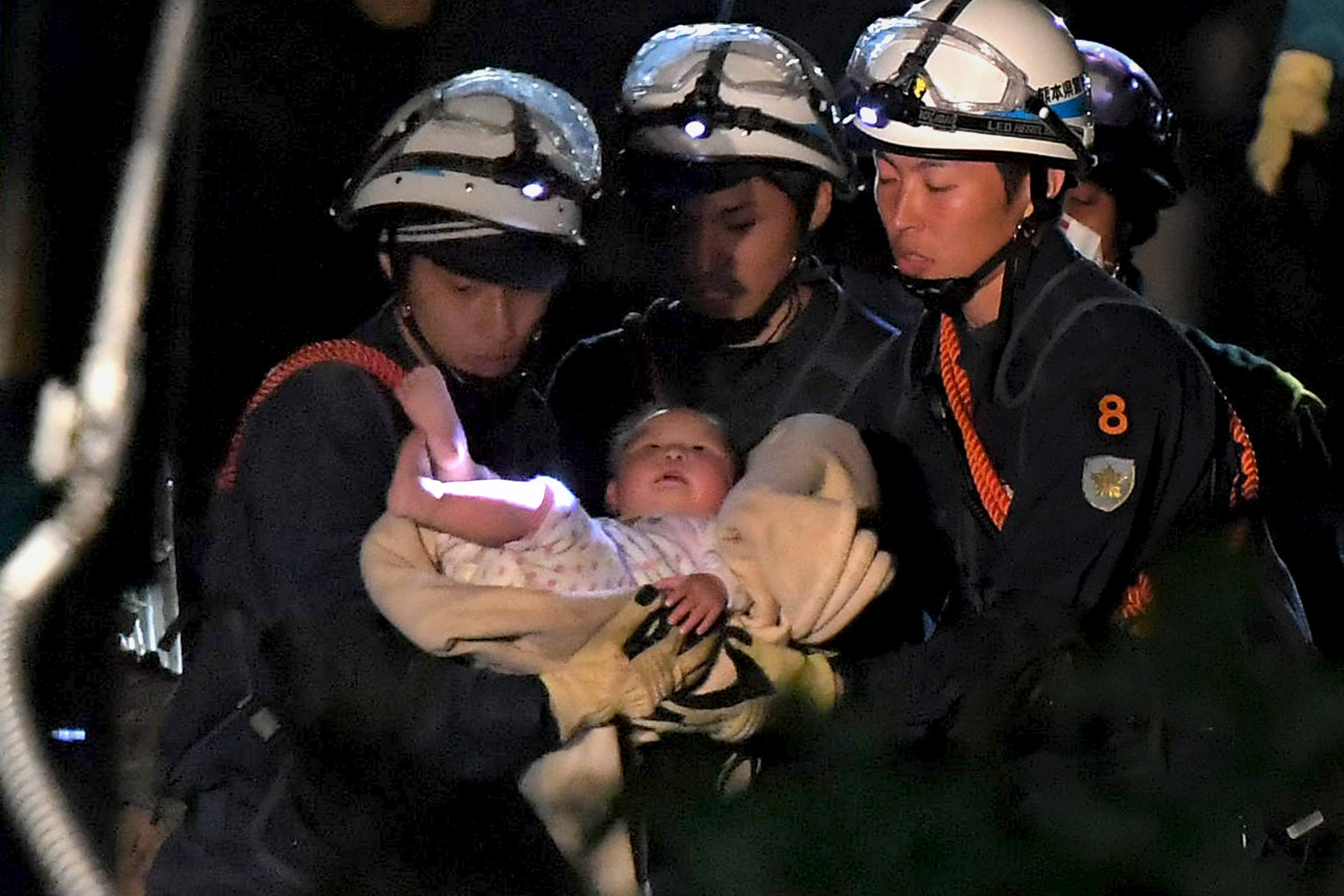 Baby pulled from Japan quake rubble as aftershocks hinder rescues
On Friday, an 8-month-old baby was pulled from the rubble of Japan's devastating earthquake. Rescuers cradled the infant who was apparently unharmed.
The 6.5 magnitude quake Thursday hit just before 9:30 p.m. and killed at least nine people and injured more than 850 others. The epicenter is the island of Kyushu, about 550 miles southwest of Tokyo.
You can see the panic on the faces of workers at a TV station in Kumamoto, the moment the earthquake struck, reports CBS News' Lucy Craft. The violent shaking sent them stumbling across their newsroom as they searched for protection from the falling debris.
There have been more than 100 aftershocks, some almost as strong as the initial quake. Those tremors are slowing down rescue efforts. While teams were able to save the baby from a collapsed home, it took six hours to reach the baby, who has reportedly reunited with her parents. It is unclear how many more people could still be trapped under debris.
Meanwhile, hundreds have been forced from homes that are either destroyed or too unstable to stay in. As many as 44,000 people were seeking shelter.
The earthquake sparked fires in Kumamoto, a city of about 700,000 people.
Nine miles east, several people were killed in Mashiki, which appears to be the hardest hit area. Several homes there have been leveled.
The island of Kyushu is home to the only Japanese nuclear power plant still in operation. Most of country's nuclear reactors were shut down in 2011 following a massive 9.0 magnitude earthquake that triggered a tsunami and the meltdown of the Fukushima plant.
So far, officials have reported no problems to the nuclear facility in Kyushu.
No tsunami risk has resulted from the earthquake. Prime Minister Shinzo Abe is trying to prevent secondary disasters from aftershocks. Japan's meteorological agency says additional tremors could last another week.
Thanks for reading CBS NEWS.
Create your free account or log in
for more features.