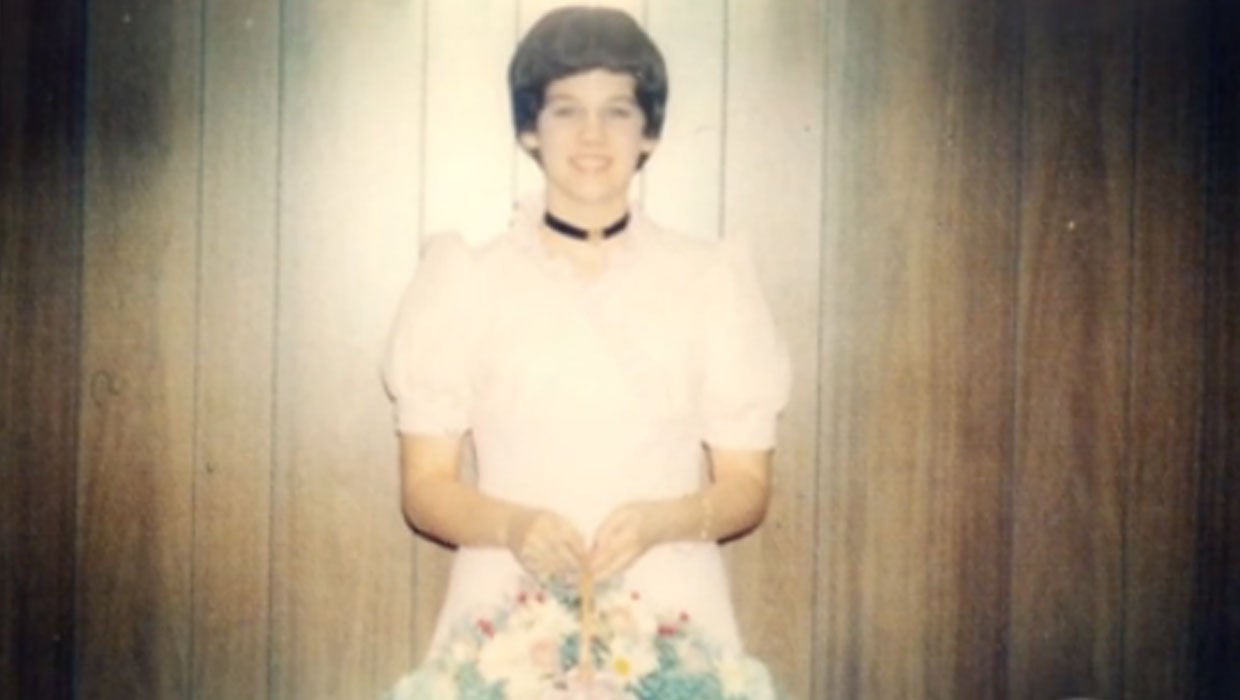 Produced by Susan Mallie
Brittany Smith, a prosecutor in Beaver County, Pennsylvania, hadn't even been born when 23-year-old Janet Walsh last carried her purse on the final night of her life, Sept. 1, 1979.
"This is Janet's purse. This would've been the purse she used the night she went out from August 31st 1979, into the early morning hours of September 1st, 1979," Smith said, showing "48 Hours" correspondent Peter Van Sant the bag's contents.
"...mints, gum, makeup, brush, keys. Those types of things are in every woman's purse," she said. "It definitely makes you feel as if there's a connection to her."
And Smith learned Janet was firmly connected to the tiny town of Monaca, about 30 miles outside Pittsburgh, Pennsylvania.
"Janet moved next door to us when she was either 2 or 3 years old. And we became best friends. She had a couple brothers. I had brothers, so she was like my little sister," best friend Sue Niedergal said.
"This is the house that I grew up in, and this is the house that Janet grew up in," Niedergal pointed out as she and Van Sant stood outside the homes. With their bedroom windows facing each other, Niedergal explained, "at one point my mother bought us little princess phones, and we were able to talk back and forth."
"Our childhood was probably just like everybody else's, you know. We each got on each other's nerves. And I probably made it a goal to get on her nerves, being a little irritating brother," said Janet's brother, Francesco Caltieri.
He remembers a big sister bursting with talent.
"She played the oboe in the orchestra and the band. And then she sang and she played the piano. ...Janet was also a Monaca Indianette," said Caltieri.
"-- she was an avid sewer, so she would go out and she'd buy material and she would sew her clothes before she'd go on dates," said Niedergal.
"...cut it out and sew it together and wear it out that night. I saw her do that more than once. And it was just amazing," Caltieri recalled.
By high school, those dates were with just one young man: Scott Walsh.
"We just were inseparable. I didn't hang around with buddies too much, it was mostly her and I just goin' out," Walsh told Van Sant.
Says Niedergal, "Janet and Scott were like two little puppy dogs in love."
"...Right here she signed, 'to Scotty, I'll always love you. Jan,'" Walsh pointed out to Van Sant as they looked at his high school yearbooks.
So it came as no surprise when the high school sweethearts decided to tie the knot.
"Got married August 14th of 1976," Walsh said. "I was 20 and she was 20."
Like a lot of young men in western Pennsylvania in those days, Walsh had followed the tradition of going straight to work in a steel mill after high school.
"I decided not to go to college because ... back in the '70s, in -- in this area here, the steel mills were booming," he explained.
But despite a steady income, the newlyweds soon hit a rough patch financially.
"We had the new mortgage, the new house, and two new vehicles, and it became a financial burden on both of us. That's what led to our separation," Walsh told Van Sant.
In the summer of 1979, after just three years of marriage, the couple separated. Janet moved into the ground floor of a two family house.
"I think she was a little apprehensive about living alone because she never lived alone before," said Niedergal.
Janet got an office job at a local refrigeration company. And when Friday of Labor Day weekend rolled around, she decided to spend a girls night out with three friends bar-hopping and dancing -- getting home around 4 a.m., just hours before she was due at work.
"My sister's boss, Ron, had called and told my mother that, 'Hey, Janet didn't show up for work this morning and it's not like her,'" said Caltieri.
Janet's parents raced to her apartment.
"My dad saw there was somebody in bed ... and saw that her hands were bound, that she had something around her throat," Caltieri continued.
"The word dead just didn't apply. She's my sister. There's nothing that could make my sister be dead. I had to go in and see for myself, but my--my brother would not allow me to. He put me in a bear hug, and he would not let go. He did not want that to be the last memory I had of my sister," said Caltieri.
Detective Andy Gall, assistant chief of detectives for the Beaver County District Attorney's Office, was a 25-year-old rookie patrolman at the time.
"I had handled a couple of suicides and two fatal traffic accidents. Couple other serious crimes, but it was clearly the first homicide that I had ever responded to," he told Van Sant.
And what Gall found when he got to Janet Walsh's house was chilling. Wearing only a short nightgown, Janet was face down in bed, her hands tied behind her back with the tie from her own bathrobe. Around her neck, a light blue bandana -- tied tight. It appeared she had been suffocated to death.
Rich Matas was a Pennsylvania state trooper back in 1979.
"I have never had a similar scene since during my career," he said.
Like Gall, Matas was looking at his first murder.
"So whenever you enter a crime scene you let the crime scene tell you what it has to say," Matas explained.
"What did this crime scene tell you?" Van Sant asked.
"Everything was very neat, very orderly," Matas replied. "No bruising, no cuts, no lacerations, of course, no firearms injuries. Nothing."
Cops believed that Janet must have known her killer because the front door was chained shut and there was no sign of a forced entry. So she must have recognized the man and let him in. The two then made their way back into Janet's bedroom.
Asked who would want to kill Janet Walsh, Gall told Van Sant, "At that time I had no idea. ...the older detectives and investigators, their automatic was, 'It's gotta be the husband.' You always look to the closest."
Janet's parents were at the Monaca police station when their estranged son-in-law arrived.
"They were crying, and I started crying," Walsh said. "And I'll never forget, her mother grabbed my hand -- and she said to me, she said, 'Scott, you didn't have anything to do with this, did you?' And I looked at Mrs. Caltury and said, 'Mrs. Caltury, I think you know the answer to that question.' And she shook her head to me and said, 'I know you didn't.'"
But police weren't so easily convinced. For one thing, Scott Walsh, now suspect No. 1, had been spotted at Janet's residence just hours before her body was discovered. He says he was just dropping her support check in the mail slot.
"On the first of the month I would give her a check as part of our separation agreement," he explained.
Also suspicious, police say, Walsh had no alibi after Janet got home.
"You didn't get up out of bed and say, 'I'm gonna find out what that woman, my wife, has been up to on this night?'" Van Sant asked.
"Absolutely not," said Walsh.
"You didn't go in and confront her?"
"Not at all. No," he said.
Perhaps most damning, Walsh was given two lie detector tests following the murder. In both, he failed one key question.
"So, Scott Walsh is given this lie detector test and he's shown to be deceptive on a rather important question, 'Did you kill your wife,'" Van Sant said to Matas.
"Yes," he replied nodding.
"You told him ... 'You failed this question.' And he knew that. And you pressed him on it. What did he say?" Van Sant asked.
"He wasn't involved," said Matas.
Police were starting to think they had their man ...until they heard about a stranger on the dance floor who'd had his eye on Janet.
NO SHORTAGE OF SUSPECTS
"This case is about a young woman, 23 years old in 1979, who is tragically murdered. And it completely tears apart and devastates her family," said Assistant District Attorney Brittany Smith.
In the days following the horrific discovery of Janet Walsh's lifeless body, rookie investigator Andy Gall reached for leads in every possible direction, reconstructing Janet's final hours.
"She was a typical 23-year-old girl," said Gall.
He learned that while bar hopping, Janet crossed paths with a stranger in town named Robert McGrail -- a man cops describe as a drifter.
"When we were askin' her friends, 'Anybody show interest in Janet that night,' he clearly came up. He came up right away," said Gall.
"He was interested in Janet," Van Sant commented.
"He was," said Gall.
Robert McGrail, suspect No. 2, remembers spotting Janet out that night at one of the bars.
"Yeah, I was. I was interested in her, yeah. She was an attractive girl," McGrail told Van Sant. "I asked her to dance, and -- it was -- a disco dance. She was very good, very good dancer. I enjoyed dancing with her."
After a few more dances, McGrail decided to ask Janet for a favor.
"I asked her if I could get a ride home with her," he continued.
McGrail says Janet declined and put an end to the evening.
"She says, ' I'm separated from my husband, and -- he gets very angry -- if he sees me with someone,'" he told Van Sant. "And she said, 'It might be good -- if you just left because -- I don't want you to get hurt.'"
Rejected, McGrail told police he walked home alone that night. At first, police believed him.
"About six or seven days after the homicide, a lady's drivin' up 9th Street and she sees a checkbook layin' in the gutter," said Gall.
The name inside the checkbook: Robert McGrail.
"Robert McGrail, one of the last people to see Janet. She's dead just down the block here. What are you thinking as an investigator at that moment?" Van Sant asked Gall.
"I'm thinkin' McGrail is jumpin' to the top of my list," he replied.
Investigators learned that no checks had been written on McGrail's account since the night of Janet's death.
"I don't know whether I lost it that night at the club, whether someone could have taken it out of my sport coat," said McGrail.
"Did you walk over -- to her place that night -" Van Sant asked McGrail.
"I walked home," he replied. "I didn't even know where she lived.
"But your checkbook is a half a block away from her apartment," Van Sant pressed. "Did you follow Janet - back to -"
"No, I did not ---follow--" he said.
"Did you kill Janet Walsh?
"No, I did not."
"Absolutely not -"
"Absolutely not," said McGrail.
"So -- did you give a polygraph to Robert McGrail?" Van Sant asked Gall.
"We did. The state police gave him a polygraph and it showed deception," he replied.
"So now you have two people who have shown deception in a polygraph. Janet's husband and Robert McGrail," said Van Sant.
"Correct," said Gall.
And soon, there would be suspect No. 3 -- another stranger. On the last night of Janet Walsh's life, that stranger knocked on a neighbor's door.
"About 8:00 at night, someone comes to his house. Well-dressed young man, asking where Janet Walsh lives. He lives two doors away. He showed him exactly where Janet Walsh lives," Gall said. "So, we put it out to the public."
While cops hoped someone had seen the man, Janet's best friend gave police yet another lead.
"Who could have done this to Janet, what did you think?" Van Sant asked Sue Niedergal.
"My first thought, it was her boss, Ron," she replied.
Ron Ciccozzi, Janet's boss, is suspect No. 4. Police say Janet and Ron had an affair.
"How long had this relationship gone on between Janet and her boss?" Van Sant asked Gall.
"It hadn't been goin' on long. This started after she separated from - Scott," he explained.
Investigators discover that Ron Ciccozzi had been at two of the bars Janet visited the night she died.
"Detective, at this point in the investigation, give me your list of suspects," said Van Sant.
"Peter, at this point we have a wide array of suspects," said Gall.
They included Scott Walsh, Janet's estranged husband; Robert McGrail, the drifter; Janet's boss, Ron Ciccozzi, and the unidentified "sketch man."
"Anybody else come up on the radar?" Van Sant asked.
"Right at that time, we also get Scott Hopkins," Gall replied. "Scott Hopkins is substantially older than Janet, drives a Porsche, is a successful businessman, and we find out from one of her girlfriends, they've had a relationship over the summer.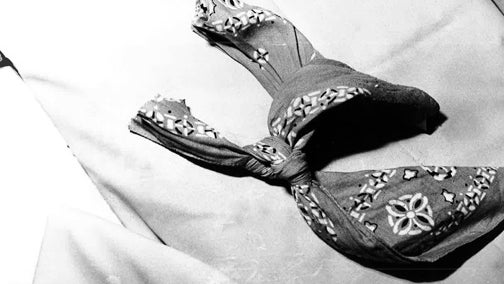 Suspect No. 5, Scott Hopkins, had a home-building company. Janet had started seeing him after moving into her own apartment, but kept their relationship secret. Trooper Rich Matas remembers interviewing Hopkins the day of Janet's murder.
"He was not forthright in his responses. He goes from casual acquaintance to sexual involvement. But it takes a while to get there during the course of the interview," said Matas.
One reason Hopkins may have been reticent is that he had two other women in his life - a soon-to-be ex-wife and another girlfriend. Both didn't know about Janet Walsh. But Hopkins had no secrets about where he was when Janet was killed.
"What did he say?" Van Sant asked Matas.
"He was at his residence," he said of Hopkins' reply.
Hopkins tells police he was home all night with his girlfriend, with two friends sleeping out on the living room floor -- Larry Musgrave and his wife, Georgeann. They'd all stayed over to help Hopkins prepare a pig roast for an employee Labor Day weekend picnic the next day. Police checked out Hopkins' story.
"We got up at 5:30 in the morning. And Scott was the one that woke me up ...to get the hot fire goin' to -- roast the pig," Larry Musgrave told Van Sant.
Georgeann Musgrave says she's a light sleeper and is clear about one thing - Hopkins never left the house that night.
"I heard nothing that night. Absolutely nothing," she said.
"And Scott Hopkins is alibied," Matas said. "He's alibied. OK."
After interviewing about 20 people in the first three years, the case turned cold. There were no witnesses and no forensic technology to single out a killer.
"I have a plot from an ... old TV show like 'Murder She Wrote,' where we have five suspects and I can't put a finger on any of 'em," Gall said.
Then in 1983, four years after the murder, suspect No. 6 emerged-- Victor Ciccozzi. No relation to suspect No. 4, Ron Ciccozzi, Victor lived just two blocks away from Janet.
"He's in a restaurant -- tells the waitress that he knew Janet and that he had dated her ... just prior to the murder. When he's describing that story to her, he's got a faraway look in his eye, and he was talking about that there's not a hair out of place, as though he was re-envisioning the crime scene. We looked at the reports, and we knew Victor had been at the Getaway ... the last bar that Janet Walsh was at," Gall explained.
Even with so many suspects, Janet's brother, Francesco Caltieri, remembers hope draining away in his family's household.
"One of the things that we were told early on in the investigation was that even if the killer walked into the police station and confessed today, we would not be able to take them to trial because we do not have enough evidence," he said.
But all that would change when Cold Case Detective Rocco DeMailo uncovered a clue that would knock him off his feet.
"I was literally standing at my desk, my knees buckled. I sat down. I said, 'Are you-- you kidding me?'" he told Van Sant.
A BOMBSHELL
"I don't have any eyewitnesses. I don't have any physical evidence. I have no serious motive. I have no one coming forth," Pennsylvania State Trooper Richard Matas told Peter Van Sant.
Detective Rocco DeMailo, working in a cold case squad, says in late 2010, all of that would change. Time and technology finally caught up to Janet Walsh's case.
"These are markings that the state police crime lab would put on the item. This would be where a sample was taken here for example," prosecutor Brittany Smith explained, pointing to Janet's robe.
DeMailo sent some of the physical evidence from Janet's crime scene out for new analysis. A lab tech called him with a game changer: they had found semen on the top sheet that had covered Janet's body.
"And I'm thinking it's gonna be, you know, some minor itty, bitty trace. And she says, 'No, we have a lot of it in a lot of locations,'" said DeMailo.
Those locations include the back of Janet's nightgown and the robe tie that had bound her wrists. It was more than enough to create a DNA profile.
"They didn't know at the time who it was. But they knew that whoever's DNA this was would be the killer," said Smith.
"Decades have passed, it's not 1979 anymore, and this is a huge moment in this long investigation," Van Sant noted to Gall. "What do you do first?"
"Peter, I've been keeping tabs on these guys for years. I have to get their DNA. First thing I do is get the DNA and eliminate Scott Walsh, then Ron Ciccozzi, and DNA eliminates Victor Ciccozzi," said Gall.
"So, three down, two to go. We have Scott Hopkins, and Robert McGrail," said Van Sant.
"I knew when they came here, and they wanted my DNA, that they must have considered me a suspect," said McGrail, who was now living up in Massachusetts.
In December 2011, McGrail voluntarily met Andy Gall and another detective at a local police station:
Det. Gall: You were never in her apartment.

Robert McGrail: That's right.

Det. Gall: You never had sex with her?

Robert McGrail: That's right.
McGrail, the man whose checkbook was found around the corner from Janet Walsh's house six days after her murder, refuses to voluntarily give police his DNA. But Andy Gall hadn't come 32 years and 600 miles to be turned away. He brought a warrant for McGrail's DNA. Then, Gall picks up exactly where he'd left off in 1979.
Gall grills McGrail for seven hours:
"I didn't kill anyone," McGrail told Gall.
McGrail agrees to take a lie detector test. Remember, he'd shown deception on his first one back in 1979:
Technician: Did you kill that woman?

Robert McGrail: No.

Technician: Did you ever lie to the police?

Robert McGrail: No.

Technician: Were you ever in that woman's home?

Robert McGrail: No.
When the test is over, the technician delivers the bad news to McGrail.
"You scored in the negative on the first one when I asked you, 'Did you kill that woman?' And you also scored in the negative on 'Are you the person who killed that woman?'" he explained.
Suspect Robert McGrail has failed another polygraph:
Investigator: Are you gonna be looked at as an honest man who wanted to help in the end...

Robert McGrail: I'm getting disgusted with that statement.

Investigator: How so?

Robert McGrail: I have nothing to be remorseful about. I did not do what you're accusing me of.
McGrail's DNA sample is sent back to Pennsylvania, but it's not a match.
"So, Robert McGrail is now eliminated. Who does that leave?" Van Sant asked Gall.
"It's down to one, Scott Hopkins," he replied.
"Scott Hopkins, and back in 2011, give me a sense of what his life was like," said Van Sant.
"Scott Hopkins was now a very influential person in our community. He's an elected councilman. He's 65 years old. He's a semi-retired, very successful businessman," Gall said. "When I ask him for the DNA he says, 'Absolutely not."
Scott Hopkins' current wife, Karen Hopkins, says the fact that her husband had a relationship with Janet Walsh made any DNA test pointless.
"He said, 'I'm not gonna give my DNA,'" she said. "He said, 'My DNA's gonna be there because I was there. I did have sex with her.' So that's why he didn't give it."
Still, investigators persisted. Police didn't have enough evidence to get a search warrant for Hopkins' DNA -- at least not yet. They hatched a plan.
"Andy Gall set it all up," DeMailo explained. "Scott Hopkins was a Bridgewater councilman. ...Every day early in the morning he came into the Bridgewater bureau building where the police department is located also. And took a drink out of a water fountain and would throw his cup away."
Investigators had the police chief's secretary standing by to pick up the trash after Hopkins' morning water break and retrieve the cup. It was tested and the result was the moment cops had waited for. Hopkins was a match to the crime scene DNA profile. That enabled investigators to get an official warrant for Hopkins' DNA.
"I said, 'Hey, Scott, I told ya I'd be back. I have a warrant.' And he actually fell into a chair. And he says, 'You think I did this,'" said Gall.
All that was left was to wait for the results of Hopkins' court-ordered DNA test.
"Rocky DeMailo calls and says, 'It's done. It's sure. It's him. We're gettin' an arrest warrant,'" Gall continued.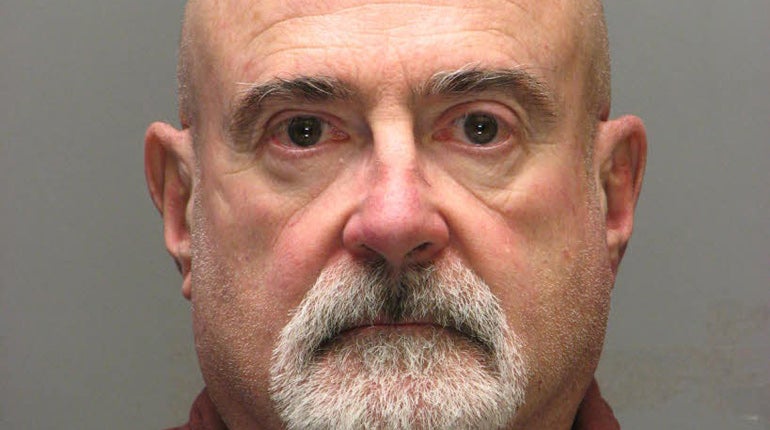 Andy Gall, who'd been first through the door when Janet Walsh was killed, was the first man through the door when Hopkins was arrested in January 2012.
"I brought my handcuffs that I had in 1979 and put the cuffs on him," he said.
But would this DNA evidence really be enough to catch a killer? Remember Scott Hopkins and Janet Walsh were lovers that summer.
"Even then I'm worried, because I know ... of all the suspects, only Hopkins had told us that he had sex at that apartment in that bed. I knew it wasn't a sure thing just yet," said Gall.
THE TRIAL OF SCOTT HOPKINS
In November 2013, Scott Hopkins -- now 67 years old and a grandfather -- goes on trial for the murder of Janet Walsh in 1979. No cameras are allowed in the courtroom.
Janet's younger brother, Francesco Caltieri, says as the proceedings began, all he could do was pray.
"Please, God, give everyone the strength to do what is right and to do your bidding," he said.
Hopkins' defense attorney, Chad Bowers, says in the 34 years since Janet's death, Scott never acted like a guilty man.
"Scott Hopkins never left town. In fact ... he's done the opposite. He stayed in Beaver County. ...He's dug his roots even deeper into Beaver County," said Bowers.
"He is a giving person. He's a loving person. He gives everything that he possibly can to the community, to his church," said Karen Hopkins, Scott's third wife.
Back when they were still dating, Scott had told Karen he'd once been seeing a young woman who'd been murdered.
"He was sorry that something terrible had happened, but he also was glad that he had had three people with him that night so that he would not have to be involved in this," she explained.
At trial, those three people, Scott Hopkins' alibi witnesses, would all testify. Diane Saint George, Scott's girlfriend at the time -- who'd go on to become his second wife, said she spent the night next to Scott in a waterbed.
"This was our model home. It was a split-entry that we built. And this is where we worked out of,"
Larry Musgrave, who was Hopkins' partner in a home building business, showed Van Sant. "Scott Hopkins was -- goin' through a divorce and he moved here and moved into the back bedroom of the house."
Musgrave and his wife, Georgeann, were asleep on the floor of Hopkins' living room. Remember, they'd slept over to get up early to prepare for an employee Labor Day weekend picnic the next day. They told jurors Hopkins never left the house that night.
"I know it didn't happen. I was here," said Larry Musgrave.
"How do you know that?" Van Sant asked.
"Well, I would've heard him leave. I would've heard him come back," he replied.
"I wouldn't sit here and lie. Not for anybody. And all I can say is I feel they have the wrong person here," said Georgeann Musgrave.
"Would you lie to protect your friend?" Van Sant asked Georgeann.
Never. If I felt he did it, I would turn him in," she said.
Prosecutor Brittany Smith says the Musgraves are mistaken.
"They were sleeping during a substantial period of time," she told Van Sant.
With the model home just a 10-minute drive from Janet's house, prosecutors say Hopkins would have had time to arrive after Janet got home at 4 a.m, commit the murder and get back to his own house to awaken his guests at 5:30 a.m. But if Scott Hopkins is guilty, what exactly happened that night?
"There was something sexual that occurred in that apartment. Whether it was consensual by her or not, we don't know," said Smith.
Smith lays out the prosecution's theory.
"As part of this sexual act he strangles her. And takes it too far and she ends up dead," she explained.
"Could this have been an accidental death?" Van Sant asked Smith.
"The problem with it being an accidental death is that strangulation takes a period of time. That he continuously applied pressure to her neck through the use of the bandana. And that takes a few minutes to do. So her life is essentially leaving her, and he continues to apply pressure to her neck," she replied.
As they did at trial, Smith and Frank Martucci, the co-prosecutor on the case, demonstrate how the DNA evidence condemns Hopkins. First, when the Pennsylvania state lab found semen in the old crime scene evidence, it was given a rating of 4+.
"That means Scott Hopkin's seminal fluid is on that location in a concentrated manner and it is not consistent with having been washed," Smith explained.
Prosecutors say that means that Hopkins' DNA was deposited the night of the murder, not from a previous encounter. And then there was something else --something huge.
"We always go back to location, location, location. Because the location of the DNA is what tells us when it was put there," said Martocci.
"We believe that she was laying face down on the bed and he was on top of her at the moment that he was strangling her," said Smith.
It turns out, the DNA identified as Hopkins' was found to line up perfectly on the back of Janet's nightgown, on the rope tying her hands, and on the top sheet left covering her body.
"If you look at all the evidence in conjunction with one another and how it lines up, that's what tells you that her killer deposited it," said Smith.
The prosecution would end up hiring a famous messenger to deliver that news at trial - none other than the renowned forensic pathologist Dr. Cyril Wecht who's consulted on world famous cases, including
John F. Kennedy, Martin Luther King, Elvis Presley, Michael Jackson and Whitney Houston - and even an alleged alien.
Wecht admits he's not a DNA expert. He says he was just brought in to interpret the crime scene.
"I think that -- you can be quite comfortable with the fact that Hopkins was the perpetrator," Dr. Wecht testified.
When it's the defense side's turn, they counter the celebrity testimony of Dr. Wecht with someone who is an internationally recognized DNA expert, Dr. Mark Perlin, who says Wecht has no business talking about DNA on the stand.
"Do you believe that Dr. Cyril Wecht testifying in Scott Hopkins' case -- is that dangerous, in your opinion?" Van Sant asked Dr. Perlin.
"I think it's very dangerous," he replied.
The defense investigation found something that the prosecution missed. It turns out, Hopkins' DNA was not the only DNA at the crime scene. There was unidentified male DNA on Janet's robe, and semen from a third man -- someone police knew all too well.
"There was an indication that-- her ex-husband was possibly on one of the sheets as well," said Perlin.
The defense claims they know how Hopkins' DNA lined up. They say his DNA was on Janet's nightgown from past sexual encounters. Then, when the real killer had sex with Janet, her perspiration transferred Hopkins' old DNA from the nightgown to the robe tie to the sheet.
"In this case, the prosecution said was there was only one possibility, and that's clearly false. And in science, if you have two possibilities that can equally explain the data, it's a wash," said Perlin.
THE VERDICT
For Francesco Caltieri, the trial of his sister's accused killer would be bitter.
"I was transported back 30-plus years to being just -- having my innards just shredded. My heart -- didn't even know how to work," he told "48 Hours." "My fear, and it came to fruition, was that it would be like yesterday, like it just happened."
Caltieri attended each day of Scott Hopkins' murder trial.
"Thirty-plus years of not knowing who, why, or whatever. And here's this man 10 feet away. You can't imagine the rage," he said.
Thirty-four years with no one having to pay the price for Janet's murder. The trial would take only eight days with 40 witnesses, including Hopkins himself. In the end, the jury took six hours to render a verdict: guilty of murder in the third-degree.
The verdict means Hopkins, while not intending to kill Janet, had acted recklessly and in a manner he knew could result in death.
"And the first thought that came in my head at that point was, 'Jan, we got him,'" said Caltieri.
"To good friends, old friends, to justice, and to Janet," Andy Gall said in a toast following the verdict.
For Gall, who was just a rookie that September day in 1979, the verdict closed a very big circle.
"I'm hopin' to get past these tears at some point," an emotional Gall said. "It's just -- it was more than just another case. Just became way too personal."
Not everyone in that courtroom was rejoicing.
"After this verdict, did he turn and look at you?" Van Sant asked Karen Hopkins.
"He did. He turned and looked at me, and -- and I was crying. And he said, 'I'm so sorry, you don't deserve this.' And I said, 'Neither do you,'" she replied.
Three months later, in February 2014, Janet's brother arrives at the sentencing wishing Hopkins would get exactly what he deserves.
"I'm hoping for the longest sentence possible. As I understand it, this crime carries a 20- to 40-year possibility. And I know it's up to the judge," Caltieri told Van Sant while outside the courtroom.
COURT DRAWING
The sentence the judge handed down was considerably shorter.
"He gave him eight to 16 years and my husband just turned 68. So I don't know if my husband will ever get out alive," said Karen Hopkins.
A few months into his prison stay, "48 Hours" spoke with Scott Hopkins by phone.
"Mr. Van Sant, I am absolutely innocent of this crime," said Hopkins.
"Why do you think the jury found you guilty?" Van Sant asked.
"My own thought is we have a situation in this country from watching 'CSI' and all the crime shows that if your DNA is there, you must be guilty," Hopkins replied. "And, I admitted to them that I was having sex with her in -- in her apartment."
Scott Hopkins insists that the DNA investigation was far from thorough, starting with Janet's estranged husband, Scott Walsh.
"Our DNA expert found my sperm and his sperm mixed together on the sheets. My DNA expert found an additional person's DNA or sperm ... on her robe. ... So there were other people's DNA there that they chose not to look at," he told Van Sant.
Janet Walsh, who by all accounts was just a summer fling for Scott Hopkins decades ago, would end up changing the course of his life.
"I mean, I respected her as a person, and as a female, and -- and I would never do anything to harm her," he said.
"Scott, are you lying to me?" Van Sant asked Hopkins.
"Absolutely not," he replied.
"You swear on everything you find holy in this world, and the people who support you, that you are telling me the truth?"
"I swear on my kids' lives," Hopkins told Van Sant.
Hopkins has already started to mount an appeal of his conviction.
For prosecutor Brittany Smith, the victory has been bittersweet.
"There's always a sort of sadness, even though you -- you get what you want to some degree," Smith said. "Doesn't bring Janet back. She'll always be 23 in 1979. She's still gone."
And for Janet's brother, who'd kept vigil for justice all these years, the time has come to let go.
"By getting rid of all these horrific mementos, headlines, 'Crime still unsolved, Case gone cold,' that'll help me get to that point," Caltieri said burned the old newspaper clippings. "I love my sister. I'll see you in heaven one day."
---
Hopkins is appealing his conviction based on several arguments.
Among them: science cannot determine the time a DNA sample is left at a crime scene.
Thanks for reading CBS NEWS.
Create your free account or log in
for more features.