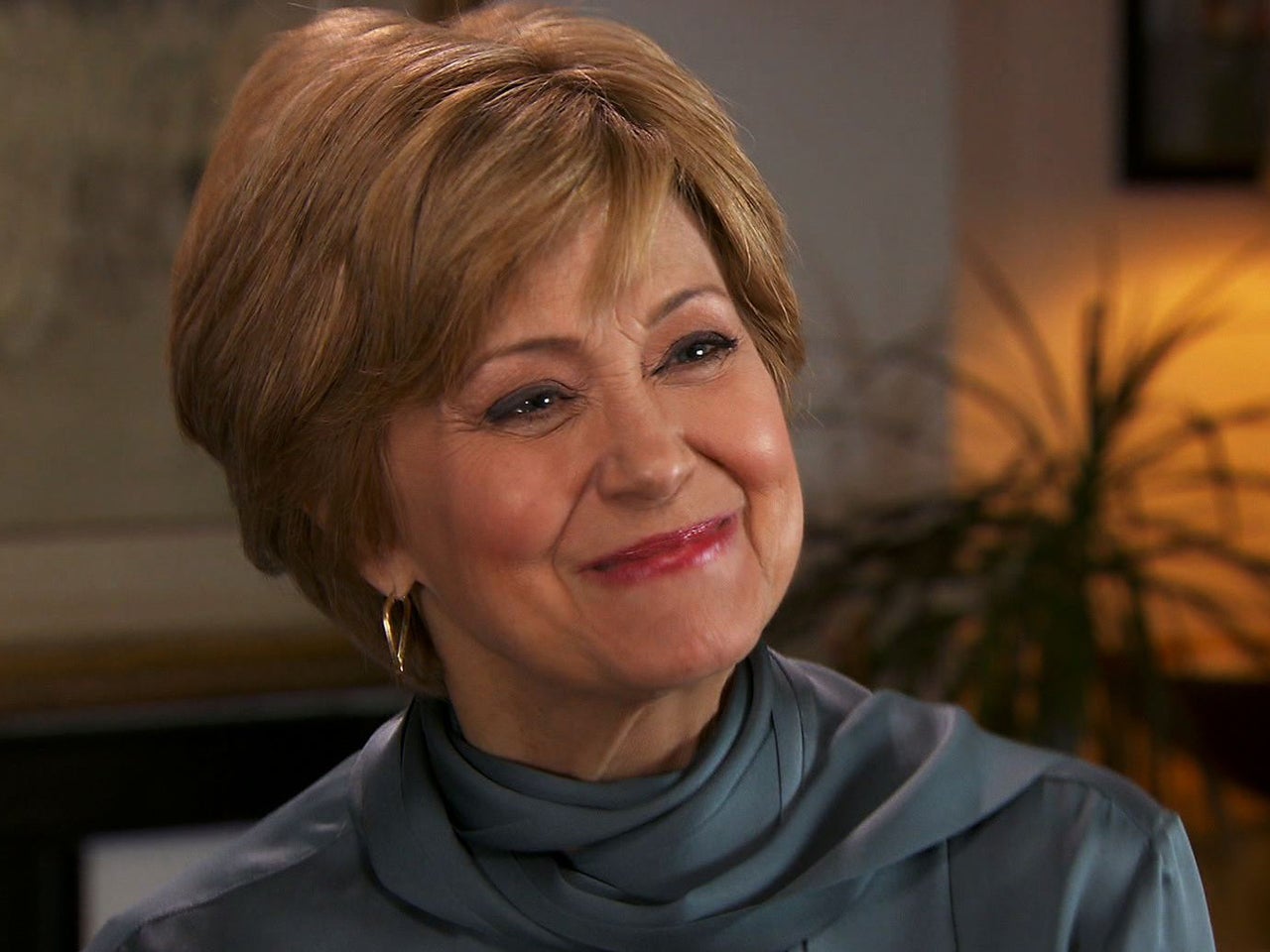 Jane Pauley on her life's new calling
If anyone knows how to write a successful Chapter Two to the story of her life, it's Jane Pauley, who left the spotlight of morning TV almost 25 years ago. Michelle Miller asks her about her past, present and future in this Sunday Profile:
It was 1976. Sitting next to Tom Brokaw on the "Today" show set was a new face:
"I am 25 years old today, and some people say that is simply not old enough. Well, I'm inclined to think it makes precious little difference how old I am. At any rate, I can't do anything about it but anticipate my 26th birthday upcoming in two weeks."
"I was so young," Jane Pauley says today. "I knew I didn't belong there. And if you hear my little speech on that first day, I'm trying to talk like anchor people talk. You can hear me trying really hard, to both apologize for being too young but to sound mature? It's painful!"
If she was uncomfortable, she didn't look it. Fresh faced, forthright and funny, Jane Pauley grew up, got married, had kids, and faced life's challenges while we all watched . . . somehow managing not to let all that success and attention go to her head.
Miller said, "You have been noted for being one of the nicest and most humble people in television."
"I don't sound that humble!" Pauley replied.
"Well, closest thing we could find of you boasting is you admitting to having precocious broadcasting skills."
"Yeah, I had the ability to talk about things I knew nothing about and sound like I actually was well-informed!"
At 63, Pauley is as level-headed as she ever was. Is it any wonder that she's now showing baby boomers how to move gracefully, even enthusiastically, into the next phase of life?
"We are at a stage of life where we're supposed to be planning for, or anticipating, or dreading retirement," she said. "When after that artificial date, at the age of 65, we know we could live another decade, two, or three. What are we going to do?"
Her new book, published by CBS' Simon & Schuster, is her own answer to that question. "Your Life Calling: Reimagining the Rest of Your Life" is based on stories of people who have reinvented their lives and careers in middle age, along with her own insights into the unanticipated joys of getting older.
"In our 60s, we develop a confidence based on the experience and skills we have," she said. "We are more risk-takers."
And have more freedom, she says, with the children grown.
Her husband, "Doonesbury" cartoonist Garry Trudeau, is busy with his own many projects.
"Garry confessed once that when I travel it's kind of fun when he's home alone!" Pauley said. "It's the truth, and I don't feel at all guilty about leaving."
She was born Margaret Jane Pauley in Indiana on Halloween, 1950. Her father was a salesman. She always described her mother as a housewife, until one day she heard herself introduced by Hillary Clinton this way:
"She says, 'She's the daughter of a musician,' and I'm kind of uncomfortable thinking someone's given her . . . then it hits me: You are the daughter of a musician. Every Sunday of my life I saw my mother sitting at the front of the church at the organ, at her command, bum, bunn, the congregation would rise!"
So, this daughter of a musician made her way through high school and college in Indiana, then onto local TV, where her likability and Midwestern good sense sparkled right from the start.
"The most embarrassing thing I ever said, which I will repeat for you, is -- and this was my self-image -- 'In the universe of broadcast stars, I stood out by not twinkling.' I think at the time I said it, I was pretty proud of myself!" Pauley laughed.
A trait she will admit she's proud of: her ability to learn from the people she meets, and even from her own children.
"I include in the book an email I got from my youngest son. Essentially he was saying, if I can summarize his thinking, 'I've watched you for three years, Mom, survey the field. You're wasting your talents and skills. It's time to stop thinking and make your move.'"
And so she did -- hitting the road, with the support of the AARP, to listen to the stories of other people who are using their talents and skills to do work they love.
"My goal isn't to astonish with stories of world-changing masters of the universe," Pauley said. "I want to inspire, I want to spark people to pick one of their ideas."
It's the latest reinvention for a woman who has become, over the years, a role model for starting over.
It began in 1989, when NBC announced that Deborah Norville would be replacing Jane Pauley as the host of the "Today" show. The public perception was that she was forced out.
"People were very upset when you left the 'Today' show,'" said Miller. "Phil Donahue, he said the way NBC handled it [was] 'sloppy, disgusting, undignified.' The fact that there was such a backlash, do you think it changed the way network television entertainment treated women?"
"I don't think so!" laughed Pauley. "I think it's human nature not to learn from history. It keeps repeating itself. I think the perception was that the first baby boomer was being pushed out to pasture."
She rebounded, famously, co-anchoring NBC's first successful primetime news magazine (after 18 failures).
But there were new challenges ahead. She was diagnosed with bipolar disorder in 2001, and wrote about it.
"You held your home life so privately, and you were very successful at that -- why open up?" Miller asked.
"To be diagnosed with a health disorder for which I knew there weren't too many people volunteering to be the poster child of, I knew I could do some good," Pauley said, "particularly since I had that reputation for being 'normal.'
"A president of NBC News literally said of me once, 'Jane Pauley has the best mental health in the business,' and I completely agreed. When that no longer was the case, I knew I was in a position to speak for people who couldn't speak."
On that, she will speak. As for the state of morning television, what advice would she hand out?
"They don't ask me for my advice, and I wouldn't be in a position to give it," she replied. "I feel like an ambassador from the 20th century! To tell people who are doing it now how to do it , that would be presumptuous and foolhardy. . . . Like everyone else in America, I throw tomatoes at the television every day, but I will pretty much keep my opinions to myself!"
"Does that mean if I ask you about the Ann Curry affair, mum's the word? Did that feel a little familiar?" asked Miller.
"I don't think anybody over there would argue that it could have been handled with more grace," Pauley said. "But I don't think the media pile-on that followed was proportionate to the lack of grace. When I left the 'Today' show and garnered similar press, the Berlin Wall was coming down. The Iron Curtain was falling, and people were still obsessing over What did Jane look like? Did Jane look happy today? I recognize the sense of proportion was way out of kilter."
Last month, Pauley took up her anchor chair at the "Today" show one more time.
"It really was just fun, it was wonderful!" she said. "I made some remark about how it was like riding a bike when you haven't ridden a bike in 30 years. I want to amend that. It's like riding a bike when you haven't ridden a bike in 30 years on an interstate highway. It's a different world. A very different world."
A world she's now taking in at her own pace, and loving it.
"I don't go to the glamorous destinations that NBC sent me to -- the Great Wall of China, or the Vatican to meet the Pope, or wave at Queen Elizabeth in London. But when I send myself, I can't wait to get there.
"I send my family pictures sometimes, a view out of my window on the Mississippi River in St. Paul. The moon rising over Monterey Bay in California. I sent these pictures and Garry sent his response, it was a text: 'You really are seeing the world.' And I thought, I not only seeing the world, I notice it."
For more info:
Thanks for reading CBS NEWS.
Create your free account or log in
for more features.