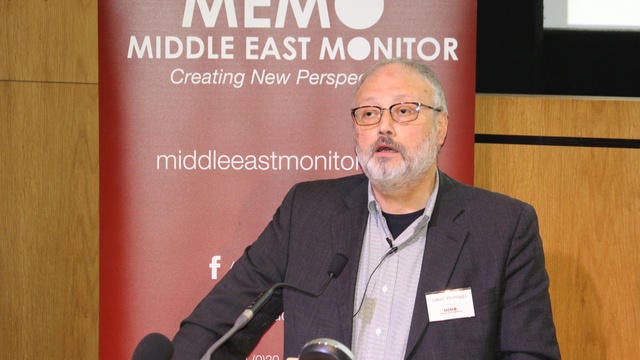 Turkish government says it has audio, video of Jamal Khashoggi interrogation
Reporting by Andres Triay, Andrew Bast and Pat Milton
A former high level U.S. intelligence official tells CBS News that the Turkish government has told the U.S. it has audio and video tapes of the interrogation of Saudi journalist and Washington Post columnist Jamal Khashoggi inside the Saudi consulate in Istanbul. Turkish sources allege that Saudi agents were involved in Khashoggi's murder.
Khashoggi was last seen entering the consulate 10 days ago, and his disappearance has sparked outrage worldwide.
The Saudi government denies that Khashoggi was tortured and killed inside the consulate. Turkey contends his treatment occurred with the knowledge of Saudi Crown Prince Mohammed bin Salman. Khashoggi had been critical of the prince.
Turkey claims that these audio and video tapes offer proof that Khashoggi was tortured, killed and dismembered by Saudi agents. U.S. sources tell CBS News that this plan appears to have been a rendition gone bad, and that the Saudis were initially intending to take Khashoggi into custody and bring him back to Saudi Arabia.

A Turkish government official says investigators are reviewing 150 cameras to track of the comings and goings of the Saudi team, and have shots of them at the airport, on the street and in restaurants.
Turkish officials believe one member of the team, Salah Muhammed el-Tubaigy, a member of the Saudi security service, was brought in to clean up the evidence.
The Senate has asked President Trump to investigate Khashoggi's disappearance under the Magnitsky Act, which allows the president to impose sanctions on any persons involved in human rights abuses.
In a radio interview with conservative commentator Hugh Hewitt on Friday, National Security Adviser John Bolton said that he and White House adviser Jared Kushner had spoken to the crown prince. According to Bolton, Secretary of State Mike Pompeo had spoken to bin Salman as well. "It is something we need to get resolved," Bolton said. "And we need to do it as soon as possible."
The president has indicated in recent days that he does not want to cease weapons deals with Saudi Arabia, which is a major recipient of U.S. weapons sales.
Thanks for reading CBS NEWS.
Create your free account or log in
for more features.