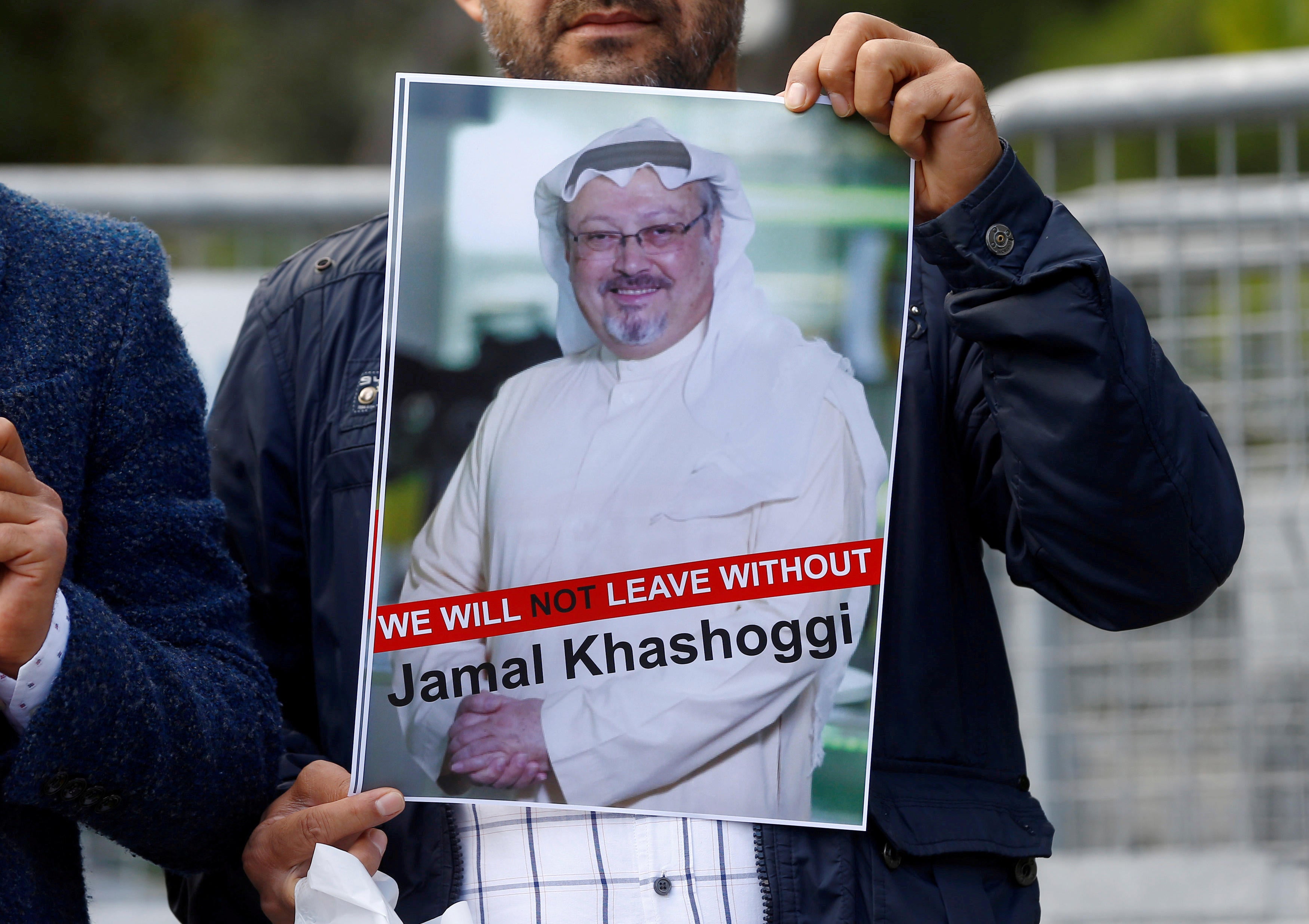 Saudi prosecutors say Khashoggi killing was premeditated
ISTANBUL -- Saudi prosecutors say the killing of journalist Jamal Khashoggi was planned, reflecting yet another change in the shifting Saudi Arabian account of what happened to the writer who was killed by Saudi officials in their Istanbul consulate. Saudi Attorney General Saud al-Mojeb said investigators had concluded that Khashoggi's killing was a premeditated crime after reviewing evidence presented by Turkish officials as part of a joint investigation, according to a statement on the state-run Saudi Press Agency.
Saudi Arabia's state-run al-Ikhbariyah TV quoted the country's public prosecutor as saying the suspects in the case "carried out their 'deed' with premeditation."
"The Saudi prosecution pursues its investigations with the suspects in light of the information it received, and in light of its investigation in order to determine the facts, Allah willing, and ensure the pursuit of justice," the Saudi Foreign Ministry added in a statement released via Twitter.
Saudi Arabia initially insisted Khashoggi had walked out of the consulate after visiting the building on Oct. 2. It later dropped that account for a new one, saying it had detained 18 people for what it said was an accidental killing during a "fistfight."
Many countries responded to the version of a brawl involving Khashoggi with skepticism and demands for transparency. Turkey has been turning up the pressure on Saudi Arabia, a regional rival, to reveal more about the crime.
Haspel to brief Trump, as Turks focus on well
There were reports on Thursday that CIA director Gina Haspel has heard possible key evidence implicating the Saudi royal family in the killing.
The Washington Post and the BBC reported on Thursday that Haspel heard during a visit to Turkey this week a purported audio recording of Khashoggi's killing. Details of the alleged recording -- which Turkish sources have leaked to media outlets for weeks -- apparently prove he was tortured and dismembered by a Saudi "hit squad," including operatives closely linked to Saudi Crown Prince Mohammed bin Salman.
Both Turkish and U.S. officials have thus far said that no such audio evidence has been shared by Turkey. Its existence has not been proven as of Thursday morning.
White House press secretary Sarah Sanders told CBS News on Thursday that Haspel would brief President Trump later in the day, following her short trip to Turkey, but Sanders would not comment on whether the CIA chief had heard any audio depicting Khashoggi's killing.
Turkish President Recep Tayyip Erdogan said on Monday that he would reveal to the world the "naked truth" about what happened in the Saudi consulate, but addressing lawmakers in the Turkish parliament on Tuesday, the Turkish leader added little more than rhetoric to the scandal, accusing the Saudi government of a "savage," premeditated "political murder," but offering no solid evidence to back the claim. He did not mention any audio or video evidence in the case.
Erdogan's assertion that the killing was pre-planned, however, did contradict Saudi officials' claims thus far that a team of 15 operatives was sent to Istanbul to try and convince Khashoggi to come home, and that he was killed in a "fist fight" by the group which acted outside of its authority and against its orders.
Crown Prince Salman's first remarks
While Turkish officials, speaking anonymously, and some senior U.S. lawmakers have suggested the crown prince himself likely had a role in approving the killing, a confident sounding Prince Salman vowed on Wednesday that the kingdom run by his family for almost 100 years would help get to the bottom of what he called a "heinous crime."
The crown prince said Saudi Arabia was "carrying out all legal measures" in cooperation with Turkish authorities to "present the perpetrators to the court" in the case.
On Tuesday, President Trump -- who had accepted the Saudi royal family's original denials of responsibility -- said that Khashoggi's killing involved "the worst cover-up in history." Secretary of State Mike Pompeo said the State Department would revoke visas for 21 Saudis the U.S. had identified as being part of the operation at the Saudi consulate in Istanbul.
Consulate well focus of Turkey's investigation
Khashoggi's body is still missing, 23 days after he was killed in the Istanbul consluate. There were conflicting reports Thursday about whether investigators had searched the well in a case that has geopolitical implications because of the Saudi-Turkish rivalry in the Mideast region, as well as the U.S. alliance with both countries.
Yeni Safak, a pro-government Turkish newspaper, says investigators emptied the well and are awaiting the results of an analysis of the water to determine whether body parts were dumped there.
But Sabah, another pro-government newspaper, says Saudi Arabia has yet to give Turkish authorities permission for a search.
Thanks for reading CBS NEWS.
Create your free account or log in
for more features.