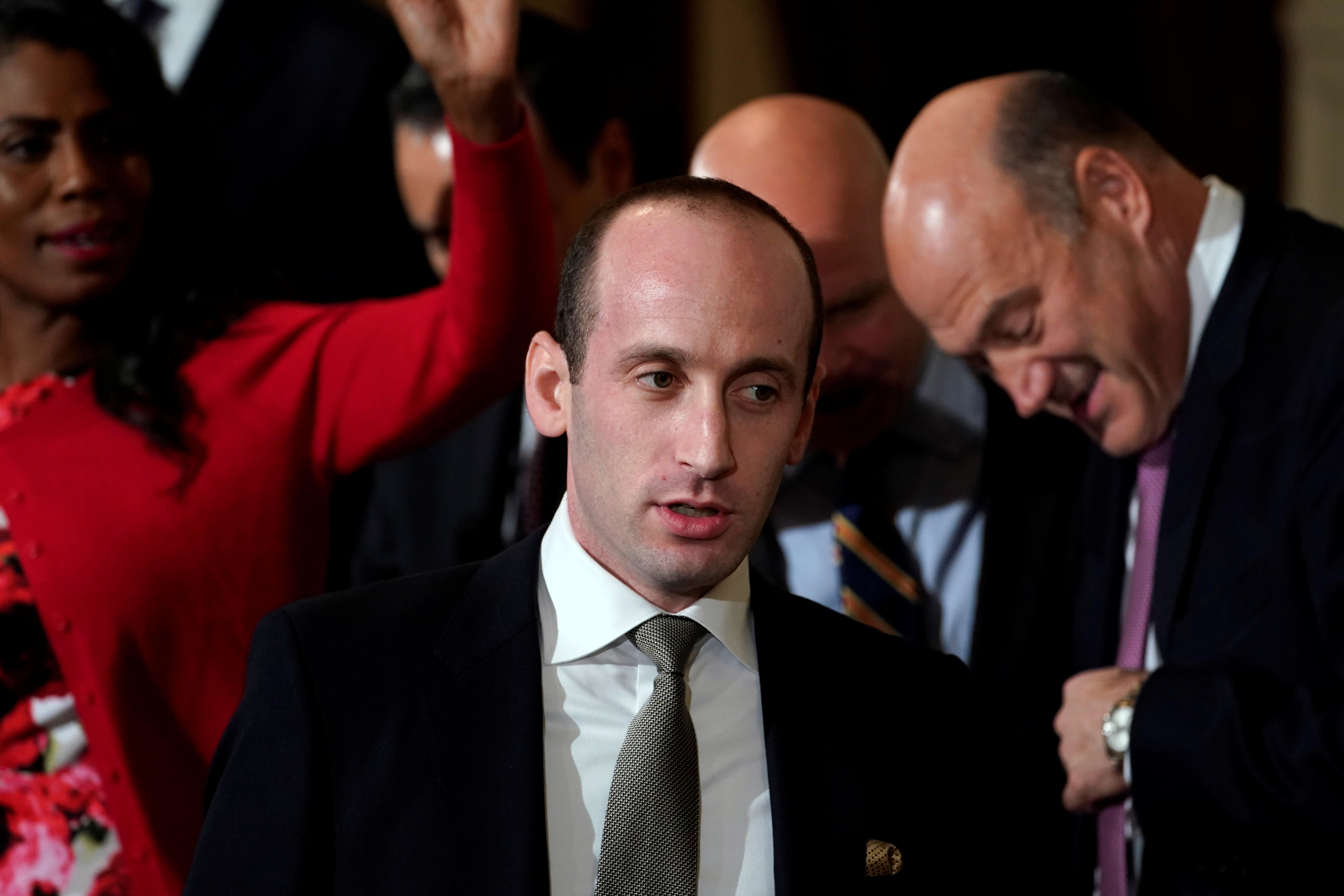 Top Trump adviser Stephen Miller "escorted" off set, CNN says
President Donald Trump's senior policy adviser Stephen Miller was "escorted" off a CNN TV set in Washington on Sunday by the network's security officers following a contentious interview with Jake Tapper, CNN has said. A CNN source told CBS News that Miller was escorted out "after refusing to leave voluntarily."
Miller appeared on Tapper's "State of the Union" program Sunday morning to defend the president from charges leveled in the new book by journalist Michael Wolff, "Fire and Fury," about the purported dysfunction in the White House. The interview became so contentious that Tapper cut the interview short and said Miller was wasting his viewers' time.
"The segment was over and Mr. Miller was politely asked to leave the set multiple times. After refusing to leave, he was escorted out by security," the CNN source told CBS News.
During an impromptu gaggle aboard Air Force One on Monday, White House Deputy Press Secretary Hogan Gidley disputed those reports, saying Miller was not escorted out of CNN and instead left of his own will.
President Trump praised Miller, tweeting shortly after the appearance which at times devolved into an on-air shouting match, that his aide had "destroyed" Tapper. He urged his followers to "watch the hatred and unfairness of this CNN flunky!"
Before the interview was ended by Tapper, Miller told CNN's "State of the Union" that the "Fire and Fury" book is, in his words,"nothing but a pile of trash through and through."
Miller said it was "tragic and unfortunate" that former Trump strategist Steve Bannon, who's quoted at length in the book, would make what Miller called "grotesque comments" that are out of step with reality.
Mr. Trump returned home to the White House on Sunday morning following a retreat to Camp David with GOP congressional leaders. Earlier, he hailed the series of meetings as a success, but he still panned "Fire and Fury" as a "Fake Book."
He compared questions of his mental fitness, raised by Wolff's book, to that of President Ronald Reagan, who had suffered from Alzheimer's disease toward the end of his presidency. Mr. Trump wrote that Reagan "had the same problem and handled it well. So will I!"
On NBC's "Meet the Press" on Sunday, Wolff defended his book, explaining how he got access to key administration players inside the Trump White House.
"I literally kind of knocked on the door and said, 'Can I come in?' and they said 'Okay.' I came in. I sat on the couch, and that's the point of view I wrote this book from; the point of this book is to have readers sit on the couch and watch what's happening in the West Wing," said Wolff.
He added, "I came in to this with no agenda. I have no politics when it comes to Trump. This is about human nature."
The president defended his mental stability in a series of tweets during his time at Camp David, insisting he was, "like, really smart," and "a very stable genius."
Thanks for reading CBS NEWS.
Create your free account or log in
for more features.