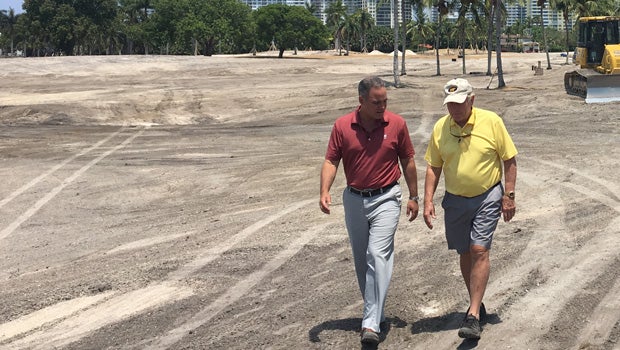 ​Jack Nicklaus stays the course
Step outside onto a modern golf course, and you might just discover it was designed by golfing great Jack Nicklaus. Jim Axelrod takes us out on the green:
It may look like a barren wasteland, but actually this is just a step on the path to paradise, at least when Jack Nicklaus gets involved.
"I think this is too busy here," he said. "Let's expand the lake and just make sure we see water all the way on the right edge."
Nicklaus -- widely considered the greatest golfer in history -- is also among the most prolific golf course designers the game has ever known.
On this Sunday morning, he is leading the charge at La Gorce Country Club in Miami Beach with his design team in tow. He's been hired to re-do the course -- one of nearly 400 his company has designed around the world.
Axelrod said, "When you were playing, it was you against other golfers. This is you against the land."
"It fights back, too!" Nicklaus laughed.
"A different kind of opponent?"
"Well, you try to make the land and the wind and the weather be your friend. So you try to design around those elements so you're not fighting them, but you're actually using them to help you."
He's got no formal training, but at 76 he's collected a lifetime of golf knowledge right down to the smallest grain of sand.
Nicklaus was a ferocious competitor who won a record 18 of golf's major championships over 25 years.
Axelrod asked, "Once the competitive part of your playing career was on the downside ... "
"'On the downside!' It's okay. Hey, we all go there."
"Did the intensity of your desire to build the course design business then ramp up?"
"A little bit," Nicklaus said. "But then about 1983 or '84, the fellow who was CEO of my company came to me -- and I'm doing half a dozen golf courses a year -- and he says, 'Jack, don't you think it's about time you made your avocation a vocation?'"
It took him a while for his design philosophy to evolve, at first thinking like the champion he was as a player. "I got a reputation of building golf courses too hard 'cause I was doing it for tournaments," he said.
But the longer he stayed at it, the more he started to think like a businessman.
"It shouldn't be about my ego," he said. "The person who is doing that golf course probably has his own ego. It's not my job to go out and do a golf course that suits me. It's my job to do a golf course that suits them."
Which is not to say his long list of courses doesn't include some of the best in the game: Muirfield Village near his hometown of Columbus; Valhalla in Louisville, Kentucky; and Castle Pines in Colorado have all been ranked by Gold Digest in the top 100 in the country.
But three-quarters of his work today is overseas, like projects in Vietnam and Thailand.
When Axelrod caught up with Nicklaus at Miami Beach, he was just back from Turkmenistan.
"Jack, you're 76. What are you going to Turkmenistan for?"
"To do a golf course!" he laughed. "Most people work all their life to retire to play golf. Well, I played golf all my life to retire to work!"
Nicklaus is getting just what he wanted. On the road 200 days a year, his brand extends far beyond golf course design -- not just the gold merchandise you'd expect, but wine, lemonade, even ice cream, with a portion of the profits going to charities the Nicklaus family supports.
Axelrod asked the recipient of a Congressional Gold Medal, and a Presidential Medal of Freedom -- "You're not a guy who needs to say, 'Gee, what did I do with my life?'" -- why he presses so hard now? "Is this to build a business to leave to your family?"
"Well, that's part of it," Nicklaus replied. "I need to leave that for my kids, my grandkids, and leave the legacy of a brand and something that I've left here."
He might take you in with a chuckle, recalling that, even as a six-time Masters champion, it took a while for the men who run Augusta to get him his own green jacket.
"1963, I won the Masters. They brought out a 46 long. I was a 43 regular. It fit me like an overcoat. Next year, I came back. They say, 'Try this one and see how it fits you.' It was Tom Dewey's jacket! Governor of New York and the guy who lost to Truman. I wore Tom Dewey's jacket for the next 20 years."
"Let me get this straight: 1986, the most famous green jacket ceremony probably in the history of the Masters, you're wearing Tom Dewey's green jacket?"
"Oh yeah. It was 30 years old!"
But when it comes to what really matters to Nicklaus, don't think for an instant he's mellowing. You don't get to be the best ever without a little edge.
Surveying the grounds at La Gorce, Nicklaus pointed out to one man, "Why would you do it then if you knew I wouldn't like it?"
"Well," the man responded, "sometimes, you know, it's just -- "
"No, no," Nicklaus interjected. "Don't give me that bull****. I mean, why would you do something going away when you're playing a shot here with the water behind you? Huh? You don't need that."
Jack Nicklaus knows that an awful lot has come his way simply through his astonishing ability to hit a golf ball. But what he's designing now is yet another way to be remembered.
"My walk up the 18th fairway at Augusta is something I remember and I cherish," he said. "It'll be with me all my life. But this golf course is going to be here for a long time -- long beyond my golf game and my lifetime -- for a lot of people to enjoy and have fun with. That's a legacy that you can't leave by just hitting a golf shot."

For more info:
Thanks for reading CBS NEWS.
Create your free account or log in
for more features.