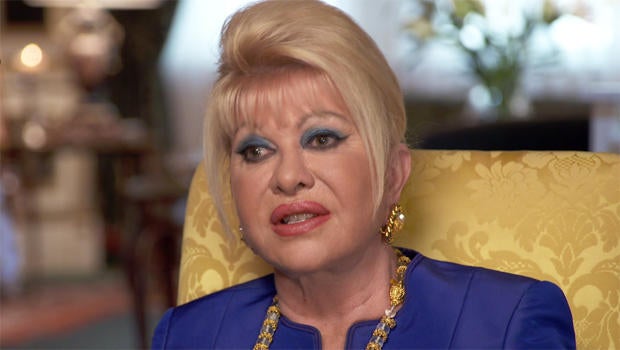 Ivana Trump: President asks my advice on tweeting
Ivana Trump, the first wife of President Donald Trump, says he offered her the ambassadorship to the Czech Republic and that she advised him to tweet, in an interview with Jim Axelrod for CBS' "Sunday Morning," to be broadcast October 8.
Trump, who says she talks with the President weekly, tells Axelrod her ex-husband asked her advice about using Twitter to communicate to the public.
"I said, 'I think you should tweet. It's a new way, a new technology. And if you want to get your words across rightly, without telling The New York Times, which is going to twist every single word of yours, this is how you get your message out,'" she told Axelrod.
Asked about critics who suggest the president should not use Twitter, Trump replied: "Well, it's a tweeting president. This is his new way, how to put the message across. And he's right."
In the interview Trump, 68, talks about her life before and after she and the president divorced; what he is like as a father; her thoughts about Trump's second wife, Marla Maples, and his third, first lady Melania Trump; and other topics that she addresses in her new book, "Raising Trump," an advice book with tips for parents.
Trump, who has been married and divorced twice since she split from the man who would become the 45th president, says she talks with him about once a week.
"I was just offered to be the American ambassador to Czech Republic," she noted. "Donald told me. He said, 'Ivana, if you want it, I give it to you. But I like my freedom. I like to do what I want to do, go wherever I want to go with whomever I want to go. And I can afford my lifestyle. Okay, why would I go and say bye-bye to Miami in the winter, bye-bye to Saint-Tropez in the summer, and bye-by to spring and fall in New York? I have a perfect life."
The Emmy Award-winning "CBS Sunday Morning," hosted by Jane Pauley, is broadcast on CBS Sundays beginning at 9:00 a.m. ET. Executive producer is Rand Morrison.
Be sure to follow the program on Twitter (@CBSSunday), Facebook, Instagram (#CBSSundayMorning) and at cbssundaymorning.com. "Sunday Morning" also streams on CBSN beginning at 9:30 a.m. ET, and is available on cbs.com, CBS All Access, and On Demand. You can also listen to "Sunday Morning" audio podcasts at Play.it.
For more info:
Thanks for reading CBS NEWS.
Create your free account or log in
for more features.