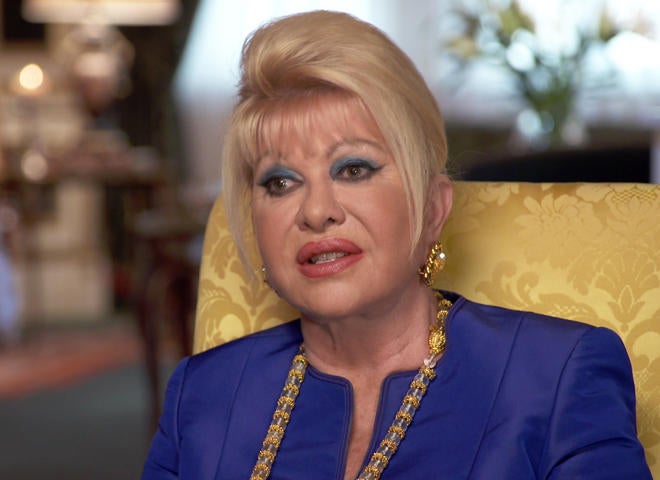 Ivana Trump reveals text she sent to Melania Trump
President Trump's first wife, Ivana, called his third wife, Melania Trump "family," in an interview that aired Tuesday.
"I sent Melania the text, that the last thing I would like to do is say something bad about you, you know because you are family. And I don't say anything bad or do anything back to the family member," she said in an interview on Fox News' "Fox and Friends."
Asked if she thinks she should be first lady, Ivana said, "Not at all" because she said, "Washington is tough, tough town. I was asked to be American ambassador to Czech Republic. I told him, I said, you know, if he would ask me 10, 15 years ago I would do it."
Ivana said, "I think Donald is a good man, and he is trying to do the best he can and he's going to run the country as his business. He will negotiate."
Describing what it was like to raise their children, Ivanka, Eric and Donald Jr., she said that Mr. Trump was always on the phone and wasn't a "classic father" who would take them on walks through Central Park.
"I would take the kids to Europe for two months -- June and July -- and they would fly economy, and I would fly first class, you know? and Ivanka said, 'Can i be upgraded?' I said, 'When you can afford it, you get upgraded.'"
The Fox News interview with Ivana Trump was recorded before an interview that aired over the weekend on "CBS Sunday Morning" interview, in which she said she gets along with Melania Trump. "One is nobody. And the other one is first lady," she said, referring to but not naming Marla Maples, the model who broke up his marriage to Ivana Trump. On Monday, Ivana said in another interview that she is first lady.
"I don't really want to call him there because Melania is there, and I don't want to cause any kind of jealousy or something like that," Ivana said on ABC's "Good Morning America." "Because I'm basically first Trump wife, okay? I'm first lady, okay?"
First lady spokeswoman Stephanie Grisham, dismissed Ivana Trump's remark as having "no substance."
"Mrs. Trump has made the White House a home for Barron and the President. She loves living in Washington, DC and is honored by her role as First Lady of the United States. She plans to use her title and role to help children, not sell books," Grisham said.
CBS News' Emily Tillett contributed to this report.
Thanks for reading CBS NEWS.
Create your free account or log in
for more features.