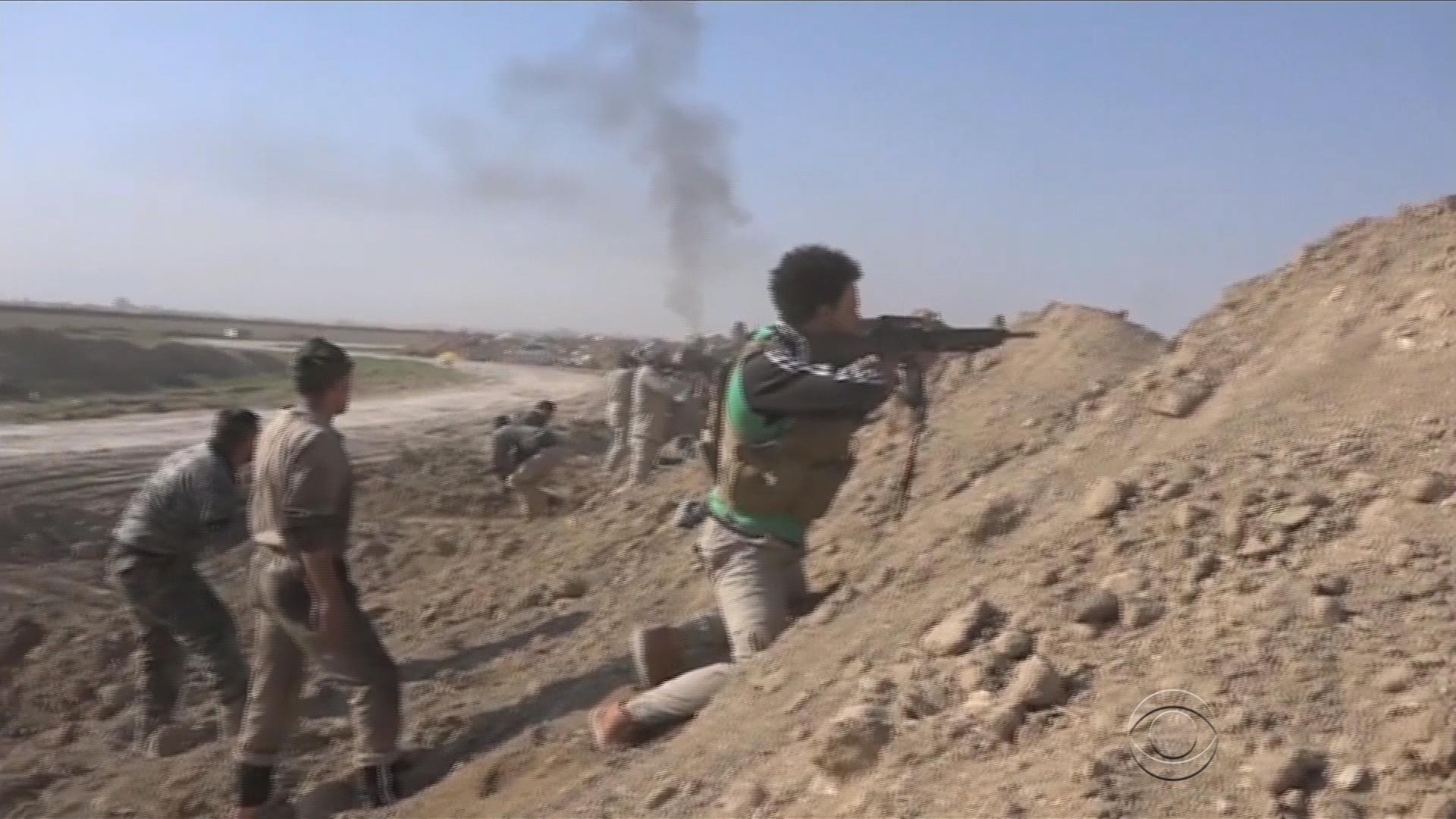 ISIS drones disrupt U.S.-backed Iraqis' fight for Mosul
SOUTH OF MOSUL, Iraq -- On the outskirts of Mosul, Iraqi forces backed by the U.S. military are slowly taking ground from the Islamic State of Iraq and Syria, or ISIS.
This past week, they retook the airport and started pushing deeper into Iraq's second largest city.
Day Seven of the battle for western Mosul and the Iraqis -- by their own account -- are moving very slowly. Their operations are being disrupted by ISIS drones, sometimes operating in swarms of three to five. They are off-the-shelf quadrocopters, which drop hand grenades or artillery shells, and in a video released by ISIS appear to score a direct hit on an Iraqi armored personnel carrier.
Hundreds of civilians from the city escaped into the surrounding desert, but an estimated 700,000 remained trapped inside their homes.
U.S. advisers are operating closer to the front lines in an attempt to help the Iraqis better coordinate their attacks. Gen. Joseph Votel, commander of U.S. forces in the Middle East, inspected the medevac helicopters and the field hospital set up to receive American casualties. But there haven't been any since the battle for West Mosul began. Iraqi medevacs, on the other hand, flew 26 missions on Friday.
Signs of American support are everywhere. Apache helicopter gunships wait for missions at a base 40 miles south of Mosul as do mobile rocket launchers under the command of Lt. Mary Floyd.
The rockets have a range of 15-70 kilometers, Floyd said, which is in range of Mosul from the base.
Closer to the front lines, less than 10 miles south of Mosul, American howitzers are on call 24/7. Their mission is to suppress enemy fire and, in the words of Capt. Geoffrey Ross, give the Iraqis the gumption to move forward.
Ross said he can't discuss how many rounds have been fired, "but it's considerably more than we thought we were going to shoot when we left Fort Hood."
The Iraqi strategy is to take back the city in deliberate, small bites. On Friday, it cost them four dead and 53 wounded, and an American officer says it's going to be hard every day.
Thanks for reading CBS NEWS.
Create your free account or log in
for more features.