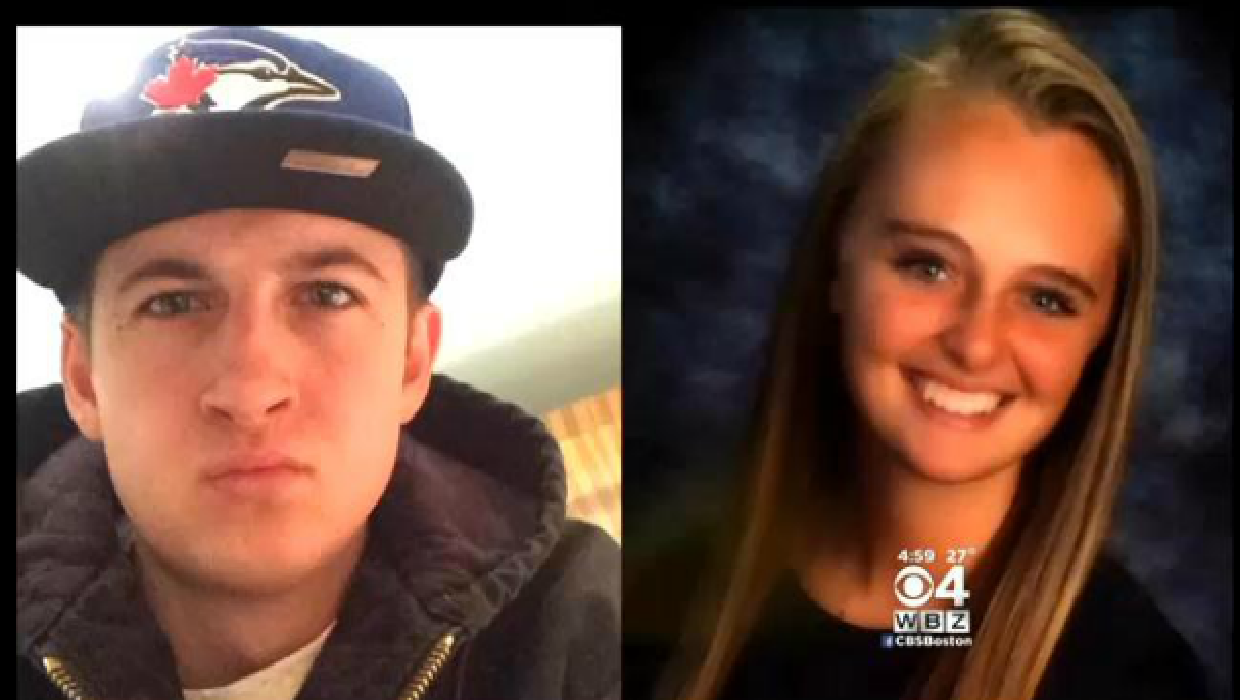 Is it a crime to "encourage suicide"? Teens' texts under scrutiny
BOSTON - Prosecutors likely face an arduous task in proving that an 18-year-old Massachusetts girl committed involuntary manslaughter by encouraging a male friend to commit suicide, experts say.
Michelle Carter, of Plainville, was 17 when police say she encouraged her friend, 18-year-old Conrad Roy, of Mattapoisett, to commit suicide. Roy, who had a history of mental illness, was found dead in his car behind a K-Mart in Fairhaven, about 60 miles south of Boston, on July 13, 2014. He had used a generator to commit suicide by carbon monoxide poisoning.
It wasn't until February 5, 2015 -- more than six months later -- that Carter was indicted by a grand jury on a charge of involuntary manslaughter after the Bristol County District Attorney's Office says a lengthy investigation found she "strongly influenced" Roy's decision to kill himself.
In a police report, Fairhaven police Det. Scott Gordon wrote, "Carter not only encouraged Conrad [Roy] to take his own life, she questioned him repeatedly as to when and why he hadn't done it yet, right up to the point of when his final text was sent to her."
The report further alleges that, prior to his death, Roy texted Carter that he was scared and didn't want to leave his family, but despite that, Carter continued to encourage him to take his own life, "and when he actually started to carry out the act, he got scared again and exited his truck but instead of telling him to stay out of the truck and turn off the generator, Carter told him to 'get back in.'"
However, Joseph Cataldo, Carter's attorney, says his client didn't commit a crime and he believes a judge will dismiss the charge prior to trial. He tells 48 Hours' Crimesider that once all the evidence is made public it will be clear that Carter "counseled" Roy not to take his own life.
"I think it's rather suspect they didn't release all the other text messages they claim the two of them had... It's a sad story, a tragedy, but it's not manslaughter," Cataldo says. "What we have here is a young man who made a voluntary decision to end his own life. It was his voluntary decision. His death was not caused by Michelle Carter."
According to Cataldo, the case is unprecedented in the state of Massachusetts. He says he's not aware of any cases in the state "where a person who is 30 miles away is charged with committing manslaughter by text."
Massachusetts has no statute criminalizing assisted suicide, although 40 other states do. It can, however, prohibit it under common law.
Barbara Coombs Lee, an attorney and president of Compassion & Choices, a non-profit organization that provides guidance and resources about aid in dying, says Massachusetts' lack of a criminal prohibition against assisted suicide will make the case against Carter an uphill battle for the prosecution.
She says what went on between Michelle Carter and Conrad Roy is precisely what such laws are designed to prohibit.
"People shouldn't manipulate and coerce mentally vulnerable victims. There should be some way that society punishes this behavior," Lee says.
CBS News' legal analyst and former Massachusetts prosecutor Rikki Klieman acknowledges that while the accusations against Carter are "horrendous," the case doesn't neatly fit into any statute in Massachusetts.
"It's not cyberbullying, it's not harassment, it's not stalking. So the prosecutor says, 'This is reprehensible conduct, disgusting conduct, must-be-punished conduct,' so he goes forward and says, 'Let's call this involuntary manslaughter.' Does it neatly fit in that definition? Not so much. We really are going to have a test case here," Klieman told CBS This Morning.
Minnesota prosecutor Paul Beaumaster knows firsthand the challenges that come with prosecuting a case that involves allegations of encouraging suicide.
Beaumaster was the prosecutor in the case against William Melchert-Dinkel, a Minnesota man who was charged in the deaths of an Englishman and a Canadian woman after authorities say he used the Internet to manipulate them into killing themselves.
Authorities said Melchert-Dinkel was obsessed with suicide and hanging and sought out potential victims online. When he found them, prosecutors said, he posed as a female nurse, feigned compassion and offered step-by-step instructions on how they could kill themselves.
He was charged and ultimately convicted of aiding in the suicides of Nadia Kajouji, 18, of Brampton, Ontario, and Mark Drybrough, 32, of Coventry, England. Drybrough hanged himself in 2005, and Kajouji jumped into a frozen river in 2008.
A Rice County, Minn. judge found that he "intentionally advised and encouraged" the victims to take their lives, but the defense appealed, saying Melchert-Dinkel's actions might have been immoral, but they were not illegal.
The Minnesota Supreme Court reversed Melchert-Dinkel's convictions last year. The justices found that the part of Minnesota's law that simply bans someone from "encouraging" or "advising" suicide is unconstitutional because it encompasses speech protected under the First Amendment.
But the justices upheld the part of the law that makes it a crime to "assist" in someone's suicide -- and said speech could still be considered a factor. The case went back to the initial judge, who ruled last year that Melchert-Dinkel did assist in Drybrough's suicide, by providing detailed instructions on hanging, on which Drybrough followed through. The judge found Melchert-Dinkel guilty of attempting to assist Kajouji's suicide, because she ultimately rejected his advice to hang herself and jumped into the river instead.
He was ultimately sentenced to 178 days in jail and will avoid prison if he abides by probation terms for the next 10 years.
Beaumaster, the prosecutor in the Melchert-Dinkel case, told Crimesider he believes the case against 18-year-old Michelle Carter in Massachusetts will center around similar issues, such as whether or not words in and of themselves constitute assisted suicide and whether certain statements made via text or on the Internet are protected under the First Amendment.
The Melchert-Dinkel case resulted in a very narrow statute in Minnesota which clearly defines when it is still a crime to assist in suicide, and Beaumaster said similar statutes are needed throughout the country.
In the Michelle Carter case, "I do think there is culpabilty," he said. "Society needs to have outliers be held accountable for statements that result in death or injury to another person."
Michelle Carter, now 18, is charged as a youthful offender since she was 17 at the time of Roy's death, but she could still face punishment as an adult - up to 20 years - if convicted. She is currently free on $2,500 bond.
Authorities have not commented on a motive in the case, but according to police documents, Conrad allegedly sent text messages to her friends and to Roy's mother expressing concern about Roy's whereabouts on the day he committed suicide, despite having been in constant contact with him and encouraging him to take his own life.
The police documents indicate authorities believe she was putting together "a plan to get sympathy." They also allege that after Roy's death, Carter organized a softball tournament to raise money for mental health awareness in honor of Roy and posted several messages on social media about suicide prevention and how much she missed Roy.
In a message to Roy's mother dated July 25, 2014 -- twelve days after his death -- Carter wrote, "...There was nothing anyone could do to save him no matter how hard they tried. I never tried harder at something in my life."
Thanks for reading CBS NEWS.
Create your free account or log in
for more features.