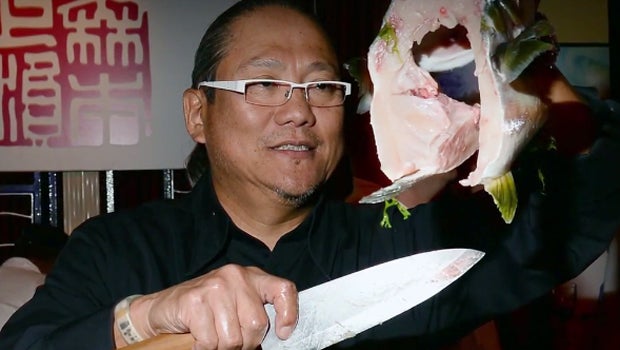 "Iron Chef" Morimoto on the pressure of success
For restaurateur Morimoto, one name is appropriate, because he's most definitely one-of-a-kind. The beloved "Iron Chef" was instrumental in making sushi a hugely popular mainstream dining experience in America.
He recently opened his new restaurant, Momosan Ramen, in New York City.
There are only 60 seats, and sushi is not even on the menu. Momosan Ramen is nothing like Morimoto's other restaurants, but his signature blend of American and Japanese flavors is in every bowl.
Vinita Nair asked, "What is the difference between the American palate and a Japanese palate?"
"In Japan, for example, one cup of soup, first touch is very light," he demonstrated. "But in [America], first bite? You know, 'Oh, tastes too bland.' So we have to make this kind of impact from the first bite. So little by little, I learned the American palate."
Growing up in Hiroshima, Japan, Morimoto had never really tasted American food. He says his family was poor, and that his parents argued a lot. But once a month they had a family tradition:
"After pay day we went together and go dining out to the sushi restaurant," he said. "In the restaurant we were at peace. My mother would pour the sake to my father and then they were eating together and that's very 'at home,' so it looks like they love each other."
While he dreamed of becoming a sushi chef, Morimoto's first love was baseball. He tried to be a professional player, but was sidelined by an injury to his shoulder. "When I decided to give up baseball, and then I become the sushi chef, I made the decision myself. I didn't ask anybody."
Initially he opened a sushi restaurant in Japan. Then, Morimoto and his wife moved to the United States. Soon he was head chef at Nobu New York. That's when producers from a show called "Japan's Iron Men of Cooking" approached him to compete.
"I didn't even know that program," he said. "My answer was, 'No, I can't.'"
But he was finally convinced, and would fly back and forth to Japan, for two years. "A lot of pressure, a lot of stress. Each single battle's very stress and under pressure. Iron Chef cannot lose a lot!"
Morimoto rarely lost. Despite the stress and pressure, he agreed to compete on the American version of the show, known as "Iron Chef America."
Nair said, "When I watch you on 'Iron Chef,' you seem very serious."
He conceded that his frowns were an act: "Look so mean! No, no, no, no! I don't know what anybody is thinking about me, but I think of myself, is that I am much, much charming than [frowns]!"
Riding the show's success, Morimoto opened his first restaurant in Philadelphia. Twelve more would follow, including Morimoto Waikiki, Wasabi by Morimoto in Mumbai, and Morimoto Asia at Walt Disney World in Orlando.
All the fish served in his restaurants is sustainable. His butchers are taught how to extract every ounce of meat. Then they study Morimoto's methodical techniques, as in how to slice the fish so thin, so perfectly, which he credits to "experience."
Like his personality, it's not easy to replicate.
Nair asked, "I think when people think of a sushi chef, they only think about you. Do you feel some pride that you helped bring sushi to the United States?"
"No, I don't think so," he replied. "I'm kind of well-known, you know, in Japanese chefs in this country."
"Kind of?!"
"Yes, kind of!" he laughed. "I don't know."
"It seems like you're not slowing down."
"Unfortunately, I can't. Normal people start to think to retire 50, 55, 60. But at 50, 55, 60, it's getting busier! More restaurants coming, more busy, more global [expansion]. I have lots of people on my shoulders.
"So I better not stop!" he laughed.
Thanks for reading CBS NEWS.
Create your free account or log in
for more features.