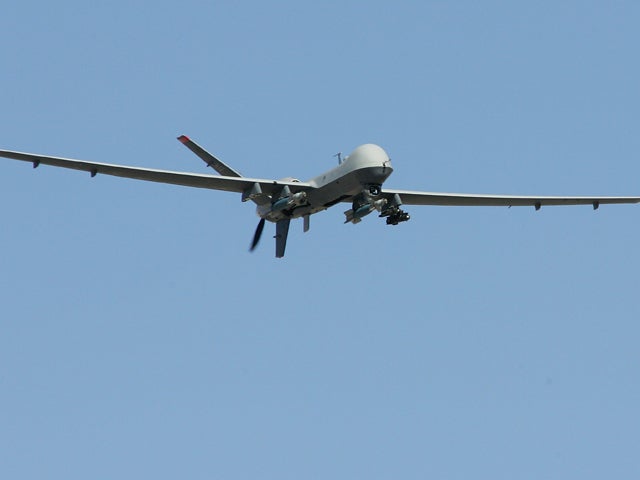 Iranian jet shoots at U.S. drone over Persian Gulf
An Iranian jet shot at a U.S. predator drone last week over the Persian Gulf, the Pentagon confirmed Thursday.
Pentagon spokesman George Little said the drone was not downed and was over international waters. The incident was first reported by CNN.
Little said the drone was performing "routine surveillance" and was about 16 miles off the Iranian coast when an Iranian SU-25 warplane intercepted it and opened fire. He said it was the first time an unmanned U.S. aircraft was shot at in international airspace over the Gulf, and would not say which branch of the military the drone belonged to.
Little said the U.S. informed the Iranians that it would continue to conduct such surveillance flights in international airspace.
The drone's still and video cameras allegedly captured the Nov. 1 incident, CNN reports.
The Iranian jet was part of the infamous Revolutionary Guard, which is generally seen as more aggressive than the regular Iranian military, CNN reports.
In December of last year, a surveillance drone went down in eastern Iran near the Afghan border. Iranian officials insisted they brought the drone down with a cyberattack, while U.S. officials have neither confirmed nor denied the claim.
Since the start of tensions between Iran and the West over the former's nuclear program, Iran has been very protective of the Persian Gulf, a crucial body of water for the world's oil shipping routes. In January, Iranian leaders "warned" the U.S. not to send military ships there, a threat the U.S. has ignored.
Reports on the mid-air confrontation come just as Iran's official news agency says the country's military will hold "massive" air defense maneuvers in the east, starting this weekend.
Gen. Farzad Esmaili, head of Iran's air defense headquarters, says the drill will include Iranian jet fighters, drones, air defense systems and about 8,000 troops.
Thanks for reading CBS NEWS.
Create your free account or log in
for more features.