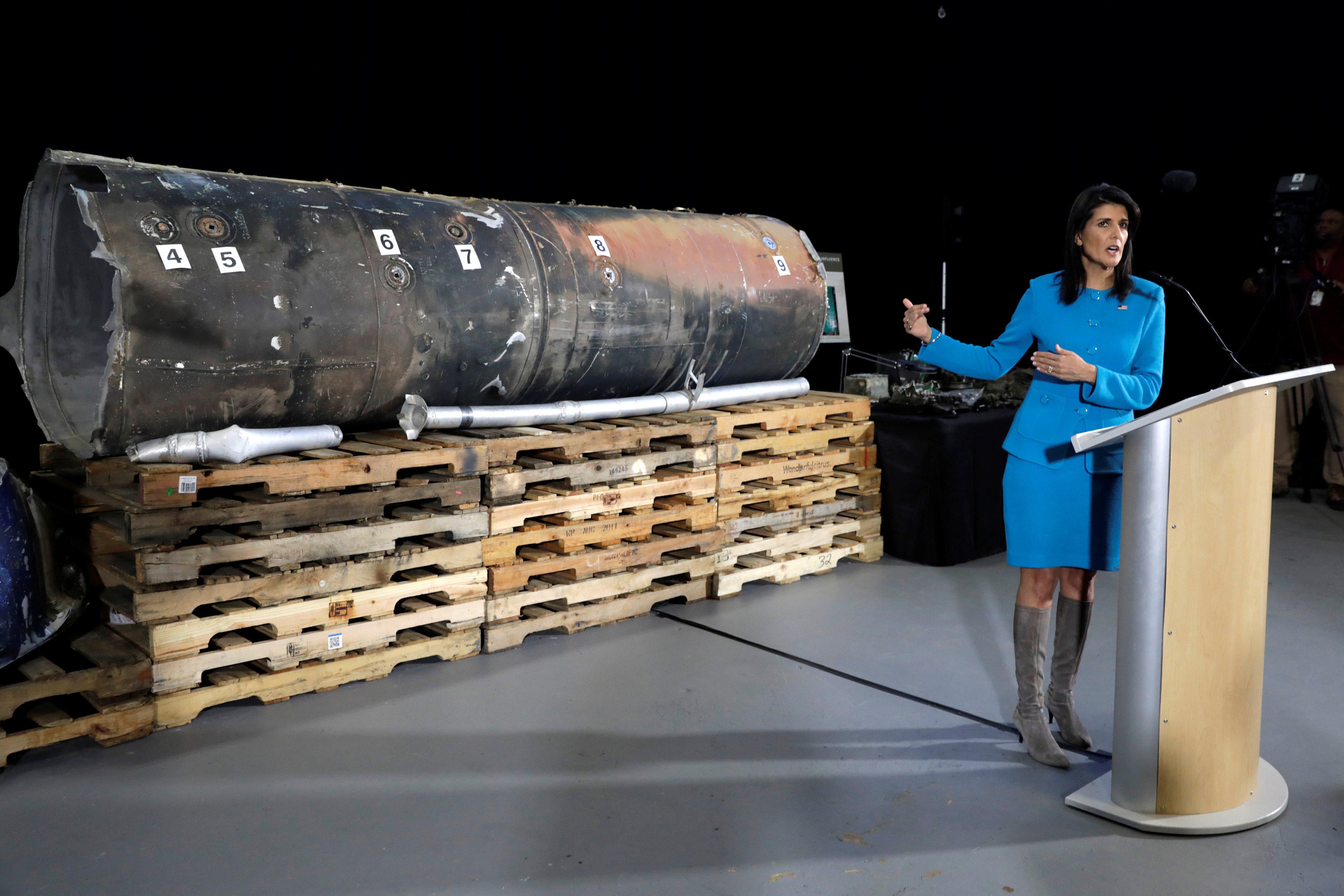 U.S. ambassador Nikki Haley pushes United Nations for "consequences" for Iran's "behavior"
UNITED NATIONS -- A new U.N. report highlights Iran's non-compliance with United Nations sanctions over weapons and ballistic missiles that ended up in Yemen after a targeted arms embargo was put in place in 2015, the United States says. The 329-page report released late Thursday, "identified missile remnants, related military equipment and military unmanned aerial vehicles that are of Iranian origin and were brought into Yemen after the imposition of the targeted arms embargo."
Iran, the report found, "failed to take the necessary measures to prevent those weapons from reaching sanctioned individuals and entities," in particular, supplies to Yemeni rebels for missiles that were fired at Saudi Arabia.
U.S. Ambassador Nikki Haley said the report by the U.N. Panel of Experts, which includes detailed graphs and pictures, identifies Iranian weapons and ballistic missiles introduced into Yemen.
"This report highlights what we've been saying for months: Iran has been illegally transferring weapons in violation of multiple Security Council resolutions," Haley said.
Calling for U.N. action, Haley added: "The world cannot continue to allow these blatant violations to go unanswered. Iran needs to know that there are consequences for defying the international community. It's time for the Security Council to act."
The U.N. report, a U.S. Mission to the U.N. statement said, "validates the United States' concerns about growing Iranian destabilizing behavior and violations of international norms and UN resolutions."
The panel's report comes on the heels of a report by the U.N. Secretary-General which Haley called the "most damning" evidence to date that Iran is arming Yemen's Houthi rebels.
Both Russia and Iran have disputed the evidence, and an Iranian official called the new report "politically motivated."
A letter signed by Iranian Ambassador Eshagh Al-Habib and sent by the country's U.N. mission responded to the report's findings.
"The Islamic Republic of Iran categorically rejects those baseless allegations contained in the Panel's report and reiterates that it has no policy to transfer to or manufacture arms in Yemen," the letter states.
The letter also states that "similarities between logos found on components and trademark" that belong to certain military industries in Iran "are inaccurate and flawed" and "lack logical merit."
"Due to the imposed all-round blockade, and given the sensitivity, heavyweight and large size of the parts….there are serious uncertainties about the possibility of external origins for the missiles," Al-Habib wrote.
After a trip to Washington, D.C. to see the evidence of Iran's ballistic missiles in Yemen, Russia's Ambassador to the U.N., Vassily Nebenzia, questioned the evidence, saying, "everyone knows Yemen hosts a pile of weapons from the old days."
After the Yemen report was leaked, Iranian Foreign Minister Javad Zarif tweeted that the U.S was "fabricating" evidence against the Islamic Republic.
The objective of Haley's efforts is to illustrate Iran's non-compliance with regard to its ballistic missile activities, technically not part of the nuclear deal signed in 2015 with world powers. But, U.N. action on Iran's missile program, Haley told the Associated Press, could persuade President Trump to remain in the nuclear accord, which will come up again on the president's desk for certification in May of this year.
Last month, a top U.N. official laid the groundwork for Security Council action that would separate U.S. concerns over Iranian activity from the nuclear accord. U.N. Undersecretary-General for Political Affairs Jeffrey Feltman said that the Council could adopt a new resolution that makes clear that Iran is prohibited from all activities related to ballistic missiles.
Thanks for reading CBS NEWS.
Create your free account or log in
for more features.