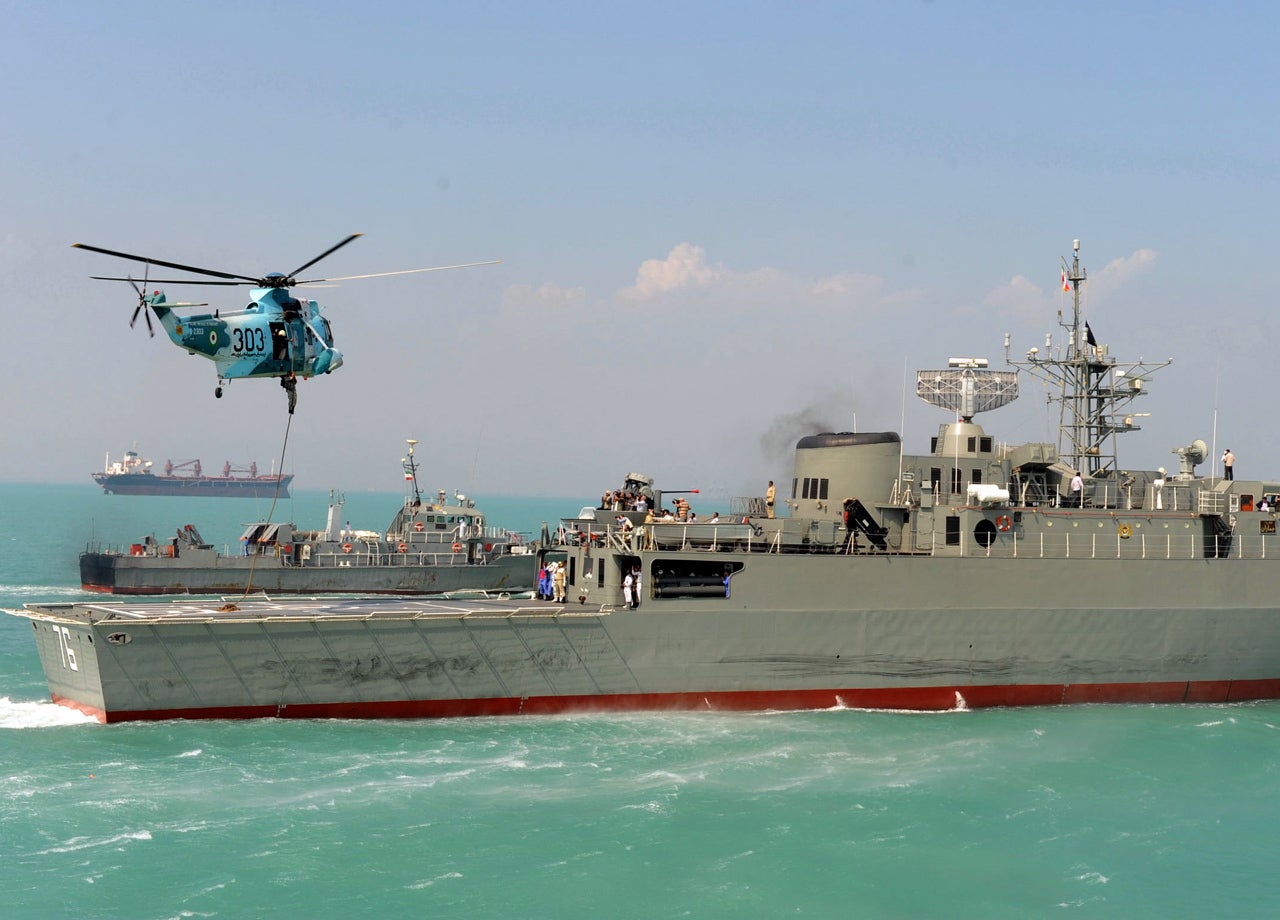 U.S. commander: "Definitely a change" in Iran's behavior
MANAMA, Bahrain -- Iranian naval forces appear to have deliberately halted their provocations of U.S. Navy ships in the Persian Gulf in recent months, a U.S. military official said Thursday. According to Navy Cmdr. William Urban, spokesman for U.S. Naval Forces Central Command, there have been no "unsafe and unprofessional" actions by Iranian naval forces in the Gulf since August 2017.
Prior to that, Iranian vessels had periodically made high-speed approaches to U.S. ships that were considered dangerous provocations.
Urban declined to speculate on the reason for the change.
"It seems like they've absolutely made a conscious decision to give us more space," he said. "That is definitely a change in their behavior."
Urban spoke to reporters traveling with U.S. Defense Secretary Jim Mattis, who stopped in Bahrain to meet with senior government officials and U.S. military leaders on his way back from Afghanistan.
The last tense encounter between the U.S. Navy and Iranian forces in the Persian Gulf was recorded on Aug. 14, 2017, when an unarmed Iranian drone shadowed the USS Nimitz aircraft carrier at night and came close enough to F-18 fighter jets to put the lives of American pilots at risk, the Navy said at the time.
The drone did not respond to repeated radio calls and came within 1,000 feet of U.S. fighters. In a similar encounter Aug. 8, the Navy said an Iranian drone came within 100 feet of an F-18 preparing to land on the Nimitz.
For the first eight months of 2017, the Navy recorded 14 instances of what it describes as "unsafe and/or unprofessional" interactions with Iranians forces. It recorded 35 in 2016 and 23 in 2015.
The incidents at sea almost always involved the Revolutionary Guard, a paramilitary force that reports only to Supreme Leader Ayatollah Ali Khamenei. Some analysts believe the incidents are meant in part to squeeze moderate President Hassan Rouhani's administration after the 2015 nuclear deal.
Of the incidents at sea last year, the worst involved Iranian forces capturing and holding overnight 10 U.S. sailors who strayed into the Islamic Republic's territorial waters.
Iranian forces in turn accuse the U.S. Navy of unprofessional behavior, especially in the Strait of Hormuz, the mouth of the Persian Gulf, through which a third of all oil traded by sea passes.
Bahrain, where Mattis stopped on Thursday, is a tiny island kingdom off the coast of Saudi Arabia and the home of U.S. Navy's 5th Fleet. Of Bahrain's approximately 1.4 million people, about half are Bahraini citizens, the majority of them Shiite.
The island has been ruled since 1783 by the Sunni Al Khalifa family. King Hamad, who took the throne in 1999, initially took steps to move the country from an absolute monarchy to a constitutional one. The first parliamentary elections since 1973 were held in 2002.
However, the Shiite majority accused the government of treating them like second-class citizens. They joined pro-democracy activists in demanding more political freedoms in 2011, as Arab Spring protests swept the wider Middle East. Saudi and Emirati troops ultimately helped violently put down the demonstrations.
Thanks for reading CBS NEWS.
Create your free account or log in
for more features.