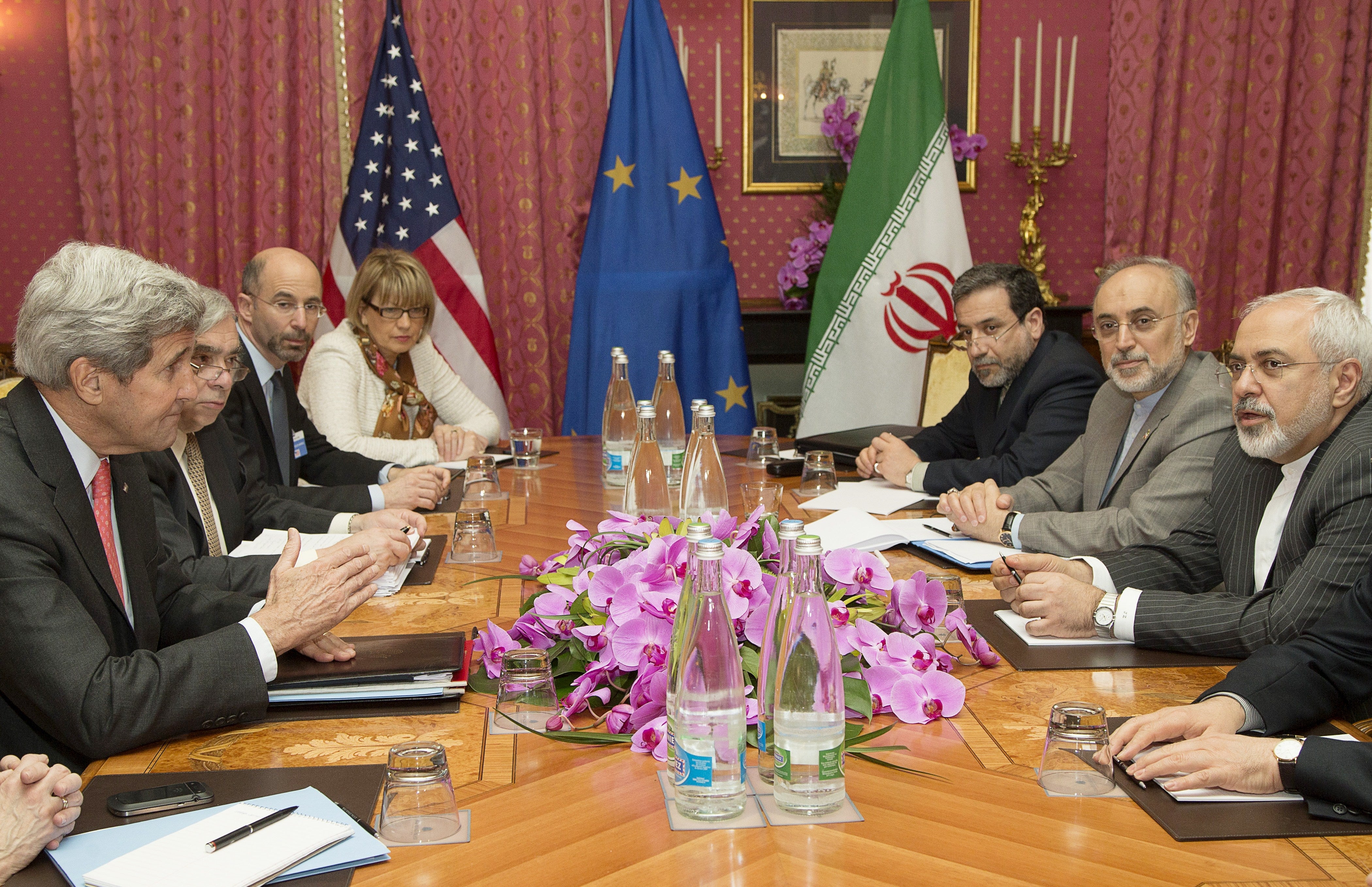 ​Iran nuclear deal in sight, State Dept. official says
LAUSANNE, Switzerland -- Secretary of State John Kerry returned to Switzerland early Thursday morning to conclude high wire negotiations with Iran about a framework deal to halt its nuclear program in exchange for sanctions relief.
U.S. diplomats are optimistic that there is now a visible "path" to reach what would be a historically significant arms control agreement by the self-imposed Tuesday deadline.
Yet even if negotiators are able to pull off this diplomatic feat, it is not yet clear whether that deal will conclude with a written accord signed by Iran or merely a handshake based on a political understanding.
"We very much believe that we can get this done by the 31st," a senior State Department official told reporters traveling with Kerry. "We do not know what form this will take if we can get there by the end of March."
The pressure is high and success is far from guaranteed. Negotiators from the Islamic Republic are reluctant to sign a written accord until all the technical details are complete.
The working plan is for all parties to reach a political agreement on the bulk of those issues by Tuesday, then finesse the technical details to be added into a comprehensive agreement to be completed by June. Iran wants explicit promises on the timing and sequencing of sanctions suspension to be hammered out now, and for most of that relief to happen sooner rather than later.
Whatever form a possible agreement takes, the senior State Department official said, the goal is for a political understanding to last "as long as we can get" and put specific limits on the amount of research and development that Iran is allowed to continue, guarantees of monitoring and inspections of all nuclear sites, and constraints that would take Iran at least one year of "breakout" time to build a bomb.
The aim is to block the four pathways that Iran could use to build a nuclear weapon, and the most difficult to cut off is the covert program.
Doing so requires getting Iran to agree to limits that go beyond monitoring of its five known atomic sites. That means inspecting all uranium mines and mills to make sure that things aren't being "siphoned off" from declared to undeclared facilities.
U.S. diplomats are cautious but acknowledge that they have already put pen to paper to sketch out their ideas. During the last round of talks in Lausanne, a senior Obama Administration official told reporters the U.S. wanted any deal reached this month to be as explicit as possible and have "quantifiable dimensions" in order to meaningful.
U.S. officials -- already fearful of leaks -- are closely holding any text and insist that there is no framework ready to be circulated among the P5+1 allies at the table.
That secrecy has drawn criticism from both Republicans and Democrats on Capitol Hill, who say they have not been fully briefed on the contents of a deal, and fear that the Administration is giving away too much for too little in concessions from Iran.
One of those critics, Senator Bob Menendez, D-New Jersey, told CBS News that containing the problem is not the same as stopping the nuclear threat.
"What we will have done is bought time but not stopped Iran's march towards nuclear weapons, and a future president and the world will face a potentially nuclear armed Iran and that is not in the national security interests of the United States or our allies," he said.
Capitol Hill is not the only naysayer. Skeptics like France -- one of the six partners negotiating alongside the U.S. -- have raised concerns that there is a better deal to be had if negotiators ignore the March deadline and simply keep talking. Doing so would also require that hardliners in Iran give their negotiators room to breathe.
All of it leaves Kerry having to thread an incredibly thin needle to make political interests converge in order to reach an agreement by the deadline. In comments to diplomats at the State Department on Wednesday, Kerry assailed opponents of a deal.
"What happens if, as our critics propose, we just walk away from a plan that the rest of the world were to deem to be reasonable?" Kerry said. "Well, the talks would collapse. Iran would have the ability to go right back spinning its centrifuges and enriching to the degree they want... and the sanctions will not hold."
Thanks for reading CBS NEWS.
Create your free account or log in
for more features.