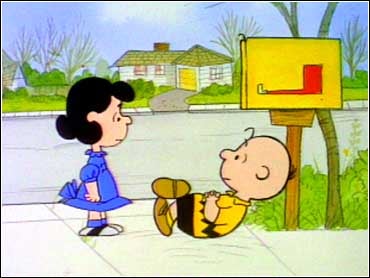 <i>Peanuts</i> Creator Dead at 77
Charles M. Schulz, the cartoonist who delighted the world with the adventures and adversities of Charlie Brown, his friends and a dog named Snoopy, died on Saturday. He was 77.
Schulz, who was diagnosed with colon cancer and suffered a series of small strokes during emergency abdominal surgery in November 1999 and announced his retirement a few weeks afterward, died in his sleep at about 9:45 p.m., his son Craig Schulz said.
Schulz died just a few hours before the final weekend installment of his Peanuts comic strip was to run in newspapers nationwide.
The final daily installment ran Jan. 3, but this weekend marks the last original Sunday color offering.
Charles Schulz was praised and remembered fondly by fellow cartoonists.
"Before Peanuts, cartoons were a little more slapstick and sort of gag-oriented," said Patrick McDonnell, creator of Mutts, on The CBS News Early Show. "Charles Schulz is the man responsible for that whole look of cartoons being more personal."
What was planned as a 50th anniversary tribute to Schulz is now going to be a memorial to the Peanuts creator, reports CBS Radio News. The head of the National Cartoonists' Society says every comic strip in the papers on Saturday, May 27th, will be about Peanuts.
Since its debut on Oct. 2, 1950, Charlie Brown and the rest of the Peanuts gang have been mainstays of American culture, eventually spawning enough merchandise and tie-ins to make more than $1 billion a year. The strip went on to run in more than 2,600 newspapers, reaching millions of readers in 75 countries.
On Friday CBS News Correspondent Walter Cronkite hosted Good Grief, Charlie Brown: A Tribute to Charles Schulz, an hour-long CBS entertainment special.
Through decades of interviews with Schulz, along with clips from Schulz's animated movies and television specials, viewers relived the magic of half a century with Charlie Brown, Snoopy, Lucy, Linus and the rest of the Peanuts gang. The special provided a glimpse into how Schulz drew his famous characters and he discussed them with fondness.

Charles Schulz

The show features a montage of clips from classic Peanuts moments designed to celebrate the comic strip that gave the world such expressions as "Good grief!" and "security blanket" and "Happiness is a warm puppy."

In the program, Schulz also shared how he named his characters, and talked about Spike, his childhood dog that served as the inspiration for Snoopy. Lee Mendelson and Rand Morrison were the executive producers, and the special was being directed by Rob Klug from a script y Richard Rosen, Steve Lava and Mendelson.



Which Peanut Are You?
Most Peanuts fans see a little of themselves in Charlie Brown and the gang. Which one do you think is most like you? Answer our special Pop Question and compare your response with others on CBSNews.com.
Click here to vote.



Schulz says he had no idea how many lives he had touched until he announced his retirement and was met with adulation. He announced he was retiring after undergoing abdominal surgery and being diagnosed with colon cancer.

During an interview on a radio station in Santa Rosa, Calif., where he lived, the 77-year-old cartoonist said he suffered a series of small strokes during emergency abdominal surgery in November. He said he couldn't see well from the left side and had difficulty speaking.

As a result, he said, he knew he wasn't likely to draw again.

"All of the sudden, one day, it's taken. It's gone. I can't do it," he said.

Schulz said he wasn't bothered by the tributes that followed the news of his retirement. "I'm pleased that I was able to live long enough to see it all," he said.
Thanks for reading CBS NEWS.
Create your free account or log in
for more features.