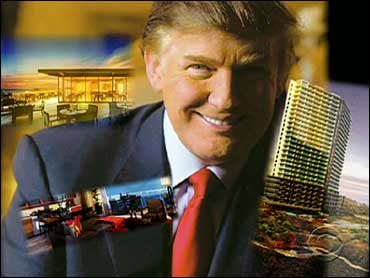 Investors Sue Trump Over Failed Resort
Dozens of angry investors last night sued Donald Trump, the high-profile real-estate magnate who lent his name to a failed hotel-resort in Baja, Mexico that went belly-up.
They were out millions of dollars, and now they want Trump to pay up, as CBS News correspondent Ben Tracy reports.
As the boss of the boardroom on his TV show "The Apprentice" and a real estate king in real life, Trump has earned a reputation.
As investor Guadelupe Mendoza put it, "How could you go wrong? You are investing in a multimillionaire who has proven himself in many real estate ventures."
She was talking about a luxury condo-hotel property on Mexico's Baja peninsula, which Trump talked up in a promotional video obtained by CBS News.
"That was the main reason we went ahead with this project because it was a Trump project," said Hamed Hoshyarsar, another investor.
---

---
Hoshyarsar 's southern California family made a down payment of $165,000 to secure a one bedroom unit. With Trump's name and face all over it, they figured it was a sure bet.

Instead, it went bust.

"The money is gone. All they've told us is there is no money. That's it," Hoshyarsar said.

A hole in the ground is all that's left, and all there ever was, of the much-hyped project - a victim of the real estate and credit bubble bursts.

Investors poured $32 million into it and are now told they won't get a penny back.

"In the U.S. we have laws to protect the consumer to make sure their deposit is not being used for construction," said Delores Conway of the Marshall School of Business. "But remember, this is Mexico and laws are different."

It's not clear exactly where all the money went. The Trump Organization now says it was never the developer. It helped designed the product and lent the Trump name to the project.

"I am sorry for everyone but we are in the same boat," said Ivanka Trump. "We had to terminate our contract because our agreements weren't obligated either."

It's another blow to the Donald's carefully crafted image. His casino business, Trump entertainment resorts filed for bankruptcy protection last month. And he's been in a battle over debt payments at the Trump tower in Chicago.

Yet investors in the Baja project still can't believe they've lost everything.

"It's shocking and unbelievable that this whole thing happened like this," Hoshyarsar.

Especially shocking considering the brand name they thought they were buying.
Thanks for reading CBS NEWS.
Create your free account or log in
for more features.