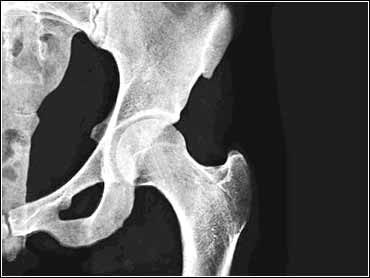 Investigation: Most medical devices implanted in patients without testing
(CBS News) Some popular medical devices, including hip replacements, lap-bands and defibrillators may not be as safe as the people implanted with them may think, according to a new eye-opening investigation.
According to Consumer Reports, the majority of medical implants are not tested to make sure they are safe. In fact, much of what medical implant or high-risk device manufacturers have to do to get their product sold is file some paperwork and pay the Food and Drug Administration (FDA) a fee of about $4,000 with minimal testing.

Metals from hip replacements present toxic risk for millions, investigation warns
Report says medical implants are rarely tested
"Standards for devices exist, they just don't make sense," industry critic Dr. Diana Zuckerman, president of the National Research Center for Women & Families, said in a Consumer Reports release.
Consumer Reports' investigation determined that medical devices are often tested on unsuspecting members of the public instead of before implantation. The problem is that there's no system for the government, researchers or patients to learn of potential problems with devices without a serial number on the device or a company that catalogs problem.
"A coffeemaker or toaster oven has a unique serial number so if a problem is found, the company can contact you to warn you. Your artificial hip or heart valve doesn't," Zuckerman says. If no changes are implemented, these problems will persist.
Dr. Stephen Tower, an orthopedic surgeon, became a victim of these faulty devices himself. He had an artificial hip made of chrome-cobalt metal called the ASR XL made by De Puy, the orthopedic arm of Johnson & Johnson. The FDA had cleared the device without testing based on "substantial equivalence" to earlier similar devices. Use of metal parts over plastic was supposed to give the patient more mobility so they could participate in all kinds of physical activity.
Tower told Consumer Reports that initially he was able to participate in bike races and was such a proponent of the device he implanted it in six of his patients. But, after a year, he had high levels of chromium and cobalt in his blood and his hip was constantly painful. He started having other problems like disturbed sleep, mood swings, anxiety, hearing loss, and tinnitus, constant ringing in the ears. The symptoms got so bad he couldn't go to work.
Even though he kept calling the DePuy engineers, they claimed they never had any problems with the device. Then a British Medical Journal and BBC Newsnight investigation revealed that millions of people with similar implanted devices also had high levels of toxins seeping into their bloodstream.
HealthPopreported that the investigation showed that the chromium and cobalt ions leak into surrounding tissue and destroy muscle and bone, eventually spreading to lymph nodes, the spleen, liver and kidneys and potentially causing damage. The ions also had the ability to change a person's chromosomes, meaning genetic changes.
In a statement to CBS News, DePuy sill maintained that "dozens of tests and studies relating to the design, materials, and performance of components" of their recalled hips "were conducted" and point out the hips were "cleared for marketing by the FDA."
The FDA told HealthPop in a statement that it evaluates thousands of medical devices each year and after FDA approval or clearance, they still receive and analyze information about how the devices perform in real world settings. When necessary, the agency will create independent scientific panels for additional expert advice on hard to understand safety issues so manufacturers can understand how to address safety concerns.
"It is an incredible responsibility, and medical devices reviewed by the FDA have a strong track record of safety and effectiveness. Evidence suggests that the vast majority of these devices perform well and improve patient health," FDA spokesperson Erica Jefferson said in the statement.
Last year, Jefferson said, the FDA directed manufacturers of metal-on-metal hips to conduct additional safety studies to address the specific issues related to metal ions.

"Data we receive from these studies will allow us to better understand the safety profile of these devices and their benefits for certain patients," she added.
The FDA said it will continue to improve how they review devices, and are working on a national post-market surveillance strategy to helpfully track information about the quality of such devices when they are in patients.
But metal-on-metal hip replacements weren't the only devices of concern. Consumer Reports also told the story of a woman who had a lap-band, a device that creates an adjustable gastric band, that cut into her stomach lining and another woman whose surgical mesh following a hysterectomy shifted in her body, causing intense pain she likened to "torture." The surgery took place in 2007, and she's had eight surgeries since to adjust and remove the mesh. She still has not returned to full-time.
The FDA also directed manufacturers of surgical mesh to conduct post-market studies to address specific safety issues related to its use in women, Jefferson said.

The Consumers Union, the advocacy arm of Consumer Reports, recommends that implants and other "life-sustaining" devices be tested as much as pharmaceutical drugs, that the practice of "grandfathering" high-risk new implants and other like devices be stopped, and a "unique identifier system" or IDs for devices be created so patients can easily be notified by recalls. Also, they want a national registry created so problems can be spotted faster and fees for manufacturers increased so the FDA has enough money to do its job.
CBS This Morning interviewed Nancy Metcalf from Consumer Reports:
Thanks for reading CBS NEWS.
Create your free account or log in
for more features.