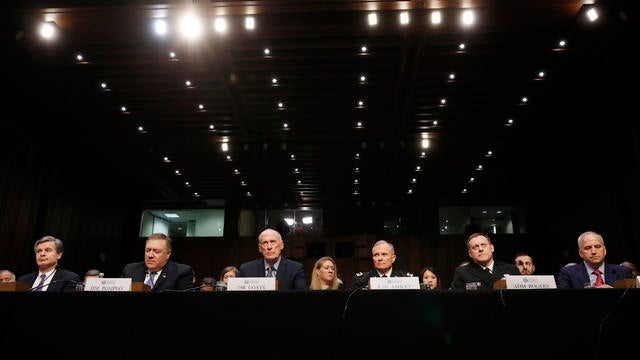 Intel officials sound the alarm on Russian meddling in 2018 midterms
WASHINGTON -- U.S. intelligence officials said Russian President Vladimir Putin meddled in the 2016 U.S. election, and now, with critical elections coming up in November and control of Congress at stake, officials said Tuesday that Putin is at it again.
Testifying before the Senate Intelligence Committee alongside the heads of agencies including the FBI, CIA and NSA, Director of National Intelligence Dan Coats said Russia is already working to disrupt this year's midterm elections.
"We need to inform the American public that this is real," he said. "That this is going to happen, and the resilience needed for us to stand up and say, 'We're not going to allow some Russian to tell us how to vote, how we ought to run our country.' And I think there needs to be a national cry for that."
Senate Democrats said that national cry needs to begin with President Trump.
"I believe that he feels that he and Russia did not meddle in the election," Mr. Trump said of Putin in November. "As to whether I believe it or not, I am with our agencies."
But he has sent mixed messages about Russian meddling in the 2016 presidential election.
"Has the president directed you and your agency to take specific action to confront and blunt Russian influence activities that are ongoing?" Sen. Jack Reed, a Democrat from Rhode Island, asked FBI Director Christopher Wray.
"We're taking a lot of specific efforts to blunt Russian efforts," Wray responded.
When Reed pressed Wray on the question, Wray said "not as specifically directed by the president."
In 2016, Russian hackers targeted voter systems in at least 21 states. But there is still no coordinated national strategy to counter similar Russian operations this year. The Department of Homeland Security has encouraged select state elections officials to obtain security clearances so they can be more fully briefed. But sources have described the initial federal involvement as "bizarre" and a "complete waste of time."
We spoke with then-Virginia elections commissioner Edgardo Cortes in October.
"I don't disagree that some of the briefings have been not exceptionally helpful," he said. "I need to know, what actions do I need to take to make my systems secure against any cyber threat?"
DHS says it is providing state and local election officials with real-time intelligence on the threats. It has also set up a council to coordinate information sharing. But that council didn't become a reality until after the 2016 election.
Thanks for reading CBS NEWS.
Create your free account or log in
for more features.