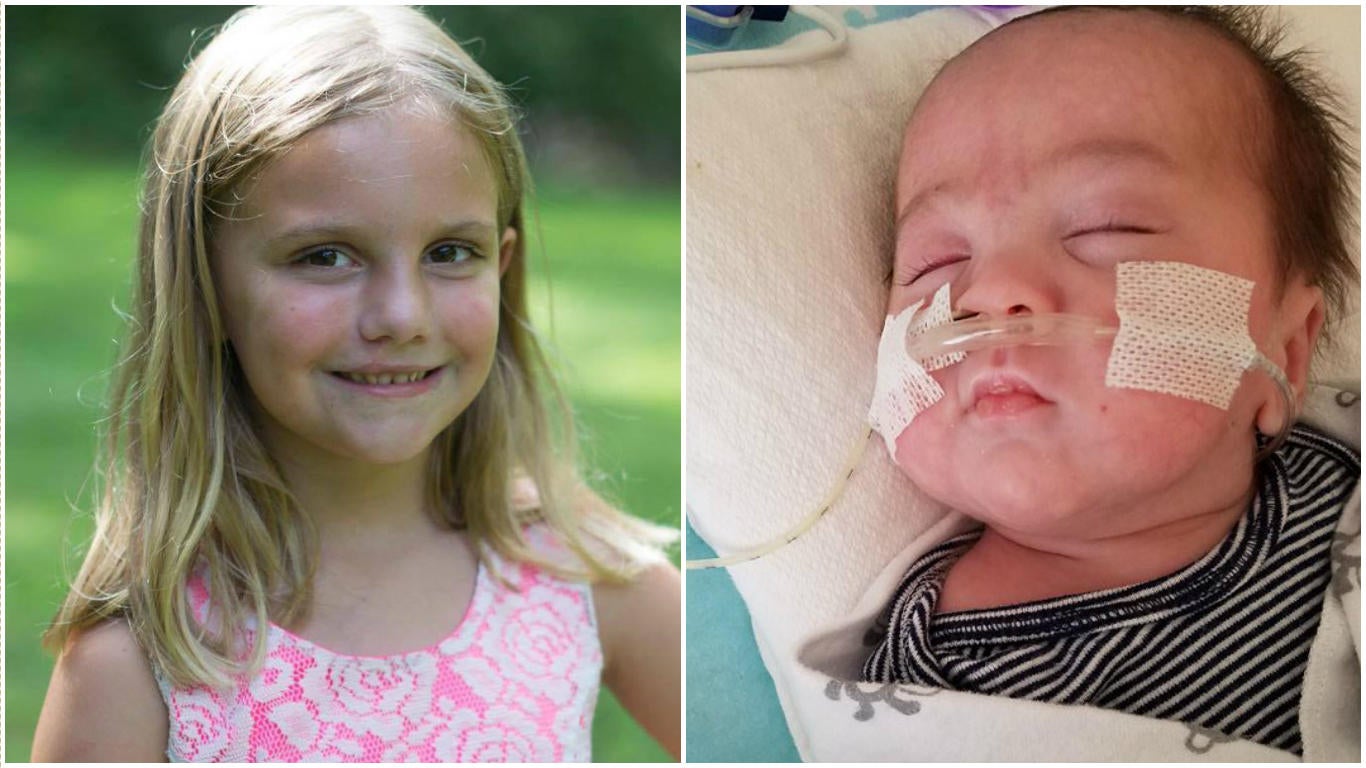 Instead of birthday presents, 7-year-old asks for donations for a preemie she's never met
Most kids can't wait to open their birthday gifts each year.
But this year, it wasn't presents Addison Williams couldn't wait for on her 7th birthday. She wanted donations for a baby boy named Cooper Young — a child she has never met.
Cooper was born premature, at 26 weeks, on August 20. His parents, Phil and April, were on vacation in Edisto Island, South Carolina, when April sensed something wasn't right. Her water had broken.
"[April] got her bathing suit on, then she told me she thought there might be something wrong," Phil Young told CBS News. They drove an hour to Charleston, where Cooper was delivered via C-section, weighing 1 pound, 15 ounces, at the Medical University of South Carolina.
With a long road ahead for their family, Young set up a Facebook page, "Cooper's Chronicles" to keep his family up to date back home in Virginia. But he didn't realize how quickly that page would grow into something more. "It's morphed into something so great and so positive. We refer to our followers as our village."
One of those villagers is Addison's grandfather, Brad Williams, who had previously worked with Young as a firefighter medic in Spotsylvania, Virginia. He shared Cooper's story with his daughter, Addison's mom, Emily.
Addison began following Cooper's story closely, and when it came time to send invitations for her October 23rd birthday party, she had an idea. Instead of presents, she wanted her friends and family to donate money for Cooper's family to help pay their medical bills. She raised $307.
This isn't the first time Addison has gone above and beyond for those in need — she has also donated supplies and raised money for homeless shelters.
"I call her my little philanthropist," Emily Williams said. "But I don't think that she understands the magnitude of what she's done."
The story has gone viral, and the Young family couldn't be more grateful for the positive attention. Addison's gift is just one example of the flood of support Cooper and his parents have received since his birth — from the NICU nurses and doctors, to local firefighters in Charleston and strangers all over the country.
"It's just humbling," said Young. "One thing I want Cooper to take from this is that although there's going to be a lot of bad he's going to witness in the world, people are inherently good. It will be my mission to explain to him that these were perfect strangers who knew nothing but his story, and wanted to help."
Cooper has since been transferred to the VCU Medical Center in Richmond, Virginia, but he remains in the NICU. Young hopes he and his wife will be able to celebrate Thanksgiving with Cooper in their own home.
And although the Youngs called Addison during her party to thank her for her generous gift, the families have not been able to meet in person. That's one thing Emily Williams is looking forward to once Cooper is healthy and at home.
"I think once they finally are able to get home and actually be settled, I would love to take Addison over there. I think that would be absolutely wonderful."
Thanks for reading CBS NEWS.
Create your free account or log in
for more features.