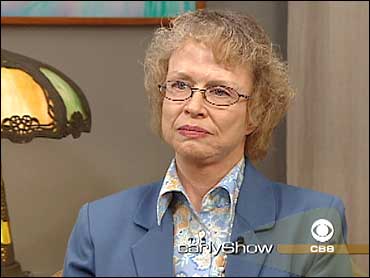 Insider: EPA Lied About WTC Air
A scientist for the Environmental Protection Agency is charging that the agency lied when it claimed the air at ground zero was safe to breathe in the weeks after the 9/11 attacks.
In an exclusive interview, Cate Jenkins. Ph.D., tells The Early Show national correspondent Tracy Smith that wasn't so, and EPA officials knew it, but covered up the truth.
Many workers who sifted through the wreckage have since come down with serious respiratory illnesses.
On Sept. 13, 2001, then-EPA head Christine Todd Whitman told reporters at ground zero, "We have not seen any reason — any readings that have indicated any health hazard."
Asked by Smith if EPA officials lied, Dr. Jenkins responded, "Yes, they did."
Though Dr. Jenkins didn't personally conduct the research at ground zero, it's her opinion that the EPA knew the dust there had asbestos and PH levels that were dangerously high.
"This dust was highly caustic," Dr. Jenkins told Smith, "in some cases, as caustic and alkaline as Drano."
Dr. Jenkins added that the agency said "nothing whatsoever" about the alkalinity of the dust.
She wrote memos accusing the EPA of lying.
In response to Smith's questions, the EPA issued a statement saying: "Top EPA scientists spent thousands of hours collecting, reviewing and analyzing samples from ground zero. Dr. Jenkins has not participated in any aspect of the EPA's work on the World Trade Center and is not an agency expert on the EPA's response to the Sept. 11 terrorist attacks."
Still, Jenkins says she's studied the research and, "At least in some measure, I believe (the EPA and its scientists who tested the air at ground zero) are" responsible for the health problems suffered by ground zero workers.
In an interview to air on 60 Minutes Sunday night, Whitman, the former EPA head, tells Katie Couric that, when EPA officials said the air was safe, they were talking about the air around lower Manhattan, not the air directly at ground zero. Whitman added that the agency warned ground zero workers to wear protection. She said her agency didn't have the authority to order them to wear masks, but New York City officials did.One worker paying the price for his time at ground zero is Vinny Forras.
Vinnie Forras was a firefighter, an athlete, a 6-foot-2 "brick wall of a man," Smith says.
But, when she visited with him recently, just strolling up his driveway was difficult for him.
He needed a steroid inhaler just to get through his interview with Smith.
"It's very difficult to rely on everyone else around me to take care of me when I'm the one who always used to take care of everybody else," Forras lamented.
Forras was at ground zero for three weeks and was covered, like so many of the workers, in dust.
"We ate it," he recalls. "We inhaled it. We got it on our eyes our nose, our throats, everywhere.
"The level of destruction and just the carnage that was there was beyond anyone's imagination, but we just kept going as much as we could, as much as our bodies would let us."
Five years later, Forras' body is giving out. He takes 25 pills a day to treat lung scarring, acid reflux and constant headaches. Plus that inhaler.
And it's hardly just Forras.
A new study says nearly seven out of 10 World Trade Center rescue and wreckage workers had new or worsened lung problems after the attacks.
Dr. Jacqueline Moline is co-director of a program at New York's Mount Sinai Hospital, which released the study, based on their work tracking and treating 9,500 rescue workers.
She says the potential problems form the air were underestimated.
Asked if this could have been prevented, Dr. Moline says, "I think a lot of the health effects could have been prevented if people were wearing appropriate respiratory protection."
Forras says he and his fellow workers were told to wear protection, but working conditions at ground zero made using respirators difficult and, "Anyhow, we were being told, 'Don't worry about it, because the air is OK.' "
About those assertions, Forras says now, "We're believing in them. This is the EPA. They're supposed to know this stuff."
At Mount Sinai, there's a waiting list for treatment, and there are still thousands of workers to be screened.
"It's the tip of the iceberg now," Dr. Moline says, "and we don't know what's gonna happen."
And it's the future of his family and his country that Forras says worries him most: "If the government turns their back on the volunteers that went down to ground zero and all the people that tried to do their best, what's gonna happen the next time we're attacked? Are people gonna think twice?"
On Thursday, the Bush administration promised that 9/11 health programs, including the one at Mount Sinai, will get $75 million in funding by the end of the month. But doctors say 40 percent of the workers don't have health insurance, so more money is probably needed.
Thanks for reading CBS NEWS.
Create your free account or log in
for more features.