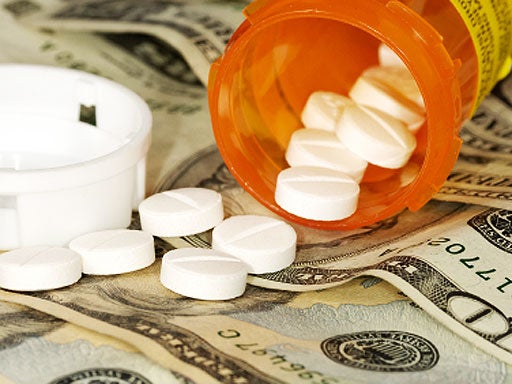 Inside Rx aims to lower high prescription drug costs
A trip to the pharmacy can trigger sticker shock. Americans spent an estimated $450 billion on prescription drugs in 2016. The list price of brand-name drugs rose an average of 9.2 percent from 2015.
Pharmaceutical companies set the list price, some of which can be covered by insurance. The price tag can also be brought down through rebates and coupons negotiated by middlemen called pharmacy benefit managers.
The nation's largest pharmacy benefit manager, Express Scripts, and eight major drug companies are unveiling a plan called Inside Rx, designed to lower out-of-pocket costs for brand-name drugs for those without insurance or with higher deductibles.
The program covers 40 brand name drugs for those 65 and under without insurance. Among the conditions for which these medications are use in treatment are: acid reflux, allergies, asthma, COPD, depression, diabetes, gastrointestinal conditions, gout and heart disease.
Inside Rx is not available to those using Medicare, Medicaid, Tricare, or other state- or federally-funded benefit plans, and cannot be combined with other insurance plans.
On "CBS This Morning," Express Scripts president and CEO Tim Wentworth said his company convened eight pharmaceutical drug companies, 40,000 pharmacies, and a technology partner, Good Rx, to come together to lower prices for the 30 million Americans currently paying full cost for their prescriptions. "They are essentially going to pay, for the 40 drugs in this program, what large insurance companies typically pay," Wentworth said.
And why are the companies doing this? "We're doing it because we've seen that these patients need help. They're often sometimes in-between insurance or other reasons, and we knew other companies would step up if we stepped up," Wentworth replied.
Co-host Norah O'Donnell asked, "Is this, in part, some corporate responsibility, realizing there are a lot of Americans now, because of the rising health care costs, have high-deductible plans, they're paying a lot more out of pocket, and if you don't do something, people are going to get really mad at the drug companies?"
"I think that's right," said Dave Ricks, president and CEO of pharmaceutical giant Eli Lilly and Company, one of the participating drug manufacturers. "We wake up every day trying to invent new medicines and get them to people who are sick. And the system is complicated, we understand that. This initiative, which Tim's company is driving, I think is one way people with high deductible plans or [who] pay cash can get a price similar to what big insurance companies get. So we jumped on board, said that's a good idea. We want people to fill the prescriptions for life-saving medicines like insulin, rather than abandon that prescription because they can't afford it."
Ricks said the biggest driver of health care costs is when people do not take medications for chronic diseases. "When people go to the pharmacy counter and have that sticker shock, often they do walk away, saying, 'I can't do that today,'" he said. "This maybe can bridge some people to fill that prescription, control their diabetes a little better, I think everyone's a little better off."
Customers can go to the Inside RX website and download a free Inside Rx membership card to present to the pharmacist to receive their benefit. (For example, for the diabetes drug Humalog, the discount is 40 percent.)
Good Rx also has a free mobile app (for iOS and Android) which can be downloaded from their site to help find the lowest costs available.
For more watch the video above from Monday's "CBS This Morning."
Thanks for reading CBS NEWS.
Create your free account or log in
for more features.