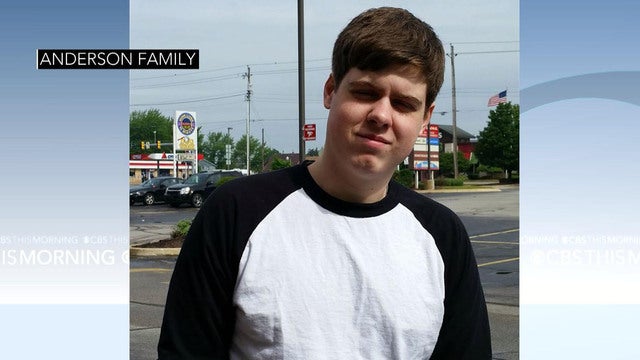 Teen lands on sex offender registry after dating app hookup
UPDATE: A Detroit judge told a 19-year-old from Indiana on Wedneday that he would consider a request for a new sentence, months after ordering the teen to register as a sex offender in both states and refrain from having a computer or smartphone because he had consensual sex with a 14-year-old Michigan girl he met online who said she was 17.
---
The life of 19-year-old Zach Anderson, who was ordered to register as a sex offender in two states, is "ruined," according to CBS News legal analyst Rikki Klieman.
The Indiana teen was convicted of criminal sexual conduct for having sex with a 14-year-old girl. The two met on a dating app and the girl told Anderson she was 17.
But after serving 73 days of a 90-day sentence in jail, the Indiana teen appeared in court Wednesday afternoon in order to withdraw his guilty plea. A judge told him he would consider the request for a new sentence.
"You know me, the law is the law, I always take that route, however the law has an exception here," Klieman said Wednesday on "CBS This Morning."
Anderson traveled from Indiana to Michigan to meet the girl he had been chatting with on the Hot or Not app and they had consensual sex.
Under the law, Anderson could be considered to have committed statutory rape, but this case has several mitigating factors: he is a first time offender, the girl and her mother have come to his defense and the girl lied about her age.
"Not only did she lie about her age, she appeared to be 17, she certainly is someone now who is on his side," Klieman said.
But the judge didn't see it that way. He mandated Anderson remain on the offender registry for 25 years.
"What the judge really did here, is he took his own personal feelings about this youth culture and he talked about it," Klieman said.
Judge Dennis Wiley could have referred Anderson to counseling under Michigan's Juvenile Diversion Act, but instead he chose to use the case to set an example.
"You went online, to use a fisherman's expression, trolling for women, to meet and have sex with. That seems to be part of our culture now. Meet, hookup, have sex, sayonara. Totally inappropriate behavior," Wiley said in court.
If the judge had used his powers to exercise discretion, Klieman said he would not have a record.
In addition to the 90-day jail sentence and sex-offender status, Anderson also faces 61 conditions including restrictions that bar him from going online, dining at restaurants that serve alcohol and even living at home, because he has a 15-year-old brother.
According to Klieman, Anderson is not alone in his nightmarish situation -- 25 percent of people on the sex offender registry are under the age of 18.
Anderson's family created a Change.org petition that has received over 170,000 signatures so far. They seek to drop all charges or dismiss chargers under Anderson Holmes Youthful Trainee Act, which would keep his record sealed and the court would not enter a conviction.
Wednesday afternoon, a new judge will decide if Anderson can be retried.
"Will the judge have courage? Will the judge say that this was the wrong way to go and that you can't have someone's personal viewpoint as a judge about what the culture should be, using this boy to set an example, when you have this girl who is supporting him and so is her mother?" Klieman said.
Thanks for reading CBS NEWS.
Create your free account or log in
for more features.