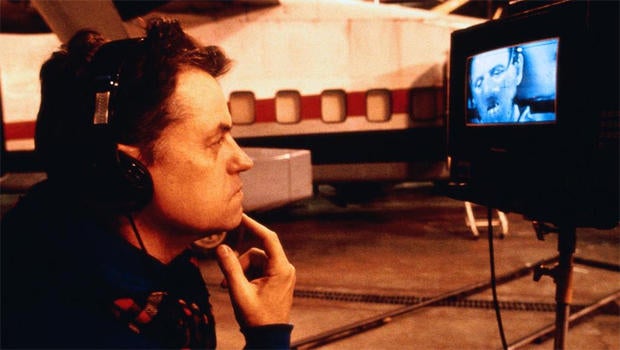 In remembrance: Director Jonathan Demme
The film world is mourning the loss of director Jonathan Demme, who died this past week at the age of 73. Our critic David Edelstein is among those paying their respects:
Jonathan Demme was never a brand-name director like Spielberg or Scorsese, though he was as great.
He saw his job as showing actors (and in documentaries, musicians or politicians) just as human beings in their most brilliant light.
I wish I could name and show all his marvelous films, but I'll focus on three:
He struck gold with "Melvin and Howard," a sympathetic meditation on the American dream of get-rich-quick, finding in Jason Robards' grizzled Howard Hughes a man whose longing for connection was mythic, and in Paul Le Mat's Melvin Dummar a dreamer worth believing.
To watch a trailer for "Melvin and Howard" click on the video player below.

"Stop Making Sense" remains the best of all concert films, both stunningly immediate and gorgeously planned out. Before our eyes, a piece at a time, a band (the Talking Heads and guests) comes together. We see both a unified entity -- multicultural, utopian -- and a bunch of brilliant individuals.
To watch "Life During Wartime" from "Stop Making Sense," click on the video player below.

The most famous, the Oscar-winner, was Demme's most atypical: "The Silence of the Lambs." Now, think about a humanist -- a man for whom victims are never fodder but people he loves -- tackling a grotesque serial killer saga. The tone is mournful, befitting the tale of a damaged young woman, Jodie Foster's Clarice Starling, finding strength to save other young women by whatever means.
Demme loved Clarice and hated Lecter's violence so much, he said no to directing the sadistic sequel, "Hannibal."
To watch a clip from "The Silence of the Lambs" click on the video player below.

Jonathan Demme was our most contagious enthusiast. I loved the guy. I can't believe I'll never again bump into him again in line for a movie and hear him rave about some filmmaker whose work I have to see. But he was a believer in the spirit world, in karma.
I'd like to think he'll continue watching over us, reminding us that where there's art, there's hope.
Thanks for reading CBS NEWS.
Create your free account or log in
for more features.