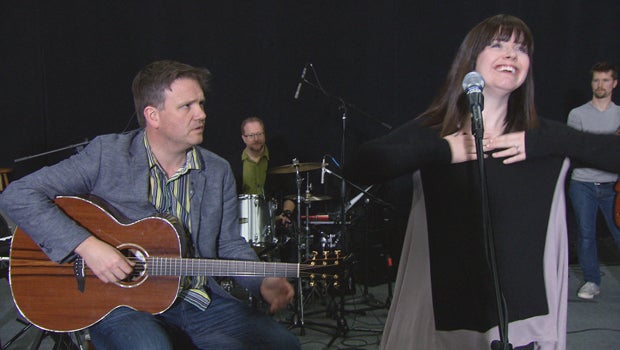 Prayer and song is one way to get into the spirit of East Sunday -- ESPECIALLY song, many would say. Our Cover Story is from is from Tracy Smith:
If angels somehow descended on Midtown Manhattan, it might sound a little like the choir at the Fifth Avenue Presbyterian Church, who can make any hymn or anthem sound new -- even though some are a few centuries old.
But if you think hymn writing's a lost art, you've never met the Gettys.
This isn't Christian rock -- it's a modern-day hymn, a song meant to be sung by a congregation in church.
Keith Getty's a composer, or more accurately, a hymnist.
"Did you always know you wanted to write hymns?" asked Smith.
"No," said Getty. "Before that I wanted to play football for Liverpool. But then I realized I wasn't that good. But I wanted to write something that was a little bit more, a little bit deeper, have a little bit of a different voice.
"My joke with all my preacher friends is that if they finish a good sermon, the people go out singing the last hymn. And if they do a really bad sermon, people go out singing the last hymn. So it really doesn't matter what they say!"
So, if it's all about the hymns, what is it that makes a good hymn? Getty laughed in response.
He may not have a quick answer, but he knows a good hymn when he hears one -- or, when he writes one.
Getty co-wrote "In Christ Alone" in 2001, and as church songs go, it's become something of a hit. Chances are, if you've actually been to church in the past decade, you've heard it, or sung it yourself.
In fact, in a 2013 survey of the best-loved hymns in the U.K., "In Christ Alone" was the second most-popular hymn of all time, just behind "How Great Thou Art."
"The first hymn out of the box was actually 'In Christ Alone,'" said Getty. "It was a basic statement of what Christians believe."
"I was 25 at the time, and thinking I've got to make a statement about the importance of our faith and the importance of singing our faith."
"No guilt in life, no fear in death,
This is the pow'r of Christ in me;
From life's first cry to final breath,
Jesus commands my destiny."
Smith asked, "When you were writing it, did you have any idea how big it would be?"
"Are you kidding me?" he replied. "The original melody was written on the back of a Northern Ireland electricity bill, which at the end of the year I threw in the trash! No, I had not a clue!"
To hear Kristyn Getty perform "In Christ Alone," click on the video player below.
Of course, this isn't the only hymn with a great story behind it.
Remember the words, "Rock of Ages, cleft for me?" They're said to be inspired by an actual rock south of Bristol, England.
"The legend is that Augustus Montague Toplady was walking through the Mendip Hill," said Pepperdine University professor Jerry Rushford, "and the storm came up. And he got into that cleft. I've got into the cleft a lot. You would stay dry in that cleft!"
Rushford has spent a lifetime studying hymns and the stories behind them, like the one written by former slave trader John Newton, a slave ship captain who nearly drowned one night in a violent storm.
Years later, after he'd become a minister, he wrote a verse about the experience.
"Twenty-five years after he almost died, he's remembering that night on the high seas, when the man right next to him was swept overboard to his death. And he was so close to death, and he yelled out "Oh, God, save us!' He had never called on God for anything. And he writes these words, 'Amazing grace, how sweet the sound, that saved a wretch like me.'
"Of course, it's used at all our national funerals now. And it's like, when America is grieving, we sing 'Amazing Grace.'"
Some hymns are themselves something of a miracle. In 1741, the great composer George Frideric Handel shut himself in his room and wrote all 260 pages of "The Messiah" in just 24 days. And halfway through it, he had a vision that shook him to the depths of his soul.
"His servant, who brought him in a tray of food, tells us the story that he came into the room and Handel was looking the other way," said Rushford. "And he turned with this lioness mane of hair all disheveled and his eyes wide. And he uttered the great line, 'I did think! I did see! All heaven before me and the great God himself!' And I've often thought, 'What did this servant think?' I just brought you some food. What happened in here? Handel had just written the 'Hallelujah Chorus.' That's what just happened."
At his home base in Nashville, Keith Getty has a few inspirations of his own -- maybe less dramatic, but every bit as powerful.
For starters, Kristyn -- his lead singer and fellow composer -- is also his wife of 11 years.
"We actually have never had a night apart," said Kristyn. "We have been together every night for last 11 years."
The couple, who are both from Northern Ireland, have two daughters, with number three not far behind.
"I feel I've been pregnant for years," said Kristyn. "We've lived in Nashville for five years. And we've had three kids in that time. So it's been wonderful, and we're so grateful and we love it. But it's been pretty exhausting. So I'm looking forward to not being pregnant anymore."
"Well, we're gonna have a bunch more kids," interjected Keith.
"He keeps talking that way -- We're gonna have a bunch more! I'm thinking, 'You know what? I don't know.'"
"What's a bunch?" asked Smith.
"Yeah, exactly. I thought three was a bunch," said Kristyn. "Apparently, three's not a bunch. I think it's a nice number, a nice round number."
This fall, after the baby comes, the Gettys will head out on tour. For now, they take it one night at a time, such as at their recent set at the Grand Ol' Opry.
Smith asked, "Do you get nervous at these things?"
"I never got nervous in my whole life, but I only have to play," said Keith. "I'm the fat guy at the piano."
It's not easy to make it as a hymn writer when the competition is 200+ years old, but the Gettys seem to be on the right track.
Smith asked Professor Rushford, "Do you think that the Gettys' music has the potential to last for centuries, as these hymns we love so well have?"
"Oh, I really do," he replied. "They are gifted. I would think that right now -- we're into 2015 -- 'In Christ Alone' is the greatest hymn written in this century so far. I would sure think that has immortality with it. They write things that just seem eternal."
And that might be the true meaning of a hymn: a song we turn to, in praise or grief, like an old friend who will live forever.

For more info:
Thanks for reading CBS NEWS.
Create your free account or log in
for more features.