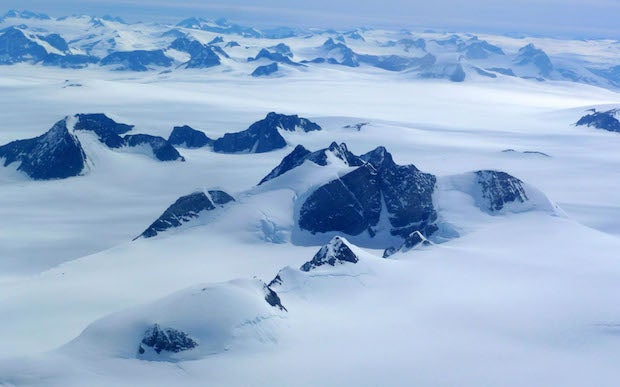 In Greenland, climate change is already hard at work
The annual "State of the Climate" report released Thursday said 2014 was the warmest year on record going back 135 years.
Temperatures continued to rise, and glaciers kept shrinking.
The impact has been dramatic in Greenland, the huge ice-covered island between the North Atlantic and Arctic oceans.
Almost 8 years ago to the day in 2007, it was 35 degrees below zero on top of Greenland's vast ice sheet. Strong winds and blowing snow were more the norm for researchers there.
This summer, the sun is shining and the ice is thinning; it's 27 degrees above zero -- 62 degrees warmer. Researchers are trying to determine if the warming is a trend.
The world's second largest ice body, Greenland is more than one quarter the size of the continental United States and its ice is nearly two miles high at its thickest.
Since 1989, researchers have been ferried to the Greenland Environmental Observatory.
University of Montana glaciologist Joel Harper has been camping each summer on Greenland's ice sheet, studying how glaciers and ice move.
"Greenland stores an enormous amount of water in the form of ice," Harper said. "In recent decades it's certainly been melting more than is replenished from snow fall and that's causing sea level to come up."
Evidence of the increased ice melt can be seen from the air in the form of blue pools.
Satellite images show that on the warmest day this month, half the ice sheet's surface was melting, double the norm for this time of year.
As glaciers melt, they darken, which combined with sediment and global air pollution (black carbon) further speeds up the process.
University of Colorado researcher Michael O'Neill, who has been measuring pollutants here since 2008, said: "In Greenland, the farther north you go dirtier the air becomes. Most of the industry is in the northern hemisphere and that's where we see the highest concentrations of the manmade chemicals."
The darker the ice, the faster it melts into the ocean.
"Greenland contributes about 40 percent of current sea level rise," Harper said.
Over the past century, the world's oceans have risen 4 to 8 inches. By the end of this century, scientists predict sea level rise will be the greatest environmental threat to coastal cities from Miami to Mumbai.
Thanks for reading CBS NEWS.
Create your free account or log in
for more features.