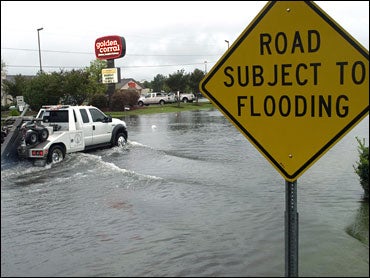 Hurricane Season Goes Out With A Whimper
The mild 2006 Atlantic hurricane season draws to a close Thursday without a single hurricane striking the United States — a stark contrast to the record-breaking 2005 season that killed more than 1,500 people and left thousands homeless along the Gulf Coast.
Nine named storms and five hurricanes formed this season, and just two of the hurricanes were considered major.
Florida Emergency Management director Craig Fugate called the break welcome, but people along the coast shouldn't be fooled into thinking they won't get hit next year
"Past performance is no indicator of the future," Fugate said. "We're still in a decade period, or decades, of increased activity."
That is considered a near-normal season — and well short of the rough season government scientists had forecast.
"We got a much-welcome break after a lot of the coast had been compromised in the last several years, but this is a one-season type break," said Gerry Bell, lead seasonal hurricane forecaster for the National Oceanic and Atmospheric Administration.
In May, scientists predicted 13 to 16 named storms and eight to 10 hurricanes, with four to six of them major.
Florida State meteorologist Ben Nelson gives credit to El Nino and more desert dust than usual in Africa.
"There was an abundance of this dust and dry air, and that tends to suppress cloud development out in the Atlantic," Nelson told
.
The 2005 hurricane season was the busiest on record, with 28 named storms, including 15 hurricanes, four of which hit the United States, including Katrina and Rita.
Forecasters say the Atlantic is still in an active hurricane period that began in 1995 and could last another decade or more. Fugate urged people not to become complacent about the next season, which starts June 1.
"You've got to have a plan, you've got to know what you're going to do to protect you and your family," he said.
Fugate points out that Hurricane Andrew in 1992 "occurred in a year when there was a low forecast of activity."
Only two storms, Tropical Storms Alberto and Ernesto, hit the U.S. mainland in 2006. Neither caused significant damage.
The season effectively ended with Hurricane Isaac, the last named storm, which dissipated Oct. 2.

Thanks for reading CBS NEWS.
Create your free account or log in
for more features.