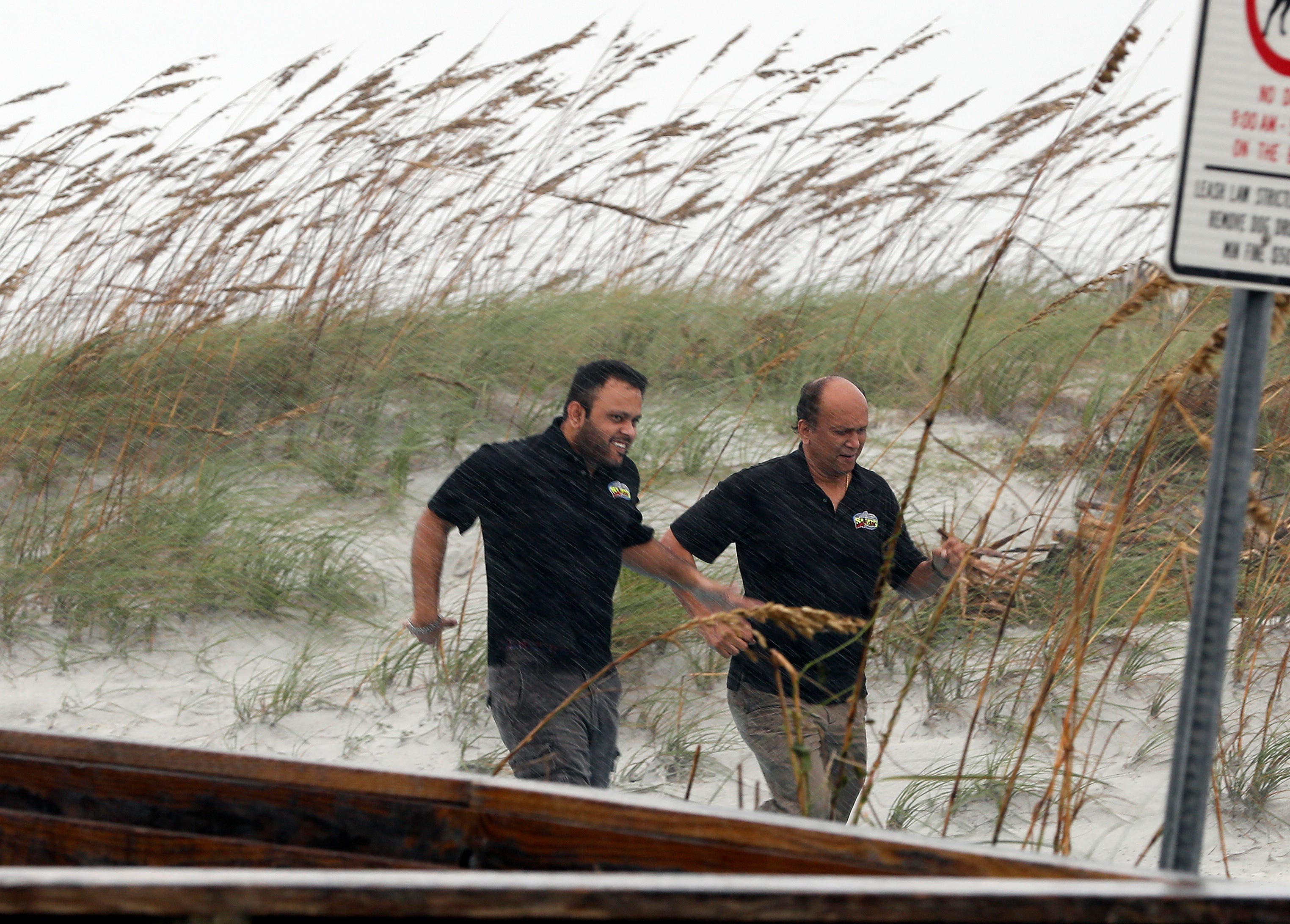 Thousands in Florida lose power as Hurricane Matthew bears down
CAPE CANAVERAL, Fla. -- Hurricane Matthew pelted Florida with heavy rains as the deadly storm steamed ever closer to the coast with potentially catastrophic winds of 130 mph Thursday. Two million people across the Southeast were warned to flee inland.
It was the most powerful storm to threaten the U.S. Atlantic coast in more than a decade, and had already left more than 339 dead in its wake across the Caribbean.
"This storm's a monster," Gov. Rick Scott warned as it started lashing the state with periodic heavy rains and squalls around nightfall. He added: "I'm going to pray for everybody's safety."
As it moved north in the evening, Matthew stayed about 100 miles or more off South Florida, sparing the 4.4 million people in the Miami and Fort Lauderdale areas from its most punishing effects.
Florida Power and Light reported that about 95,000 customers -- about 42,000 in Palm Beach County alone -- are already without electricity.
Scott also tweeted Thursday evening that more than 95,000 were without power.
Streets in Vero Beach were partially covered with water, and hotel guests in Orlando were told to stay inside, though a few sneaked out to smoke or watch the rain.
The lobby of the Loews Sapphire Falls Resort was crowded with people and pets, including dogs occasionally snapping at each other. Some meals were served buffet style while other people waited more than 2 hours for a pizza delivery.
Brevard County Emergency Management Office tweeted early Friday morning that it was now too dangerous to respond to emergencies.
"Live power lines are down, stay inside," the tweet said.
The hurricane was expected to blow ashore -- or come dangerously close to doing so -- early Friday north of Palm Beach County, which has about 1.4 million people, and then slowly push north for the next 12 hours along the Interstate 95 corridor, through Cape Canaveral and Jacksonville, according to the National Hurricane Center.

Forecasters said it would then probably hug the coast of Georgia and South Carolina over the weekend before veering out to sea -- perhaps even looping back toward Florida in the middle of next week as a tropical storm.
Millions of people in Florida, Georgia and South Carolina were told to evacuate their homes, and interstate highways were turned into one-way routes to speed the exodus. Florida alone accounted for about 1.5 million of those told to clear out.
"The storm has already killed people. We should expect the same impact in Florida," the governor warned.
Many boarded up their homes and businesses and left them to the mercy of the storm.
"We're not going to take any chances on this one," said Daniel Myras, who struggled to find enough plywood to protect his restaurant, the Cruisin Cafe, two blocks from the Daytona Beach boardwalk.
He added: "A lot of people here, they laugh, and say they've been through storms before and they're not worried. But I think this is the one that's going to give us a wake-up call."
The hurricane picked up wind speed as it closed in, growing from a possibly devastating Category 3 storm to a potentially catastrophic Category 4. Forecasters said it could dump up to 15 inches of rain in some spots and cause a storm surge of 9 feet or more.
Up and down Florida's east coast, storm preparations were in full swing Thursday, reported CBS News correspondent Manuel Bojorquez.
"This one, I just think we're due. And that's the reason I'm just trying to make sure everything's good," said one resident.
Store shelves were emptying. Gas stations were running out of fuel.
"I've already been to three gas stations that have shut down because they're out of gas," said another resident.
Deborah Whyte walked her dogs at Jupiter Beach Park on Thursday morning to check the surf.
"We boarded up our house and I boarded up my store" in Tequesta. "And we're just hunkering down and waiting for it," she said.
But others as far off as Georgia and South Carolina rushed to leave.
The Hunters have called coastal Georgia home for forty years. But Thursday, they were leaving it all behind, CBS News' Errol Barnett reported.
The Waters family who lives on Tybee Island is doing the same
"I grabbed the the boys baby books, I grabbed the wedding album, that a girlfriend of mine made us, couple of important papers and we're outta here," Mrs. Waters said.
They said the major threat to the Southeast would not be the winds -- which newer buildings can withstand -- but the massive surge of seawater that could wash over coastal communities along a 500-mile stretch from South Florida to the Charleston, South Carolina, area.
President Barack Obama declared a state of emergency for Florida and South Carolina, freeing up federal money and personnel to protect lives and property. Late Thursday, Mr. Obama also declared a emergency exists in Georgia.
The Fort Lauderdale airport shut down, and the Orlando airport planned to do so as well. Airlines canceled more than 3,000 flights Thursday and Friday, many of them in or out of Miami and Fort Lauderdale.
Amtrak suspended train service between Miami and New York, and cruise lines rerouted ships to avoid the storm, which in some cases will mean more days at sea.
Orlando's world-famous theme parks -- Walt Disney World, Universal Studios and SeaWorld -- all closed.
"I never get time off. I'm a little sad," tourist Amber Klinkel, 25, of Battle Creek, Michigan, lamented at Universal.
Patients were transferred from two Florida waterfront hospitals and a nursing home near Daytona Beach to safer locations.
Thousands of people hunkered down in schools converted to shelters, and inland hotels in places such as Charlotte, North Carolina, reported brisk business.
At the Kennedy Space Center in Cape Canaveral, NASA no longer has to worry about rolling space shuttles back from the launch pad to the hangar because of hurricanes, since the shuttle fleet is now retired. But the spaceflight company SpaceX was concerned about the storm's effect on its leased seaside pad.
As evening fell, the winds picked up along Vero Beach, midway between West Palm Beach and Cape Canaveral, stripping away palm fronds, ripping awnings and blowing sand that stung the face. Waves crashed on the beach, and rain came in short bursts.
The last Category 3 storm or higher to hit the U.S. was Wilma in October 2005. It sliced across Florida with 120 mph winds, killing five people and causing an estimated $21 billion in damage.
As people hurried to higher ground, authorities in South Carolina said a motorist died on Wednesday after being shot by deputies in a gun battle that erupted when he sped away from a checkpoint along an evacuation route.
The coordinator for Haiti's Interior Ministry in the area hit hardest by Hurricane Matthew said the confirmed death toll in that southwestern zone was 283. Emmanuel Pierre told The Associated Press late Thursday that he expects the toll to rise as authorities reach remote places that were left isolated by the storm.
Bodies have started to appear as waters recede in some areas two days after Matthew smashed concrete walls, flattened palm trees and tore roofs off homes.
In the Bahamas, authorities reported many downed trees and power lines but no immediate deaths.
Georgia Gov. Nathan Deal ordered an evacuation of the entire Georgia coast, covering more than a half-million people. It was the first hurricane evacuation along the Georgia coast since 1999, when the state narrowly escaped Floyd.
"We have a house that sits right here on the water and we kind of said goodbye to it thinking that, you know, the house ... might not be here when we get back," said Jennifer Banker, a resident of Georgia's dangerously exposed St. Simons Island. "You know, we pray a lot and trust God to provide."
Some coastal residents in Georgia and beyond decided to take their chances and stay.
Darcy O'Connor, a restaurant owner who lives in a rowhouse in Savannah, Georgia, a historic city of many beautifully maintained homes from the 18th and 19th century, said she and her most of her neighbors were sticking around.
O'Connor noted that her home, built in 1883, has weathered hurricanes before: "Half the windows, if you look, still have the original glass. So that tells you something."
Thanks for reading CBS NEWS.
Create your free account or log in
for more features.