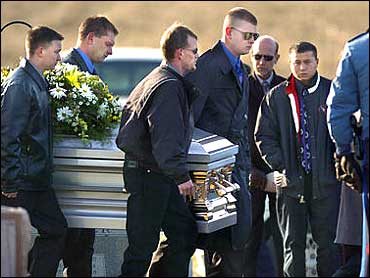 Hundreds Mourn Murdered Mom
Hundreds of mourners gathered Tuesday in the small northwestern Missouri farming community of Maryville for the funeral of a young pregnant woman who was strangled by a killer who then cut her open and stole her unborn baby girl.
Stinnett, 23, was eight months pregnant when she was murdered on Dec. 16th at her home in Skidmore, Mo., where she and her husband, Zeb, raised rat terrier dogs.
It was that business which put Stinnett in contact with the woman who is now charged with the murder - another rat terrier breeder, Lisa M. Montgomery of Melvern, Kansas, who was arrested hours after the slaying as police followed a trail that began with data on the victim's computer.
The two women had met on the dog circuit and at one point, according to yet another breeder, Stinnett had come to Montgomery's defense in a dispute about pedigrees.
Police who arrested Montgomery last Friday say the 36-year-old Kansas woman claimed to have given birth to a girl the previous day and introduced the Stinnett baby as her own.
She is charged with kidnapping resulting in death.
Montgomery has at least two children - teenagers - from a previous marriage. Tuesday, as she sat in jail, a judge in Kansas granted her ex-husband's request to be granted at least temporary custody of the children.
The teens plan to move to Oklahoma to be with their father.
Tuesday, the crowd filled the flower-filled Price Funeral Home and overflowed into the entrance for the service for Stinnett. Cars lined the streets on a bitter cold day, with the mercury dipping into the single digits.
"I've known her since she was a baby," said family friend Carl Montgomery. "She grew up into a beautiful swan."
Family and friends said Montgomery, arrested Friday, tried to pass off Stinnett's baby as her own. The child, who has been named Victoria Jo Stinnett, spent the weekend in a Topeka, Kan., hospital before going home Monday afternoon with her father and another relative.
The Rev. Harold Hamon, who married the Stinnetts in spring 2003 at the Skidmore Christian Church, spoke at the funeral; burial followed at a cemetery in Skidmore.
Many mourners were unable to get into the service. Others, some crying and exchanging hugs, took turns letting each other get closer to the sanctuary. One tearful mourner carried a dozen pink roses, but became so distraught she had to be taken outside.
Afterward, pallbearers waited outside as the gold coffin was placed into a hearse.
Stinnett and her accused killer were apparently photographed together at a dog show months before last week's attack.
Photos on Bobbie Jo Stinnett's Web site include ones labeled as being from an April 2004 dog show in Abilene, Kansas. One picture shows seven people holding rat terriers: Stinnett at the right, with a purple ribbon, and a woman who resembles Montgomery at the left. There is no caption identifying the people.
Dog trainer Nancy Strudl, of Omaha, Neb., says she was among those at that dog show. She says both Montgomery and Stinnett, as well as Stinnett's husband, Zeb, and one of Montgomery's daughters, are among the seven people in the picture.
Montgomery "told us all she was pregnant with twins, and about a month and a half ago her messages were 'I lost one of the twins. It's so terrible, but they saved one twin,'" Strudl said. "We didn't believe she was pregnant. I don't know how she fooled her family and community."
Strudl also didn't think Montgomery was on the level in the pedigree claims she made about her dogs. Strudl recalls that when she said so publicly, Stinnett was the breeder who tried to help Montgomery by smoothing out the dispute.
According to Strudl, Stinnett suggested that any pedigree problems may have been "just a misunderstanding."
"She was so trusting," says Strudl, "and she convinced them to give (Montgomery) another chance."
Stinnett and Montgomery both frequented Web sites devoted to rat terriers. Investigators said Stinnett had mentioned her pregnancy on the Web sites and that Montgomery — using a false name — got directions to Stinnett's home in Skidmore by claiming she was interested in buying a dog.
On Monday, Montgomery's husband, Kevin Montgomery, said he believed that the baby his wife presented to him was theirs.
According to federal authorities, Kevin Montgomery picked up his wife in Topeka on Thursday and drove her and the new baby, whom they called Abigail, about 40 miles south to Melvern, where the couple showed her off.
After Lisa Montgomery made her first appearance in federal court Monday, Kevin Montgomery said, "I had no idea," when asked by reporters what he had known about his wife's alleged actions. He also expressed sympathy for Stinnett's family.
"This has to be as hard or harder on them as it is on me," he told reporters. "I sure hope they get as much support from their church and community as I have because we are all going to need it."
Thanks for reading CBS NEWS.
Create your free account or log in
for more features.