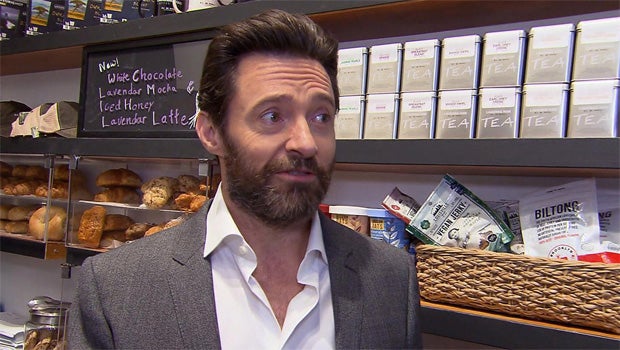 ​Hugh Jackman: Changing lives, one cup of coffee at a time
Hugh Jackman is a Tony- and Emmy Award-winning actor whose most important role might just might be in the coffee business. He's been talking about it with our Lee Cowan:
"I'm gonna teach you a little Aussie: 'Have a go, you mug!'" Jackman laughed. "It's like, you're better to have risked something, even if it doesn't work out, than to have never tried. And it's really in our DNA."
Jackman's "have-a-go" DNA was on polite display as we headed out for coffee. And it's perhaps his biggest risk of all.
While he's been celebrated for his musical turns on stage ("The Boy From Oz") and in film ("Les Miserables"), most us know Hugh Jackman as Wolverine, the mutant Marvel superhero. It's been a wildly-successful franchise for Jackman, but a few years ago he decided to claw his way into the coffee business, too.
"Australians are very snobby about their coffee," he said. And is he? "I'm VERY snobby about coffee, yeah."
So much so he owns a postage stamp of a café, and one other just like it, both in lower Manhattan.
"I get stopped more in the street, I can tell you this, in New York, for people thanking me for this cafe and for the coffee, than I do for any of my movies," Jackman said, in Laughing Man Coffee & Tea. "Actually, particularly people will say, not so much the movies, but 'Thank you for the coffee!'"
Today was a particularly important day in the business life of his coffee, but to understand why, we have to go half-way around the world to meet the man who made him laugh, in the birthplace of coffee ... Ethiopia.
It was there back in 2009, while making the documentary "Dukale's Dream" for the humanitarian group World Vision, that Jackman met a young coffee grower who would forever change his life.
Cowan asked, "Did he have any idea who you were?"
"Absolutely none!" Jackman laughed.
Dukale is a fair trade farmer, which means he works with a cooperative in his village to ensure his farm is both environmentally and economically sustainable -- which in turn ensures that he gets a fair price for his beans.
It's something we don't think about, and neither did Jackman until he worked beside him, and met Dukale's family. Their health and well-being, he realized, was so tied to Jackman's morning ritual that he promised to help.
"It's not about what you're given, it's what you do with it," Jackman said. "So I, unwittingly, was given a profile, and I thought, 'What if, in my brief moment of profile -- let's call it ten years, maybe 20, if I'm lucky -- what if in that period I create something that lives beyond me?"
In short, he wanted to do with coffee what Paul Newman did with salad dressing -- funnel every dime from every cup of coffee sold into a foundation devoted to helping the farmers and their families. All of his profits go to charity.
At first he sold Laughing Man only in his little cafes and online. But one day coffee giant Keurig Green Mountain tried a sip, and suddenly Dukale was in a K-cup.
Which brings us back to this particularly important day, and a trip Jackman was making with Keurig CEO Brian Kelly.
Keurig wanted to get Jackman's coffee into stores nationwide, and two months ago Kroger -- one of the nation's largest retailers -- jumped on board. That meant flying to Kroger's corporate headquarters in Cincinnati to offer a special kind of thank-you.
Cowan asked Jackman, "Do you think you're a good salesman?"
"I'm not bad. I'm not a bad huckster, I suppose!"
He seemed a natural, not just the glad-handing part, but the selling, too.
"I'm fully aware in this triumvirate -- [with] Kroger, Keurig -- Laughing Man is the little baby, but we're a baby with a big heart, and we really want to grow and we need partners like you guys," Jackman said during his presentation.
"By buying a fair trade coffee, you are sort of ensuring that the world is a better place, the planet is a better place, and the person who's actually growing that bean from which you're sipping your coffee has got a shot at living a sustainable life with opportunity for them and their families."
It's early yet, but the new partnership puts Laughing Man in more than 1,800 stores across the country -- a distribution wide enough that just might allow Hugh Jackman to end the cycle of poverty, at least for the coffee growers he is trying to help.
And that truly is a feat of superhero doing.
"Sometimes, it's tempting for my ego to go, 'Well, look what I've created.' But I know I haven't. Things have conspired. And sometimes it just takes saying yes, having a go, for these things to sort of play out."
"It really is changing the world, one cup of coffee at a time, right?" asked Cowan.
"That cup of coffee -- and I've seen it -- changes the life of those growers. That's a massive, massive difference. It is one cup of coffee, but it's changing a life."

For more info:
Thanks for reading CBS NEWS.
Create your free account or log in
for more features.